A Trinamul veteran but not quite the insider
At 77, why Sobhandeb is still standing tall in the poll fray
All eyes on Bengal by-elections to four assembly constituencies on Saturday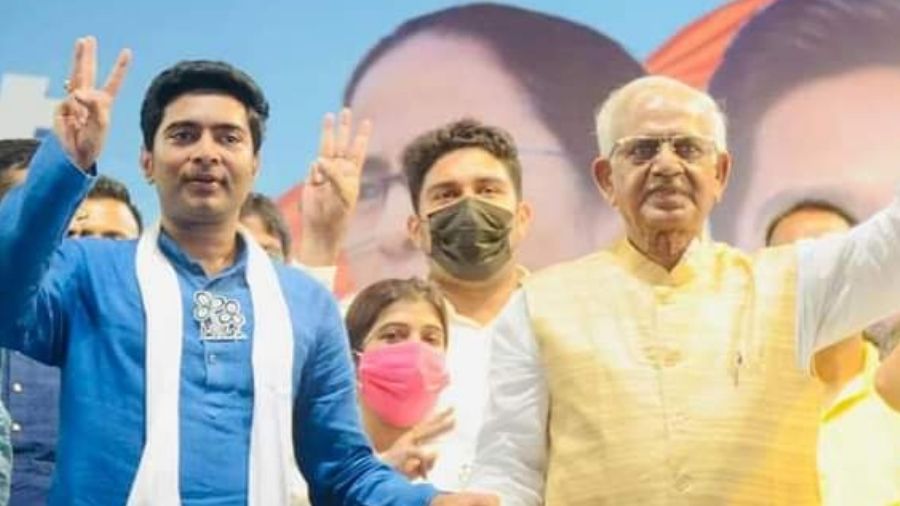 Sobhandeb Chattopadhyay with Abhishek Banerjee
File picture
---
Calcutta
|
Published 29.10.21, 05:10 PM
|
---
The 45 kilometres between Baruipur and Khardaha, two suburban centres on either side of Calcutta, now covers the entire span of three decades of  veteran Sobhandeb Chattopadhyay's life as an undefeated MLA. The former boxer is contesting for his ninth straight term in the state Assembly from his fourth constituency in Saturday's bypoll, along with three other seats in the state.
Chattopadhyay's career appears to be scattered all over, but he is the leader who has held the Trinamul's  moral compass high. His position in the party, despite his unflinching loyalty towards Mamata Banerjee, has always been wobbly. He founded the Trinamul's trade union wing which borrowed its name from the Congress-run INTUC, only to have it taken away by leaders who waltzed into the Trinamul currying favour with the party chief.
Chattopadhyay never said a word.
The ninth contest, second time this year, would not have been necessitated had Mamata not insisted, first on contesting from Nandigram, where she lost and then decided on reclaiming her old seat Bhowanipore, from where the soft-spoken Chattopadhyay had made it to the Assembly for the eighth time in a row.
Mamata could have contested from Khardaha or any of the three other seats (Shantipur, Dinhata and Gosaba) which will go to polls on Saturday. It had to be Bhowanipore for her and Chattopadhyay was made to sacrifice his seat.
At the age of 77, Chattopadhyay has been busy over the last few weeks familiarising himself with the neighbourhoods of Khardaha, which has for 41 years been the seat of two finance ministers in the Left and later Trinamul governments.
Chattopadhyay had cut short his second term as MLA from Baruipur in 1998 when he joined Mamata's newly floated outfit and retained his seat in a similar bypoll, while his other legislative colleagues ignored the anti-defection law with impunity and switched political camps, a legacy that continues to sully Bengal's politics.  
In the three decades that Chattopadhyay has been in public life, not a whiff of scandal has touched him, though his political path has not always been free from controversy, mostly linked to  internal bickering in the party.
When Trinamul wrested the Calcutta Municipal Corporation in an alliance with the BJP, the trade unionist Chattopadhyay was at loggerheads with  mayor Subrata Mukherjee, who was leading a double life as a Congress MLA and a Trinamul Mayor.
Fourteen years later, Chattopadhyay found himself embroiled in a turf war with Mamata's trusted aide Aroop Biswas, who was a minister, while Chattopadhyay was kept out of Writers' Buildings with the government chief whip's post in the first Trinamul government.
On June 8, 2015 the state Assembly witnessed a public spat between Chattopadhyay and Biswas, over one ward which was moved from New Alipore to Rashbehari, represented by Chattopadhyay five times.
Chattopadhyay's use of "goonda raj" to admonish the Biswas siblings, Aroop and Swarup, meddling in his constituency did not go down well with Mamata. 
For Mamata, the Biswas brothers were more effective in election management, and therefore more important in the party than Chattopadhyay, who had no organisational role. Biswas was also heading the sports department (after minister Madan Mitra was arrested in connection with the Saradha scam) which gave him control over the clubs in the state, which have played a key role in Mamata's repeated ride to power. 
The Biswas brothers, along with the younger sibling Swarup's wife Juin extended their clout from New Alipore, Golf Green, Tollygunge, Azadgarh, Regent Park, Kudghat, Ashoknagar, Netaji Nagar Bansdroni, Naktala and Garia.
Chattopadhyay on the other hand despite being a veteran trade unionist did not have any organisational role to play and was restricted to his constituency. And despite being the local MLA he found it difficult to gain control of ward 81.
His onward journey as the power minister in Mamata's second term too did not go smoothly. First, as minister he ran into trouble with his own party's trade union that he had formed and silently witnessed being usurped. Then some of his decisions were overruled. He also fell foul of the party leadership after bringing to light a fake job racket involving some key Trinamul leaders who had promised jobs to around 20,000 youths in exchange of Rs 5 lakh each.
But, Chattopadhyay survived all of these and is still standing tall in the poll fray.