Asok feels Sourav was 'under pressure'
Mental stress over whether to walk into an uncharted territory may have been one of the reasons behind the sudden deterioration in the health condition of former Indian skipper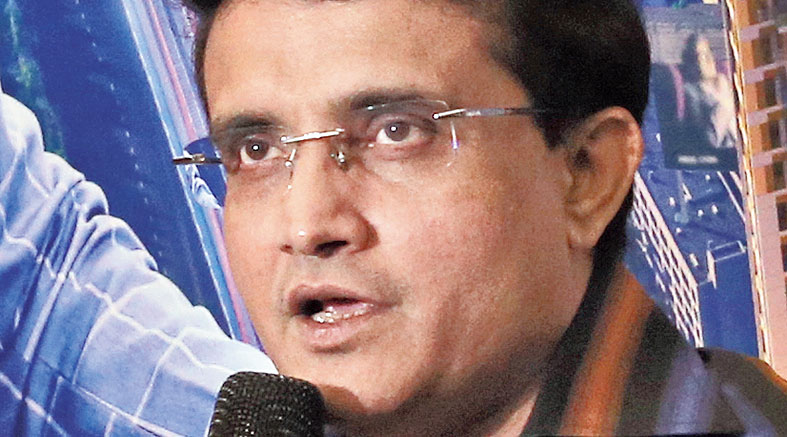 Sourav Ganguly
File Picture
---
Calcutta/Siliguri
|
Published 04.01.21, 01:57 AM
|
---
Acute mental stress over whether to walk into an uncharted territory may have been one of the reasons behind the sudden deterioration in the health condition of former Indian skipper and BCCI president Sourav Ganguly, said Asok Bhattacharya, CPM MLA of Siliguri, after meeting him on Sunday.
"I suspect that he (Ganguly) is under mental pressure…. There is speculation in the media that he might join politics, which might have had played a role in the sudden deterioration of his health condition," said Bhattacharya, who reached Calcutta on Sunday and called on Sourav at the hospital.
Bhattacharya has known Ganguly, who calls him kaku (uncle), for years and has access to his family. The MLA, while talking about Sourav, told The Telegraph about what he felt about the pressure on the former Indian skipper.
"I feel he is quite happy in his known territory because these responsibilities might be stressful but these pertain to cricket, which is his known turf. I think there might have been some pressure on him, which left him disturbed as unlike a seasoned politician, he can't handle these things because politics is an uncharted territory for him."
In the morning, Prime Minister Narendra Modi called up Ganguly and enquired about his health. Sources said BJP leader Anurag Thakur and Union home minister Amit Shah's son and BCCI official Jay Shah might visit Ganguly on Monday.
Bhattacharya had met the cricketer at his residence in Behala here on Thursday. He posted pictures of the meeting on Facebook and wrote that he had advised Ganguly to stay away from politics. "Cricket has taken him to the heights of popularity. The people of this country want it to be that way," Bhattacharya had posted.
The former minister said on Sunday that even Ganguly wanted to remain in his own space. "I can tell you that he hasn't contradicted my suggestions," Bhattacharya said.
Bhattacharya took CPM general secretary Sitaram Yechury to the hospital in the evening. Yechury said: "Ganguly is a national asset and it is our collective responsibility to keep him well."
The murmurs around Ganguly's political future intensified after he met governor Jagdeep Dhankhar at Raj Bhawan last week and then a day later shared a platform with Union home minister Amit Shah at a cricket body event in Delhi.
Some BJP insiders said the manner in which some of the central leaders, especially Shah, reacted after Ganguly's illness bore hints about their proximity to the cricketer.
Kailash Vijayvargiya, the party's minder for Bengal, said Union home minister told him to contact Ganguly's wife Dona and offer all sorts of assistance. Sources also said that Shah had offered to fly Ganguly to Delhi in an air-ambulance.
Immediately after Ganguly's hospitalisation, two important party members — Rajya Sabha member Swapan Dasgupta and state vice-president Pratap Banerjee — went to the hospital on Saturday. On Sunday, Keshav Prasad Maurya, deputy chief minister of Uttar Pradesh, accompanied by state general secretary Sanjay Singh, visited the hospital.
"When we went to the hospital, Sourav was sleeping. We met the doctors and Dona Ganguly," Singh told The Telegraph.
Apart from Bhattacharya and representatives of the BJP, state ministers Arup Roy, Tapas Roy, Trinamul MLA Vaishali Dalmiya and Congress MP Pradip Bhattacharya also went to see Ganguly at the hospital on Sunday.