'Area of focus on our brotherhood'
Swara Bhaskar divides her Calcutta time between National Debate 2020 and Rajabazar to speak of equality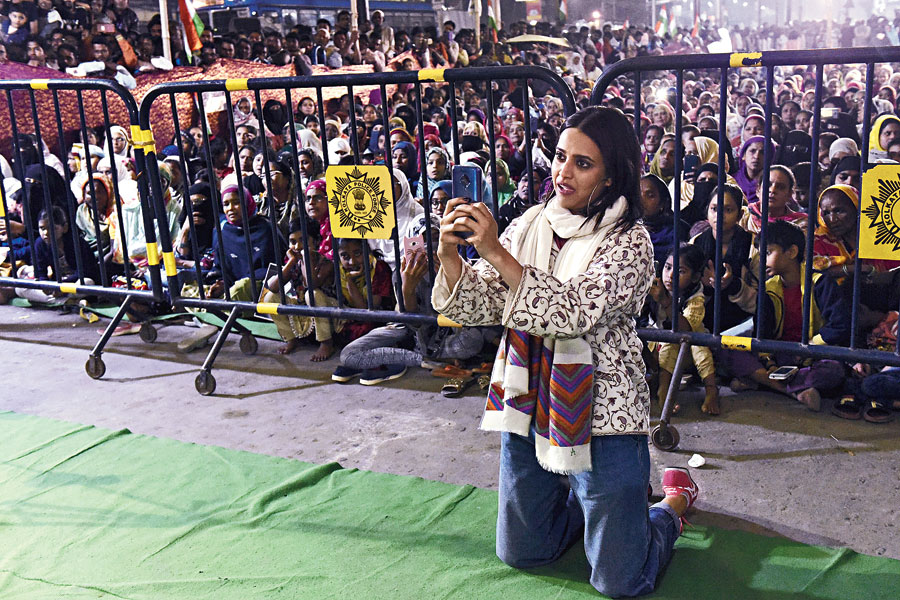 ---
|
Calcutta
|
Published 15.02.20, 08:43 PM
---
Actor Swara Bhasker rushed from Calcutta Club The Telegraph National Debate 2020 to Rajabazar and spoke of equality and brotherhood for all citizens of the country.
Rajabazar has seen residents protesting the the Citizenship (Amendment) Act over the past few weeks.
"Is desh mein har tarah ka insaan rehta hai. Zaahir si baat hai 137 crore log hain. Hamara aapas mein matbhed bhi hai, hum apas mein ladte jhagarte bhi hain. Hamara andolan ho raha hai isi vaicharik matbhed ki wajah se. (Our country is a conglomeration of so many people. It is obvious that there will be differences of opinion in a country with a population of 137 crore. Our fight today is because of this difference of opinion)," she said.
"It is true that people opposing us are larger in number, but no problem, our honesty quotient is much higher.... Our focus is on justice, independence, equality... our area of focus is on our brotherhood, our Constitution and our Tricolour... this is enough.... We don't need your (Centre's) stamp. It does not matter what we eat, be it biryani or kebab, you are as Hindustani as we are," she said to cheers from the crowd.