Krishna Kalyani is 5th defector in Bengal House
Another BJP MLA bites the dust, joins Trinamul
Krishna Kalyani of Raiganj is fifth defector in Bengal assembly, Suvendu threatens action as per law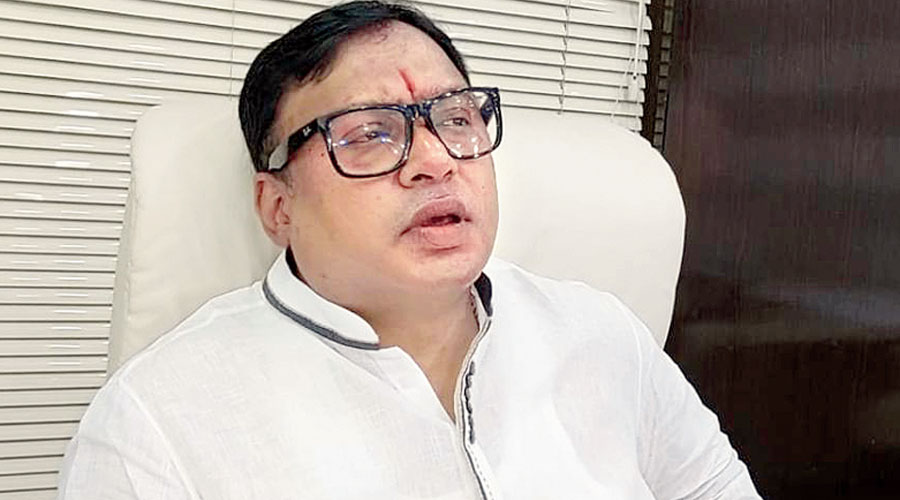 Krishna Kalyani
File picture
---
Calcutta
|
Published 01.10.21, 07:08 PM
|
---
The BJP's Raigunj MLA Krishna Kalyani on Friday quit the party to join the Trinamul, taking the tally of defectors to five in the state  Assembly at  time when a legal battle is on between the two parties in Bengal on implementing the anti-defection law.
Kalyani's tale of changing parties is like that of his other colleagues who have made careers out of jumping political ships in Bengal.
Son of a former Congress leader close to the late PCC president Somen Mitra, Kalyani was among the two MLAs elected from North Dinajpur on a BJP ticket. Both have now defected to the Trinamul.
Kalyani was served a showcause notice by the BJP state leadership for his repeated verbal attacks on the district leadership and Raigunj MP Debashree Chowdhury.
"The party has an internal discipline. He would not follow any rules. Sometimes he would speak against the district leadership, sometimes against the national vice president Dilip Ghosh (who was till recently the state president of the BJP). He was show-caused. Instead of replying to it, he has fled from the party," said leader of Opposition Suvendu Adhikary, welcoming Kalyani's decision to quit. 
Adhikary who has filed a petition in the Calcutta high court seeking disqualification of Mukul Roy, however, had a warning for Kalyani.
"He must resign as MLA. Mukul Roy's fate will be decided on October 7. Others like Tanmoy (Ghosh, Bishnupur MLA), Biswajit (Das, Bagda MLA) will meet with the same fate. That is why I am requesting him to resign as MLA or he will be disqualified," said Adhikary.
Like  former BJP MP Babul Supriyo, who joined Trinamul some days ago, Kalyani had on September 5 announced his decision to severe ties with the BJP.
He had accused the local MP and former junior Union minister Debashree Chowdhury of sabotage during the polls to prevent himnfrom getting elected. He had also accused  district president Basudeb Sarkar of running the party unilaterally.
"The district BJP president is running the party with a handful of followers on his whims. I raised a number of issues which the party should have addressed but nothing was dome. I also apprised the state leaders of these issues but surprisingly they too are silent. That is why from today, I will not maintain any links with the district unit," Kalyani said on September 5.
Sources said he was in touch with Trinamul leaders in Raigunj as well as Calcutta to secure his return to the Trinamul.