And now, Chappell is asura
Read more below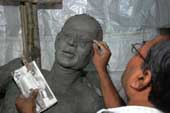 ---
Published 28.08.06, 12:00 AM
|
---
Dilip Pal sculpts the Mahisasura modelled on Greg Chappell. Picture by Sanjoy Chattopadhyaya
The city booed Greg Chappell for keeping Sourav Ganguly out of Team India. Now, it's the turn of goddess Durga to teach the Australian a lesson.
The goddess in a cricket controversy?
The credit for this out-of-the-box idea goes to members of Deshbandhu Road Sarbojanin Durgotsav.
"Sourav is our pride. He is close to our heart. The way Chappell eliminated him from the Indian team has hurt us all. So, this year we chose the national cricket coach as Mahisasura," said Chandan Bera, a member of the puja committee. The kids in his locality, he added, want the evil personified to look like the coach.
A few years ago, Yubak Brinda had chosen Veerappan to represent the evil and it was an instant hit.
The images for Deshbandhu Road Sarbojanin, in Baranagar, are being made by Dilip Pal of Kumartuli, who has also been engaged by another club to model Mahisasura after French soccer star Zinedine Zidane.
Pal sees perfect logic behind Deshbandhu Road Sarbojanin's idea. "People in Calcutta are against Chappell for his role in eliminating Sourav from the team," explained Pal.
But weaving in Indian sensibilities, the depiction will be different. Chappell, a guest of the country, will not be shown being killed by the goddess.
While Sourav's chances of staging a comeback to international cricket might be waning, the members of the club believe a divine intervention may tilt the balance in his favour.
"Ma Durga's gestures will suggest that she is directing Chappell to bring Sourav back to the team. There will be a blend of anger and astonishment on Chappell's face on receiving such a directive from the goddess," explained Pal.
The other innovations will include a western outfit, a three-piece suit, for Chappell instead of Mahisasura's traditional dhoti. The pandal will be decorated in keeping with the theme.
"The pandal and the lighting plans have been designed keeping in mind the sports theme," said Avik Patra, treasurer of the puja committee.