All for a better Bengal
Caleidoscope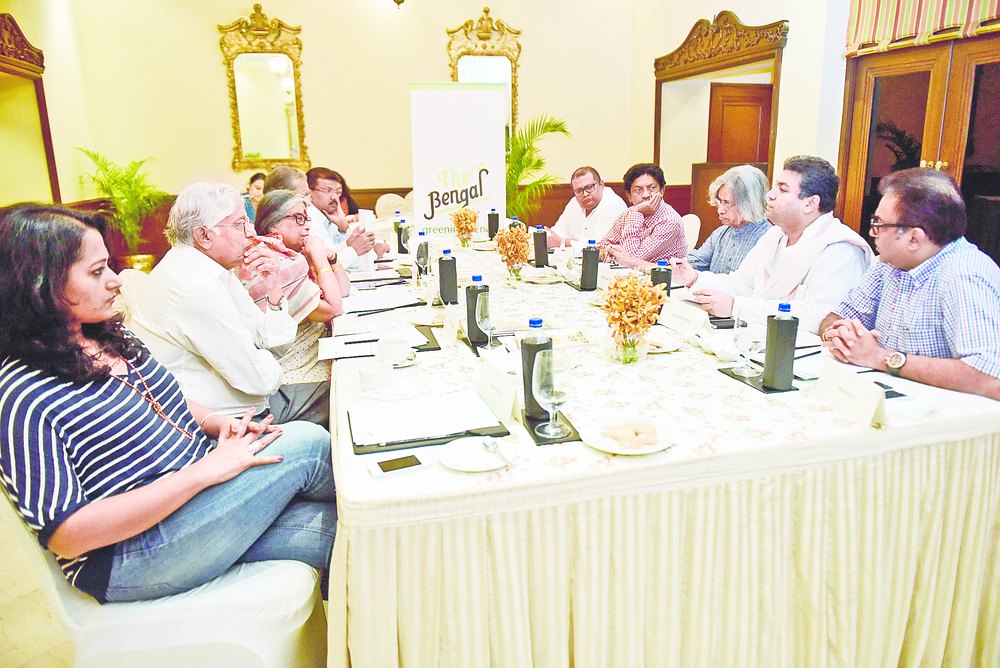 ---
---
Shirshendu Mukhopadhyay and Joy Goswami have been selected for the Sunil Gangopadhyay Memorial Award for 2014 and 2015 respectively.
The writers will be honoured with a cash award of Rs 2 lakh each (sponsored by Shree Cement). The decision was taken at a meeting of members of The Bengal, an NGO, at Taj Bengal on May 28. Gangopadhyay had been the president of the NGO formed over five years ago.
The meeting was attended by Nabaneeta Dev Sen, writer and current president, artist Jogen Chowdhury (working president of The Bengal), Sundeep Bhutoria (secretary general), board members Chuni Goswami, Goutam Ghose, Md. Mansoor Alam, Nayantara Palchoudhuri and committee members Anandi Ghose, Arindam Sil, K. Jaweed Yusuf and Aniruddha Roy Chowdhury. Actress June was inducted into the committee during the hour-long meeting.
The members also discussed the NGO's unique project for senior citizens, Pronam, in association with Calcutta police.
The number of Pronam members having crossed 12,000, it was decided that two more sub-offices will be opened at Tollygunge and Phoolbagan. Every area where Pronam has its members will have separate cultural programmes for the elderly, instead of a single centralised event.
The project will also get its own website soon.
The meeting was followed by a dinner, which was attended by the Calcutta police commissioner, Surajit Kar Purkayastha.
Trailblazers
These are ladies who were the first to step out as "professionals" in India as secretaries soon after World War II. For a decade or more, Anglo-Indians and Parsi ladies ruled the roost as they knew English and spoke it at home, wore Western clothes, and had a more Western outlook to life. Indian ladies slowly but surely stepped in, probably from the mid-50s.
In 1970, an enterprising Parsi lady in Mumbai, Homai Mehta, decided to seek affiliation with international associations and set up the National Institute of Professional Secretaries (that has since been renamed Indian Association of Secretaries & Administrative Professionals). She still helms the pan-India association as its Chairperson Emeritus.
In 1985, the Calcutta chapter began with a band of ladies who worked mostly in various multinationals such as ITC, ICI, Grindlays, Tatas, Brooke Bond and others such as Williamson Magor, CESC, Oberoi and Taj Bengal. These organisations carried a large secretarial workforce that was powerful and formidable. Once computers took over at the turn of the millennium, they changed tack and slowly moved into human resources and other managerial posts, although every big boss has one or more assistants.
During the Administrative Professionals' Week from April 19-25, 40 ladies celebrated the occasion with a screening of Margarita with a Straw and a KBC-style quiz followed by dinner at The Park.
A new committee was elected at the AGM earlier this month and it will soon kick-start its pearl jubilee celebrations to coincide with the biennial Secretary of the Year contest that culminates in an all-India Contest. It will be held in Hyderabad in September. They also look forward to the next biennial international Congress next year in Manila.
Dance for a cause
They danced to save lives. Hip hop dancers of the city gathered to dance their hearts out at an event titled Kolkata Soul Chapter held at Shimmers, Salt Lake. An effort to collect money for the Nepal earthquake relief fund had more than 30 dancers battling it out. Winners Debangan Mitra and Anish Mitra donated the prize money to the Nepal relief fund. Tushar Kapoor, a Mumbai-based dancer, and Deepayan Purkait of The Big Bong Theory Forum hosted the event. "The love, support and enthusiasm was great. There were some crazy showcases by Fullstop, Anuj Jain and Shibayan Ganguly who performed a classical dance and it was the first time something like that happened at a Hip Hop Jam," said Tushar.
Contributed by Chandreyee Ghose, Soumitra Das and Samabrita Sen