Alipurduar BJP functionaries upset over candidate selection
Resentment shown by leaders and workers underlines allegations that the party does not have much bench strength in Bengal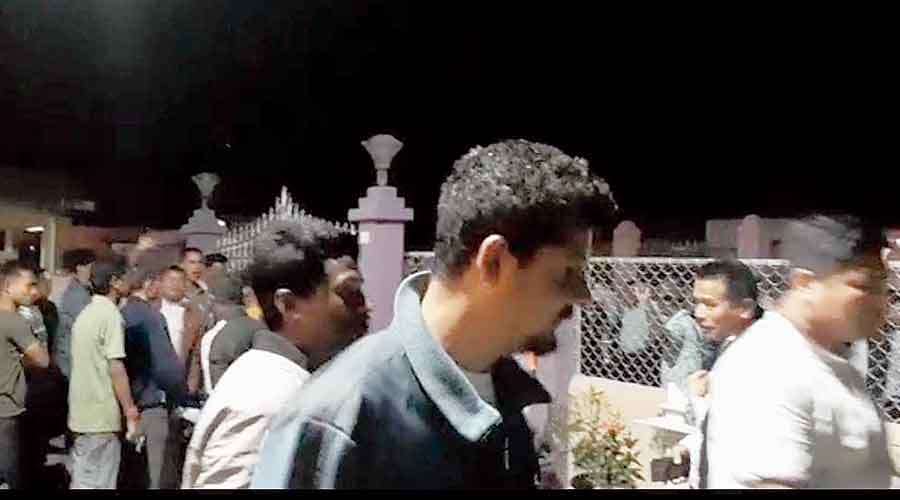 BJP supporters demonstrate in front of Alipurduar party president Ganga Prasad Sharma's residence on Sunday against Bishal Lama's candidature in Kalchini.
Picture by Anirban Chowdhury
---
Alipurduar
|
Published 15.03.21, 02:51 AM
|
---
The BJP on Sunday announced economist Ashok Lahiri as the candidate for the Alipurduar Assembly seat and moments later, district party president Ganga Prasad Sharma said he could not divulge much about the nominee as he knew little about the contestant.
Sharma's candid statement has reflected the general mood among Alipurduar district BJP functionaries who seemed peeved over the national leadership's decision to field the candidate without consulting them.
"I came to know from the media that Ashok Lahiri would contest from Alipurduar. I don't know him. So, how can I speak about him?" Sharma told this correspondent a few hours after Lahiri's name had been announced.
The BJP district chief said nobody in the party had informed him either about Lahiri's candidature or the decision to field Bishal Lama — a former leader of the Bimal Gurung camp of the Gorkha Janmukti Morcha — from Kalchini. Lama had joined the BJP a few days ago. Later in the evening, BJP supporters started a demonstration in front of Sharma's residence at Jaigaon in the district, demanding that Lama's candidature be dropped.
Lahiri is a former chief economic advisor to the Indian government and was based mostly in New Delhi.
Terming the BJP's decision as a damper on the prestige of local leaders, Sharma said district committee members should at least have been consulted before the announcement.
"Again, regarding Bishal's candidature, I came to know about it through the media. Nobody discussed it with the district committee. We have lost our prestige because of the development around these two candidates," said Sharma.
Lama had contested from Kalchini as the Morcha nominee in the 2016 Assembly polls and lost to Trinamul candidate Wilson Champramary by a little over 1,000 votes.
"We were at the opposite ends of the political spectrum till a few days back but now, he has been made a BJP candidate," said a BJP leader.
Sources in the BJP said there were at least 30 local leaders who wanted to contest from the Alipurduar seat.
Apart from Sharma and Gunadhar Das, the previous district chief of the BJP, the names of people associated in other fields like medicine and education were doing the rounds in Alipurduar.
"For the local aspirants, Lahiri's name has come as a spoiler," said another BJP leader.
Alipurduar BJP leaders also said they could not fathom the reason for not naming the BJP candidate for the Falakata seat.
"We have no idea what is happening with regard to the candidate selection," said another BJP leader.
The resentment shown by BJP leaders and workers regarding the two names underlines allegations that the BJP does not have much bench strength in Bengal.