Ajoy Edwards to resign from Gorkha National Liberation Front
One of the most popular faces in the GNLF, released a video on his Facebook and to the media on WhatsApp announcing his plan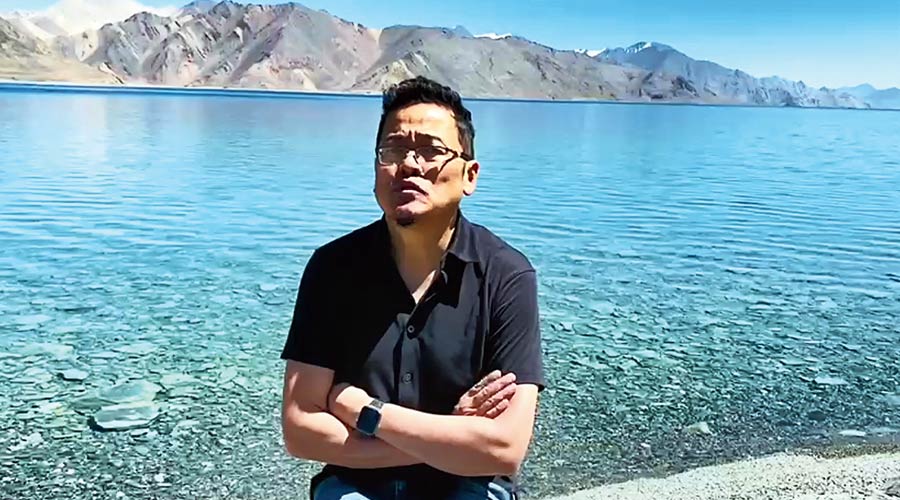 ---
Darjeeling
|
Published 31.08.21, 01:48 AM
|
---
Politician, entrepreneur and social worker Ajoy Edwards on Sunday evening released a video on his Facebook and to the media on WhatsApp where he is seen on the banks of Pangong Lake in Ladakh and announcing his plan to resign from the Gorkha National Liberation Front (GNLF) on his return to Darjeeling on September 5.
One of the most popular faces in the GNLF, Edwards in the video is heard saying in Nepali that he would "ride a bike" alone to the GNLF office at Dr Zakhir Hussian Road in Darjeeling to submit his resignation.
Differences between him and GNLF chief Mann Ghisingh had cropped up recently.
"I am resigning from the present post of president, GNLF Darjeeling Branch Committee, and also as a primary member… I will be arriving on September 5... the way I had once driven alone in my bike to help my friend (Mann Ghisingh) I will go alone in my bike and submit my resignation paper," he said in the video shot at Pangong Lake, made famous in the Bollywood blockbuster 3 Idiots and its equally famous song, "All Izz Well".
Edwards, however, said all is not well. "I had made an address to the GNLF pariwar (family) and that message create a storm on social media. Even then I waited but no directive came to me (from the GNLF leadership). I had thought of remaining an ordinary member but I now feel there is no place left for me in the party," he said in the video.
In that voice message posted in the GNLF WhatsApp on August 23, Edwards had alleged that his friend of "32 to 33 years" and GNLF president Mann Ghisingh had betrayed him not once but on several occasions, sidelined him and bypassed him for Neeraj Zimba.
Edwards, however, said he had no grudges against anyone now though in the voice message he had stated his "grouse" against Mann.
"I do not have any grouse against anyone now, the GNLF helped me in gaining popularity" Edwards said in his latest statement.
Edwards said he would be active in public life.
"I will definitely work for the public. I am not someone to keep quiet and stay home. I have been doing one thing or the other since I was a kid," Edwards said, adding that politics for him was the highest form of social work. Edwards did not make it clear if he would float his own political party or join another party.
Edwards, however, made it clear that he would not averse to working both with the state and the Centre.
"The permanent political solution (for the hills) is something for the Centre to work out but issues like municipality and panchayat are state issues. Time has come to work with all for the betterment of the hills. Diplomacy at one end should not mean that the other party is an enemy," said Edwards. "None of us working for the good of us is an enemy."
The BJP promised a permanent political solution for the hills in its 2019 Lok Sabha election manifesto but has not defined it.
While expressing hope on the issue, Edwards said time was running out for the BJP.
Edwards said he was the one to seek votes for the BJP but reminded all alliance partners of the saffron party that it was the "silent majority" that helped the BJP win the Lok Sabha seat in Darjeeling thrice in a row.
"I will stand by the silent majority. I know the silent majority will also not come on the streets to stage a dharna but I will continue to work for them," said Edwards.
The GNLF has also upped its political activities in the hills. Anit Thapa is also set to float a new political party on September 9 but as of now the focus is on Edwards' entry to Darjeeling hills on September 5.