Airports Authority of India officials inspect Malda airport
The ADMs explained the plan of the district administration to make the airport functional as it was asserted by Mamata while attending a review meeting earlier this month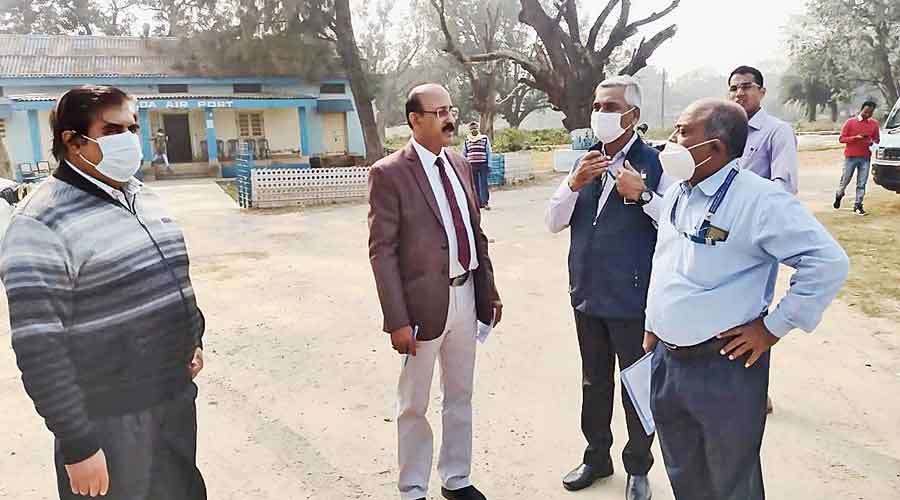 Officials of the Airports Authority of India at the Malda airport with officials of district administration on Monday.
Soumya De Sarkar
---
Malda
|
Published 21.12.21, 01:36 AM
|
---
A joint team of the Airports Authority of India (AAI) and the state transport department inspected the existing infrastructure of Malda airport on Monday, after chief minister Mamata Banerjee earlier this month said that her government was working to start regular flight services from Malda.
A two-member team of AAI led by Dhananjay Tiwari, a deputy general manager of AAI, along with two officials of the transport department, surveyed the runway of the airport here and other facilities at the site.
Senior officials of the Malda district administration, including two additional district magistrates (ADMs), were present. 
The ADMs explained the plan of the district administration to make the airport functional as it was asserted by Mamata while attending the Malda district's administrative review meeting earlier this month. 
"We studied details of the airport and will share our opinions with the district administration," Tiwari said after the visit.
Sources in the administration said the team has suggested extension of the runway up to 2.3km, which as of now is only 1.1km long.
"This was also mentioned by the chief minister. She had categorically said at the meeting that the length of the runway has to be increased by another kilometre or so. Also, the chief secretary of the state and the district magistrate had visited the site to find out availability of the land that is required for the runway," said an official.
If the runway is extended, planes with the capacities for 70-odd passengers can operate from the airport, he added.
  "If flight services are introduced from here, the travel time between Malda and Calcutta will reduce to around 30 minutes or so," the official added.
After the visit, the team also held a meeting with the administration.
Rajarshi Mitra, Malda district magistrate, said they primarily defined alignment of the runway.
"We are waiting for their report and would then take up the issue with the state government," he said.
The team, sources said, is also likely to visit Cooch Behar and Balurghat, the two other locations in north Bengal from where the state wants to have flight services.
The airport in Malda was built on 144 acres of land back in 1962 for cargo flights. In the eighties, the Vayudoot service was launched but did not continue for long. As of now, the airstrip is used for helicopters of the VIPs.
Malda is connected to Calcutta and other districts of the state through rail and roads. One has to travel for six to eight hours by train or bus to reach Calcutta, 350km away.
Trade bodies in the district welcomed the team's visit. "Regular flight services from here can benefit people and industrial investment in the district," said Jayanta Kundu, secretary of the Malda Merchant Chamber of Commerce.