AIMIM eyes minorities and Dalits in Malda
Mohammad Majid Hossain, the party's observer for Bengal, indicated that it would contest in all Assembly seats where SCs and STs decide the poll results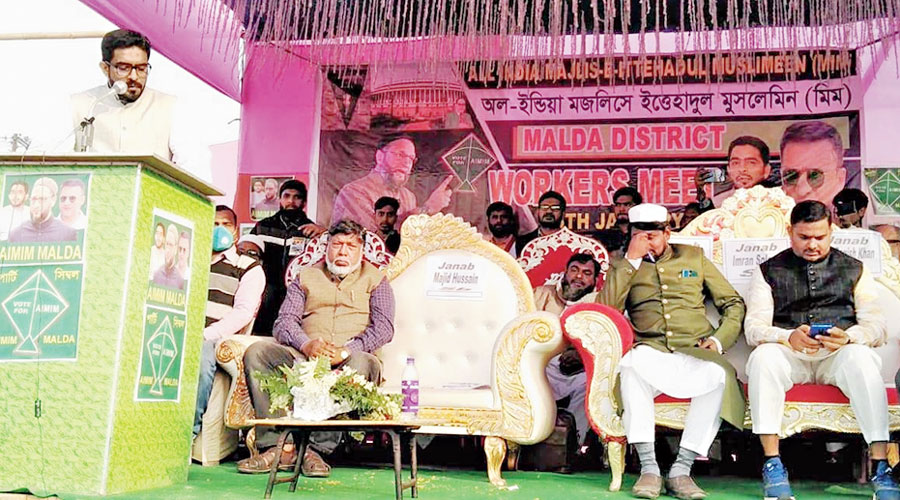 AIMIM leader Mohammad Majid Hossain speaks at the public meeting in Samsi on Monday.
Soumya De Sarkar
---
Malda
|
Published 26.01.21, 02:19 AM
|
---
The All India Majlis-e-Ittehadul Muslimeen (AIMIM) held its first public meeting in north Bengal on Monday and sought to counter the narrative that the party was the B-team of the BJP.
Mohammad Majid Hossain, a former mayor of Hyderabad and the party's observer for Bengal, addressed the meeting at the Hathkhola ground in Samsi near Ratua.
He accused other political parties, including the BJP, of betraying minority and Dalit voters. Hossain indicated that the AIMIM would contest in almost all Assembly seats in Malda, including Habibpur and Gazole where the Scheduled Castes and Scheduled Tribes decide the poll results.
"Those who got elected on Congress, Trinamul and Left tickets in Bengal have defected to the BJP. None from our party went to the BJP. In all five seats which we recently won in Bihar, the BJP and other NDA constituents were defeated," said Hossain as he sought to dismiss charges that the AIMIM was playing second fiddle to the BJP.
That Asaduddin Owaisi's party bracketed minorities and Dalits showed that it was banking on both the communities. "In Malda, votes of the minority community matter in at least eight of 12 Assembly seats. There are a couple of other seats where Dalit votes are decisive," said an observer.
While the AIMIM kicked off its poll campaign on Monday — Owaisi had earlier said it would field candidates in minority-dominated districts of Bengal, Furfura-Sharif cleric Abbas Siddiqui, who had announced formation of the Indian Secular Front last week, will reach the district on Tuesday.
According to sources, Siddiqui will attend two religious programmes at Jalalpur and Bamangram in Kaliachak, the areas where Muslims constitute around 90 per cent of voters.
"Both are religious programmes. Even then, he might speak on the upcoming elections and other issues," said one of the organisers.
Trinamul couldn't win a single seat in Malda in the 2016 Assembly elections or the Lok Sabha polls in 2014 and 2019.
"This time, Trinamul is giving special focus to Malda as its leaders think minority votes in its favour can swing its fortune. But if forces like the AIMIM and the ISF plunge into the poll fray, it would put pressure on Trinamul," said an observer.
Chief minister Mamata Banerjee will be in the Malda district next month.
BJP national president J.P. Nadda is scheduled to reach the district in the first week of February and Union home minister Amit Shah might come at the end of the next month.