Ahead of panchayat polls, BJP wants Citizenship Amendment Act in Bengal
Hopefully we will not have to wait any longer, says Suvendu Adhikari while addressing the Matua community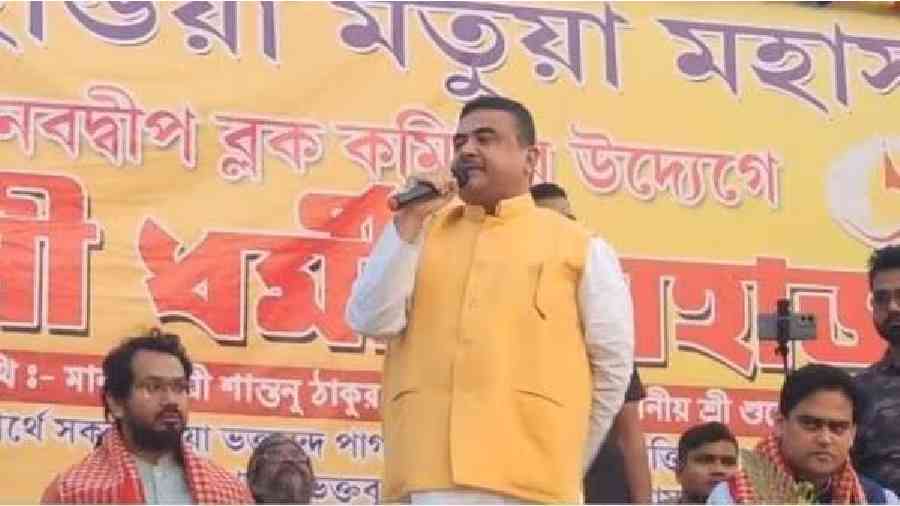 ---
Calcutta
|
Published 04.02.23, 11:49 PM
|
---
Setting the tone for what is likely to become one of BJP's prime agendas for the upcoming panchayat elections in Bengal, party leader Suvendu Adhikari demanded that the controversial Citizenship Amendment Act should be immediately implemented in Bengal.
Speaking at the Nabadwip block conference of the Matua community in Nadia on Saturday, Adhikari said: "The CAA has already been passed in Parliament. The process of framing the rules is currently on  to facilitate the implementation of the Act. We have been waiting for some time now. Hopefully, we will not have to wait for long. We urge the Centre that the Act be immediately implemented in Bengal."
The BJP in Bengal has arranged protest meetings against chief minister Mamata Banerjee's alleged distortion in uttering the name of the Matua spiritual leader Guruchand Thakur at a recently held public meeting in Malda with party MP and Matua leader, Shantanu Thakur, planning a series of protests in various parts of Bengal.
The party is believed to be under considerable pressure from the grassroots of the Namasudra community with leaders like Ashim Sarkar, BJP MLA from Haringhata, stating he wouldn't approach his people for votes in the next general elections if the Act is not implemented before 2024.
While the Act was passed in Parliament in December 2019 amid large-scale protests in Bengal and various parts of the country including the North East, union home minister Amit Shah had said at a meeting in Bongaon ahead of the 2021 state polls that the implementation was stalled on account of the Covid oandemic.
In the 2019 general elections, the BJP won the Bongaon and Ranaghat seats, both of which have a considerable presence of Matuas, as part of its total tally of 18 seats from Bengal. However, in the 2021 state polls, the party managed to retain only 9 out of the 21 seats in the state which are dominated by the Namasudra community members, the remaining 12 being won by the TMC. BJP's internal reports have stated that there has been a creeping disappointment amongst the community members for not having the Act implemented even after three years of passing it in Parliament.
Mamata Banerjee has consistently maintained that she would not allow the Act to be implemented in the state because of its "discriminatory nature".
While speaking at today's programme, Adhikari took on Banerjee for what he alleged was the chief minister's "complete disregard for the Sanatani culture".
 "Mamata Banerjee has a habit of wrongly uttering mantras of Saraswati Puja and making mistakes in Chandi Path. She inaugurates Durga Puja in Pitri Paksh which is forbidden in the Sanatani culture. She claims she arranged for the treatment of community leader Binapani Devi when all she had done was to get her treatment done in a government hospital which runs on public money," Adhikari said.