After CM prod, Malda growers start work to restore mango glory
Annually, around 3.5 lakh tonnes of juicy fruits are produced in the district, where 80,000 producers and close to two lakh families earn their living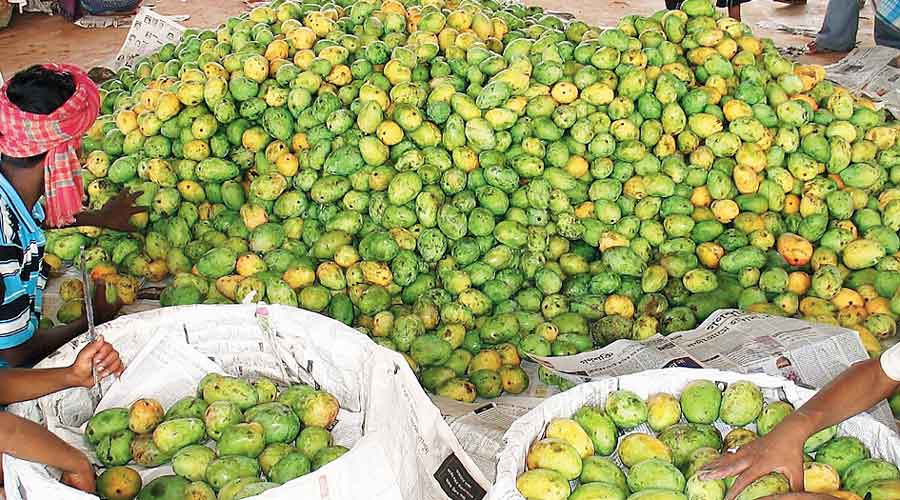 Mangoes being packed at a centre in Malda district.
File picture
---
Malda
|
Published 13.12.21, 02:01 AM
|
---
A nudge by chief minister Mamata Banerjee to the state horticulture and food processing department and mango growers in Malda on ways to increase the production of the fruit in the district has stirred the department and the local trade body into action ahead of the new season.
On December 8, Mamata, while attending an administrative review meeting here, had pointed out that the mango sector in Malda was facing certain problems that needed fixing and had asked stakeholders to work towards improving the quality of the fruit.
"We also need to set up multiple mango hubs in the district," Mamata had added. Malda has mango plantations spread over 30,500 hectares. Annually, around 3.5 lakh tonnes of mangoes are produced in the district. In all, there are 80,000 producers and close to two lakh families earn their living geared around the king of fruits.
However, stakeholders admitted to problems. "One of the main problems is the presence of old trees. In many plantations, the trees are 40 to 60 years old which is why the yield and quality of their fruits have declined over the years. It is necessary to replace these trees with new ones," said Uzzal Saha, the secretary of the Malda Mango Merchants' Association.
He said the state horticulture department had started taking up initiatives to plant new trees. "It is a continuous process and we are getting in touch with growers. Work has started to stop them from using certain pesticides to check pest attacks. This is because once such pesticides is used, it becomes tough to export the fruit to other countries," Saha added.    
Rahul Chakraborty, a senior official of the horticulture department, said they are preparing a plan for the next three years to resolve these issues. 
"The orchards and trees are being classified on the basis of their age. Mango trees that are less than 30 years old need to be nurtured in a better way to enhance production. On the other hand, trees older than 50 years will be gradually replaced by newer ones," he said.
This apart, there is only one mango hub or packaging unit in Malda.
 "Based on the chief minister's instructions, we have started scouting for new locations where similar hubs can be set up in Malda for proper packaging of the fruit and help cultivators get in touch with buyers, including exporters," the official added.