Accidents kills women in Nadia
In an accident on NH12 in Nadia's Kaliganj, Dayamayi Mandal, 50, died along with her husband Hemanta Mandal, 55, and son Subhajit, 22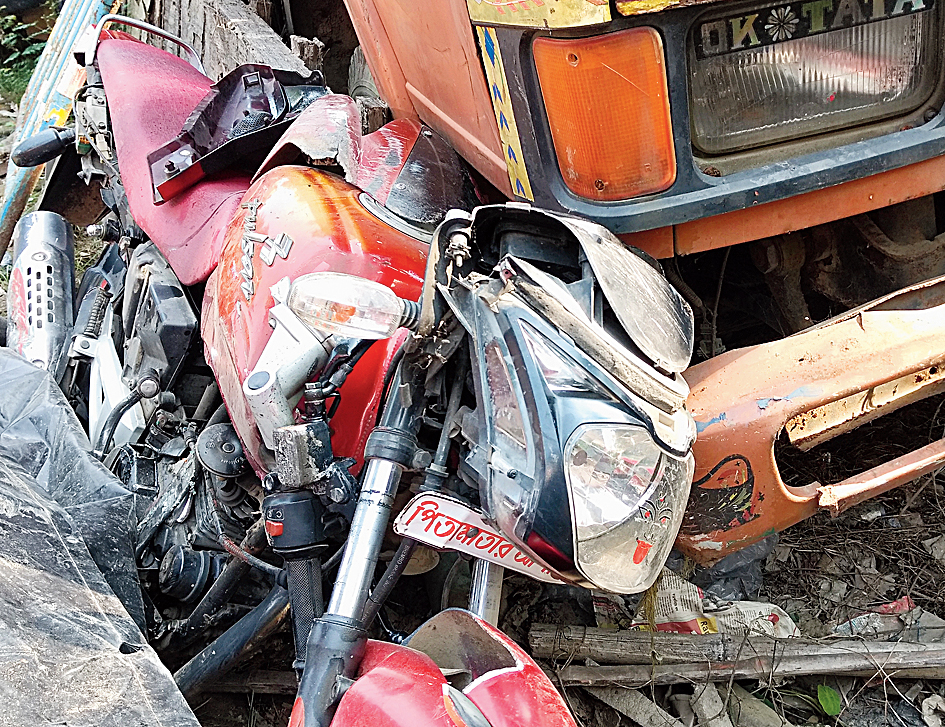 The motorcycle, which Dayamayi Mandal and her husband and son were riding, after the crash.
Picture by Abhi Ghosh
---
Kharagpur
|
Published 09.11.18, 07:46 PM
|
---
Two women were killed in separate road accidents in Nadia and West Midnapore while on their way to give bhai phonta to brothers on Friday.
In an accident on NH12 in Nadia's Kaliganj, Dayamayi Mandal, 50, died along with her husband Hemanta Mandal, 55, and son Subhajit, 22.
Dayamayi was on her way to a cousin's house in Dum Dum with her family to give bhai phonta to him. They were supposed to park their motorcycle at Paglachandi railway station and catch an early morning train to Dum Dum. The motorcycle was being ridden by her husband and no one was wearing helmets.
Police said a truck had hit the motorcycle from behind crushing to death Hemanta under its wheels. Dayamayi and Subhajit suffered critical injuries and later died at the district hospital in Krishnagar.
Family sources of Dayamayi said she visited her cousin every year on the occasion of bhai phonta. "This used to be a reunion with her cousin every year, which tragically came to a halt today," said a family member in Paglachandi.
Police sources said those killed were all residents of Panighata.
In another incident in West Midnapore's Kharagpur, a 35-year-old primary schoolteacher from Midnapore was mowed down by a tourist bus on NH60 after being thrown off the Scooty she was travelling with her son and husband.
Suchitra Dolai Das was travelling to Jokpur in Kharagpur to give bhai phonta to her brother. She was travelling with her husband Ratanlal and four-year-old son Adrish.
Around 8am on Friday, as their Scooty was passing Mohanpur village off NH60, Ratanlal attempted to overtake a tanker parked on the left lane of the highway. Unable to take a clear path around, the handle of their Scooty got locked with a metal part jutting out of the tanker, causing the Scooty to flip.
A police officer said only Ratanlal was wearing a helmet.
Ratanlal and Adrish, who was riding gripping his father, were thrown. Suchitra, who was gripping the rear passenger's handle, was thrown to the right directly on the path of a speeding Bankura-Digha tourist bus. She was crushed under its wheels and died on the spot.