Abhishek Banerjee's rally 'dare' to Suvendu Adhikari
Several TMC insiders said that with Diamond Harbour MP eager to make inroads into Haldia, the rally will officially start a direct face-off between the Trinamul MP and the BJP MLA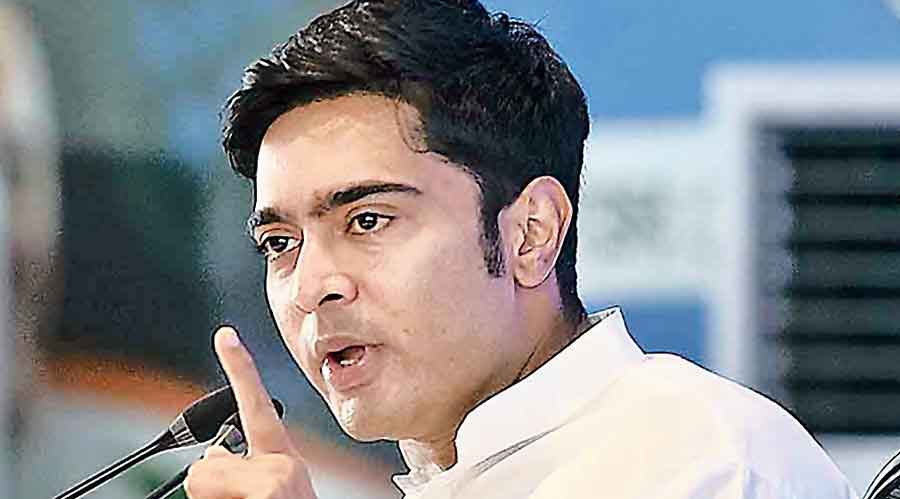 Abhishek Banerjee.
File Photo
---
Tamluk(EastMidnapore)
|
Published 28.05.22, 01:10 AM
|
---
Trinamul all-India general secretary and Diamond Harbour MP Abhishek Banerjee will hold a public meeting in Haldia on Saturday, the show of strength seen as a challenge to leader of the Opposition and Nandigram MLA Suvendu Adhikari in his backyard in the run-up to the Haldia civic body polls to be held later this year.
Several Trinamul insiders said that with Abhishek eager to make inroads into Haldia, the rally will officially start a direct face-off between the Trinamul MP and the BJP MLA.
A 150km stretch from Kolaghat to Haldia has been decorated with Abhishek's posters and Trinamul flags.
The industrial town had been a Left stronghold before Trinamul bagged the civic body it the last elections in 2017. The BJP wrested the Haldia Assembly segment in 2021, making it clear that Suvendu, who considers Hadlia his fief, was behind the win.
"We have to win the civic body and prove that Suvendu doesn't matter in Haldia. It is a prestige battle," said a Trinamul insider.
Minister Moloy Ghatak known for his proximity to Abhishek has been tasked with overseeing the preparations for the meeting.
Ghatak has asked Trinamul leaders from East Midnapore to ensure a turnout of at least a lakh people for Saturday's rally under the banner of the Indian National Trinamul Trade Union Congress (INTTUC).
As part of preparations for the meeting, around 2,000 out of the total 45,000 workers employed in industrial units of Haldia were asked to turn up for a meeting on Friday.
The meeting at Haldia's Durgachak was attended by Ghatak and four other ministers, Becharam Manna, Akhil Giri, Soumen Mahapatra and Srikanta Mahato.
INTTUC state president Ritabrata Banerjee and party spokesperson Kunal Ghosh were also present at the meeting, where 54 workers were selected through draw of lots and were called to the stage to speak about their grievances directly.
"Under instructions of Abhishek Banerjee, the workers who attended Friday's meeting were given the opportunity to place their grievances in front of Trinamul senior leaders. These issues will be conveyed to him (Abhishek)," Sibnath Sarkar, INTTUC's Haldia unit chief, said.
"He is coming here to address the workers of Haldia," Sarkar added, making it clear that workers in the industrial town had an important role in poll outcomes.
In the 2021 Assembly elections, the BJP's Tapasi Mondal, an aide of Suvendu, won the Haldia seat comprehensively. The saffron camp had led in 26 of the 29 wards of the civic body.
According to Trinamul sources, the Assembly poll outcome was a result of a sabotage by several INTTUC members in Haldia, who had been in touch with Suvendu.
One of the primary intentions behind Saturday's rally, according to sources, is to send out a message to such "traitors" that the organisation in Haldia is now directly monitored by Abhishek.
"If Abhishek Banerjee sends out a clear message, it will work as a boost for loyalists and warning for traitors," a district Trinamul leader said.