3 friends drown during holy dip in Andal
Residents and members of a disaster management team recovered three bodies; fourth youth untraceable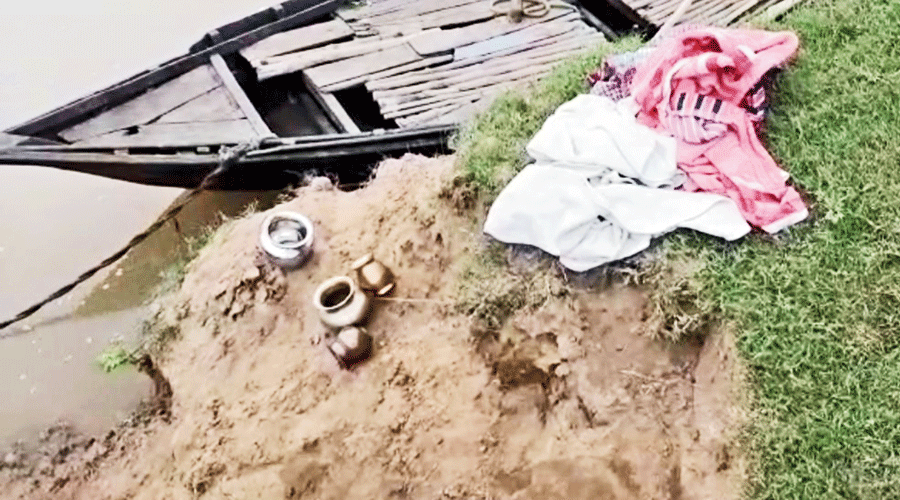 Utensils of the four youths lying on the bank of the Damodar in West Burdwan's Andal on Monday.
Picture by Swapna Barua
---
Durgapur
|
Published 28.07.20, 03:40 AM
|
---
Three youths drowned in the Damodar river on Monday in West Burdwan's Andal while one of their friends was traceless till sundown.
The tragedy took place when friends Sabyasachi Mukherjee, Shibu Das, Rahul Mandi, Sourav Mandal, Indranil Ghosh and Gourav Mandal, all aged 18 and residents of Gopalmath in Durgapur police station limits, went to Andal, some 10km away, for a dip before taking water from the river to pour it on Lord Shiva at a temple on Monday. Monday is considered holy in the ongoing Hindu month of Shravan.
"They were taking a dip around 4am when Sourav, Shibu, Sabyasachi and Rahul lost their balance in the strong current. Gourav and Indranil managed to reach the banks," said a police officer. "No one knew swimming," he added.
Residents and members of a disaster management team recovered the bodies of Sabyasachi, Shibu and Sourav. Rahul could not be traced.
Police said all except Rahul had been students of Gopalmath High School in Durgapur. Sourav and Shibu had cleared this year's HS exam with 75 per cent in arts . Sabyasachi got 75 per cent in HS and 92 percentile in the all-India joint entrance exam and wanted to become a doctor.
Sourav's mother said her son and his friends had pledged to pour water on Lord Shiva every Monday of Shravan for their HS success.