18 let off in 2014 killing of Bengal cop
Widow cries political pressure as court blames lax investigation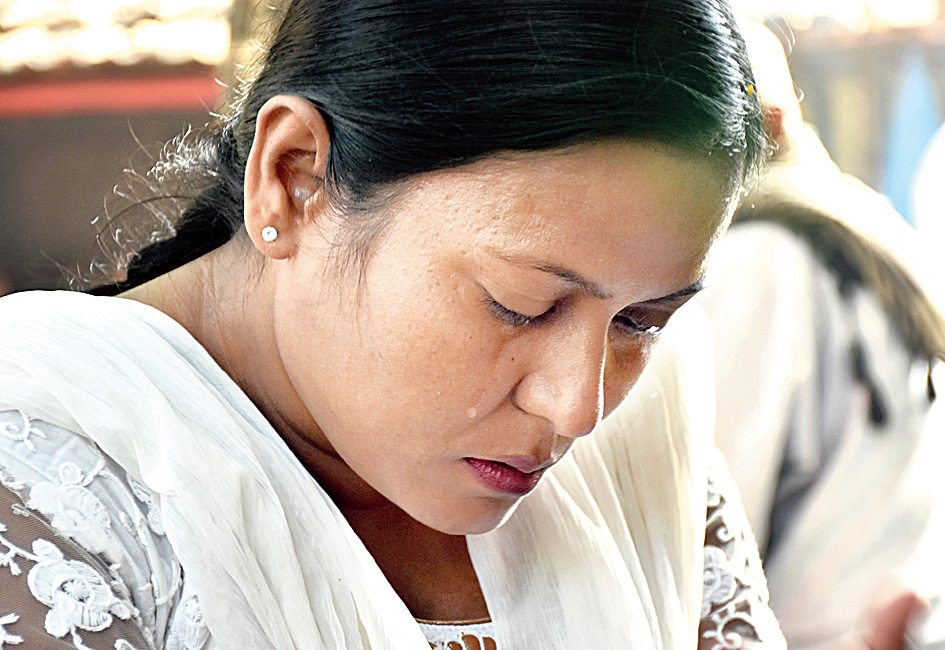 Putul Sarkar, the wife of the slain cop, weeps after hearing the verdict.
Dwijodas Ghosh
---
Suri
|
Published 19.11.18, 08:34 PM
|
---
A court here on Monday acquitted 18 people chargesheeted in the murder of sub-inspector of police Amit Chakraborty during a Trinamul-CPM clash in 2014 with a comment that the investigation was "lax".
Chakraborty died at a Durgapur hospital, around 50 days after he had been hit by a crude bomb at Dubrajpur village on June 4, 2014.
Before delivering his verdict, the first additional district session judge of Suri court, Somesh Chandra Pal, said: "The investigation was carried out in a lax manner. The probe failed to prove the accused guilty beyond doubt and so, they were acquitted."
Public prosecutor Malay Mukherjee said: "The judge highlighted the inadequacy in investigation and acquitted 18 accused persons."
Chakraborty's wife Putul Sarkar was present in the court. She broke down after the court acquitted the 18. Later, Sarkar blamed the police for the exoneration.
"The police did not want punishment for the accused. I know the investigation was not done properly. But I had nothing to do. There was political pressure and hence, the police did not probe the case properly," she said.
Chakraborty was the SI at Dubrajpur when he went to control the clash at Aoulia-Gopalpur village.
Of 50 people named in the chargesheet, just 21 were arrested. While two persons died during the trial, one accused person was a minor. The rest of the 18 were tried.
The then officer-in-charge of Dubrajpur police station, Tridip Pramanik, had lodged a complaint against 48 people, including CPM and Trinamul workers. The police later filed the chargesheet against the 50 people, who included Sheikh Alim, then a panchayat samiti functionary of Trinamul in Dubrajpur, and Sheikh Moqtul, a CPM zonal committee member. Moqtul died during the trial.
Some police sources alleged that the investigation was not carried out properly because several Trinamul leaders were named in the FIR.
"The verdict proved that we did not do anything for our colleague," a police officer in Birbhum said.
"The judge said the investigation was not done properly. It is shameful for us because police investigated the murder of a police officer on the basis of a complaint lodged by a police officer. It was found that the complainant of the case could not recognise the arrested persons during the trial," another cop said.
Birbhum district police chief Kunal Aggarwal did not take calls.