Shops for unemployed lie idle, govt opens doorway for other activites
The Karma Tirthas have been thrown open to be used as office space for clusters, SHGs, cooperatives or rural entrepreneurs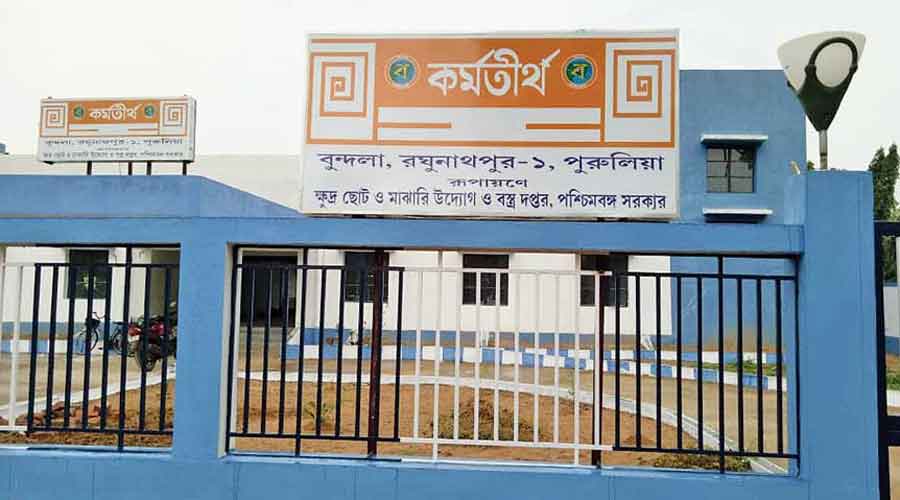 ---
Calcutta
|
Published 26.11.21, 01:40 AM
|
---
The Mamata Banerjee government has decided to throw open Karma Tirthas — market complexes set up to provide shops to unemployed youth — for various other activities after it was found that majority of the shops remained unoccupied because of lack of interest from the unemployed.
"As more than 11,000 shops at 534 Karma Tirthas across the state are lying vacant, steps are being initiated to make the establishments functional by allowing several other activities. The primary target is to utilise the establishments that were constructed at the cost of more than Rs 500 crore," said a senior government official.
The state government has now decided to allow any kind of commercial activity related to manufacturing and the sale of produces of micro and small-scale enterprises, garment manufacturers, self-help groups and cooperatives. The Karma Tirthas have been thrown open to be used as office space for clusters, self-help groups, cooperatives or rural entrepreneurs.
The move, sources said, was considered to be a smart one by the state government as it could make unused structures useful.
"At least a sum of Rs 500 crore was used to set up the market complexes where at least 15,000 shops were set up for distribution among the unemployed youths. As nearly 11,000 shops at these 534 market complexes are lying vacant, steps were needed for use of the structures. If the structures remain unused, these will get damaged and a handsome amount go through the drains," said another official.
A section of the officials said although the initiative to make complete use of the structures was a good one, it gives a lesson to learn for the administration.
"These structures were set up at the places where government land was available, which is far away from market areas. That is why unemployed youths did not show interest in getting the shops allotted. Now, we should know that projects have to come up in the areas where these would be viable, not the places where the land is available," said a source.
This, sources said, explained why the shops remained unused despite the fact that there was lack of employment opportunities in the state.
According to officials, because of the same reason a majority of the 170-odd Krishak Bazars could not be made fully functional in the state.
"The state tried to shift local vegetable markets to these Krishak Bazars, but as majority of them are far away from local markets, majority of them could not be made fully functional," said a source adding that activities like paddy procurement were being done at these structures these days, but those didn't serve the purpose they were constructed for.
The state government is trying to increase footfall at the Karma Tirthas by asking state-run buses to stop near the establishments, but such initiative has hardly helped so far.
It now remains to be seen where allowing more activities would help to make the establishments functional.