Reconstructive surgery on Himalayan black bear in Sikkim
The animal, which had a self-inflicted injury in its right forelimb, was taken to the State Veterinary Polyclinic in Gangtok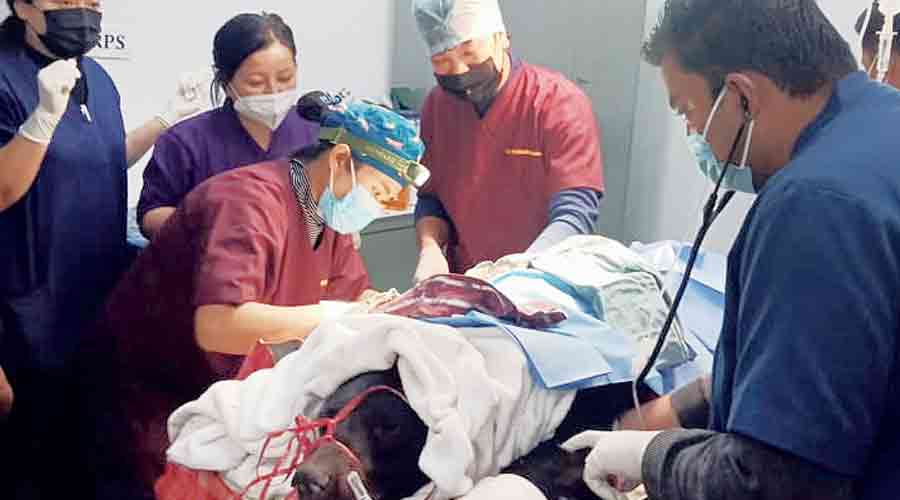 Vets conduct surgery on the Himalayan black bear in Gangtok on Friday
Telegraph photo
---
Siliguri
|
Published 16.01.22, 02:12 AM
|
---
A reconstructive surgery was conducted on a Himalayan black bear in Sikkim to fix multiple fractures in its right forelimb, preventing possible death from septicaemia. 
The bear had been captured by forest officials after it had entered a human habitation at Bouchen in east Sikkim on Tuesday. The animal, which had a self-inflicted injury in its right forelimb, was taken to the State Veterinary Polyclinic in Gangtok.
"The injury could have resulted in septicaemia with a grave prognosis. The black bear's mutilated forelimb was beyond repair due to significant loss of soft tissue and multiple irreparable fractures," said a release issued by the Sikkim animal husbandry and veterinary services department.
After assessing the condition of the animal, a team of veterinarians led by Diki Palmu Sherpa, the superintendent of the polyclinic, decided to perform reconstructive surgery on the right forelimb and amputate the irreparable portion of the forelimb from the humerus bone.
"All necessary surgical materials and medicines, including anaesthetics, were used as per the standard reconstructive surgical procedure…. The surgical procedure took about 75 minutes," the release said.
The bear recovered smoothly from anaesthesia and is in post-operative care at the animal hospital in Gangtok's Sikkim State Zoological Park. 
"This reconstructive surgery on a wild bear is historic and it is the first of its kind in the state. The Himalayan black bear is listed as vulnerable on the IUCN (International Union for Conservation of Nature) Red List of threatened species," the release said.
P. Senthil Kumar, the secretary of animal husbandry and veterinary services, lauded the team of doctors that performed the surgery. "The contribution, effort and technical skills of the veterinarians of the State Veterinary Polyclinic are commendable and on a par with any set standards on reconstructive surgery in the veterinary field," he said.
A senior forest officer said the bear would be kept in the hospital till it recovers fully before a decision is taken on releasing it into the wild.
"The zoo authorities, in consultation with the veterinarians, will either decide to release the bear in the forest or keep it in the zoo, depending on the incapacitated animal's ability to forage for food in the jungle," the officer said.