Down Syndrome not the anyatam test for this swimmer
Courage of 17-year-old Special Olympics winner saluted at The Telegraph School Awards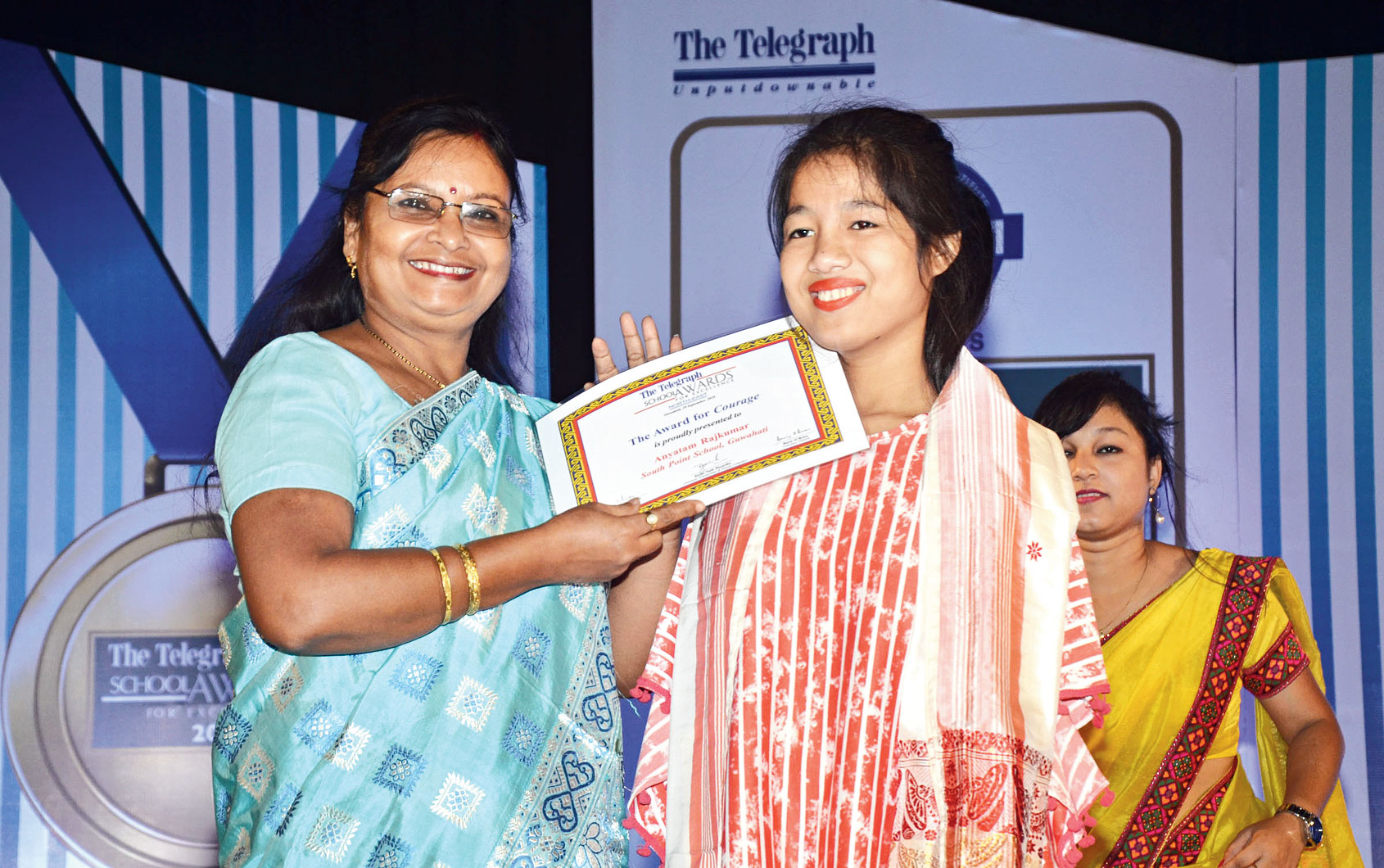 ---
|
Guwahati
|
Published 01.10.18, 07:02 PM
---
Undeterred by Down Syndrome that has afflicted him since birth, Anyatam Rajkumar nurses the hope of scripting his name in the record books with his expertise in swimming.

A student of Class XII at South Point School, Guwahati, the 17-year-old specially-abled boy is indeed a personification of his name Anyatam, which means "ultimate" in Assamese, with his activities.
The only son of Dwipen Rajkumar, an Oil India Ltd employee, and Niru Dutta Rajkumari of Ambari here, Anyatam is a world champion in Special Olympics swimming.
Saluting his indomitable spirit, The Telegraph Education Foundation (TTEF) honoured him with the TTEF Award For Courage during the IIHM Presents The Telegraph School Awards For Excellence 2018 Powered by Sister Nivedita University, at ITA Pragjyoti Centre for Performing Arts here on Saturday.
The awards, administered by The Telegraph Education Foundation and launched in 1996 in Calcutta, were held for the first time in the Northeast.
"He is determined to script a world record in swimming and has been working hard to hone his skills further. We also encourage him in every possible way and provide him with whatever he needs to enhance his swimming career. I am hopeful he will do something exceptional someday with the amount of determination he shows," Anyatam's father Dwipen Rajkumar told The Telegraph.
Learning the basics at Dolphin Swimming Pool here, Anyatam practises at BP Chaliha Swimming Pool at RG Baruah sports complex here. "His mother takes all the pain of accompanying him to his training and competitions," Rajkumar said. "Being mediocre in studies, we don't put him under any pressure of academics. We encourage him more in sports, which he loves."
Down syndrome is a genetic disorder and the most common autosomal chromosome abnormality in humans, where extra genetic material from chromosome 21 is transferred to a newly formed embryo. These extra genes and DNA cause changes in development of the embryo and foetus, resulting in physical and mental abnormalities.
The first from Assam to win a medal in sea swimming, competing with physically normal swimmers, Anyatam bagged a swimming gold in Special Olympics World Summer Games at Los Angeles, USA, in 2015, to be the first from India to achieve the feat.
Earlier, he had won a silver in the Special Olympics Asia Pacific Games at New Castle in Australia in 2013. He has also won several medals at different national-level swimming competitions.
Apart from swimming, he also takes interest in rowing, arm wrestling and woodball.