Want to be selective in 2020: Deepak Chahar
Regaining his lost pace and working further on the variations will be Deepak Chahar's goals for 2020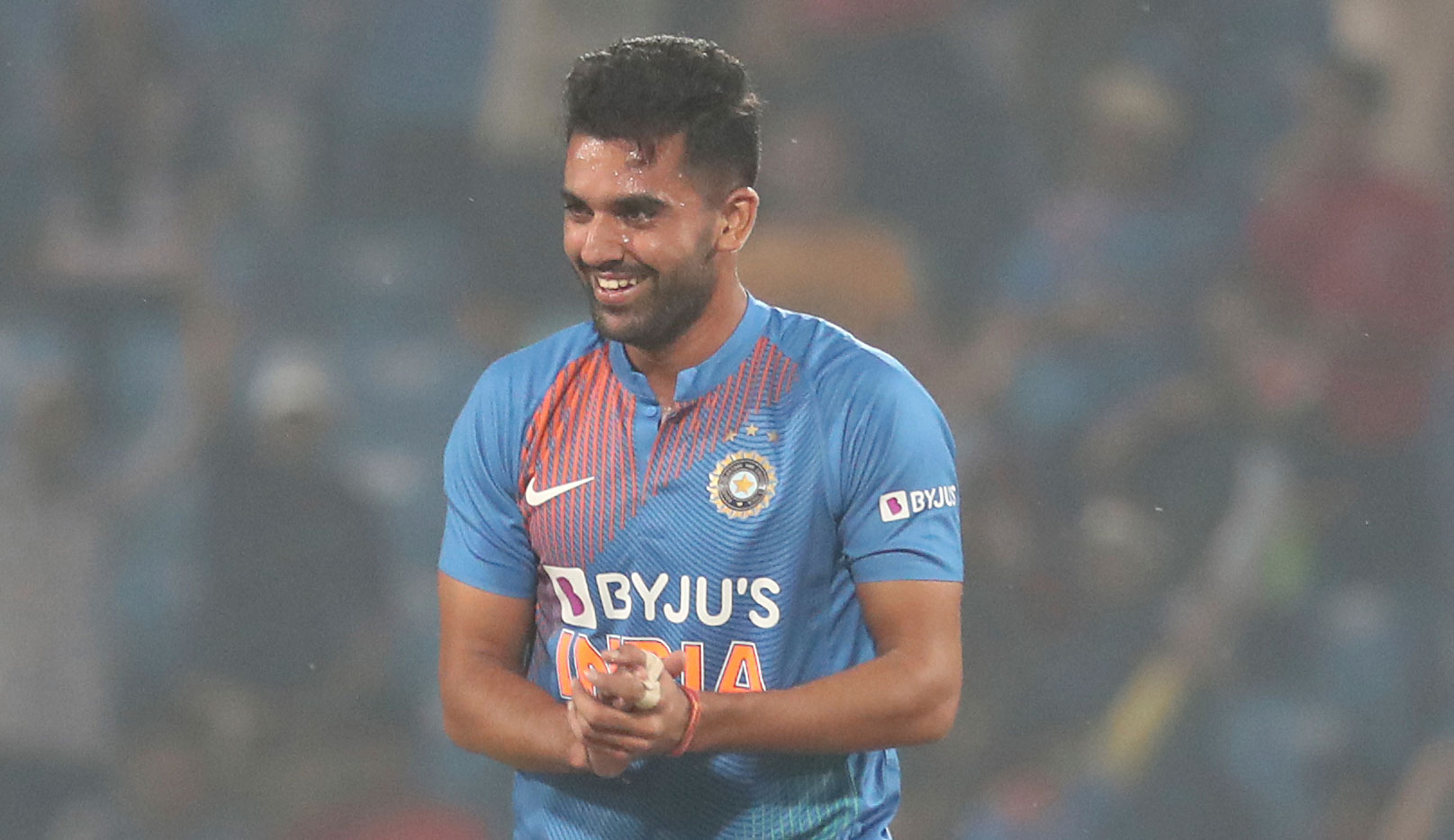 Deepak Chahar
File picture
---
Calcutta
|
Published 31.12.19, 09:28 PM
|
---
Focused on coming back stronger in the New Year, Deepak Chahar thinks he also needs to be selective in terms of the matches he plays.
That's one way of keeping injuries away, feels the right-arm medium pacer.
A stress fracture in his lower back ruled Chahar out of India's final international game — the third and final ODI versus the Windies in Cuttack — as well as the upcoming home and away assignments. He is expected to be back in April.
Injury management thus, is among Chahar's list of priorities. "The stress fracture in my back is mainly due to playing excess matches.
"Before the Ranji Trophy began, I was playing almost all matches. In fact, it's been happening like this for the past two years. So I have to be a bit selective now. Else, I won't be able to survive," Chahar told The Telegraph from his residence in Agra.
He will be leaving for the National Cricket Academy again on January 10 to continue his rehabilitation programme. He should be back in action by the time the IPL begins.
Asked if by being selective he means to cut down on the number of IPL matches too, Chahar replied: "Not really, because match fitness is also important.
"If you take proper rest and utilise your time properly, then the IPL is a really good platform to regain your rhythm. In two months, you have to play 14 matches in the IPL, which is not much.
"The problem was, after the Bangladesh series where we played three matches in seven days, I started playing the Syed Mushtaq Ali T20 Trophy where the gaps between each game were very short.
"So if I have to play, say eight to nine games in 12 days, that is more difficult. Therefore, in these cases, I need to be selective. These situations are more harmful to the body kyunki aap lagaatar khel rahe ho (because you are playing on a continuous basis).
"Besides, the schedule in the Ranji Trophy as also in the Vijay Hazare Trophy is such that sometimes you have to play back-to-back matches. I played four matches in five days in this season's Vijay Hazare Trophy, and such a scenario may lead to injuries."
About his goals for 2020, Chahar said he would be looking to regain his lost pace and work further on the variations.
"The year starts on a poor note, unfortunately, because of the injury. My objective is to obviously keep performing better, but I will also be doing the required training and exercises to regain my lost pace. Since I was playing continuously, I had lost two-three kilometres of pace.
"As for the variations, I'll look to better my yorkers, which I think, are already better now than how they used to be. Working on leg-cutters too…" Chahar emphasised.