US Open: Thiem vs Zverev to give Grand Slam a new look, a new champion
Boys among men court history
---
---
Dominic Thiem has certainly paid his dues in the long-running era of the Big Three. And on Sunday, with Novak Djokovic, Rafael Nadal and Roger Federer all out of the picture, Thiem will get his next and best chance to win his first Grand Slam singles title.
He truly earned it on Friday with a 6-2, 7-6 (7), 7-6 (5) semi-final victory over Daniil Medvedev at the United States Open that was much more grinding and suspenseful than a typical straight-set affair.
"Was probably the toughest straight-set win I ever had," said Thiem, looking drained but content at his post-match news conference.
Thiem, the No. 2 seed from Austria, had to rally from a service break down in each of the final two sets against the unpredictable Medvedev and had to save a set point in the second-set tiebreaker.
But despite pain in his right Achilles' tendon and two falls in the match that left him shouting about his shoes, Thiem was the more balanced and reliable threat, and he will now face Alexander Zverev, the No. 5 seed, in the final on Sunday. The winner will be the first new Grand Slam singles champion in the men's game in six years.
[Thiem and Zverev will also contest for the honour of becoming the first male Grand Slam singles champion born in the 1990s.]
It will be the first major final for Zverev, a 23-year-old German who has long been considered a superstar in the making. It will be the fourth major final for Thiem, 27, who has lost the last two French Open finals to Nadal and lost a taut five-set Australian Open final to Djokovic earlier this year.
"If I win I have my first," Thiem said. "If not I probably have to call Andy Murray about how it is to be 0-4."
Murray, the British star, lost his first four major finals before finally breaking through to win the US Open in 2012.
Thiem has beaten all three of the Big Three (and Murray) on multiple occasions, but throughout his career, they have blocked his path at the Grand Slam tournaments.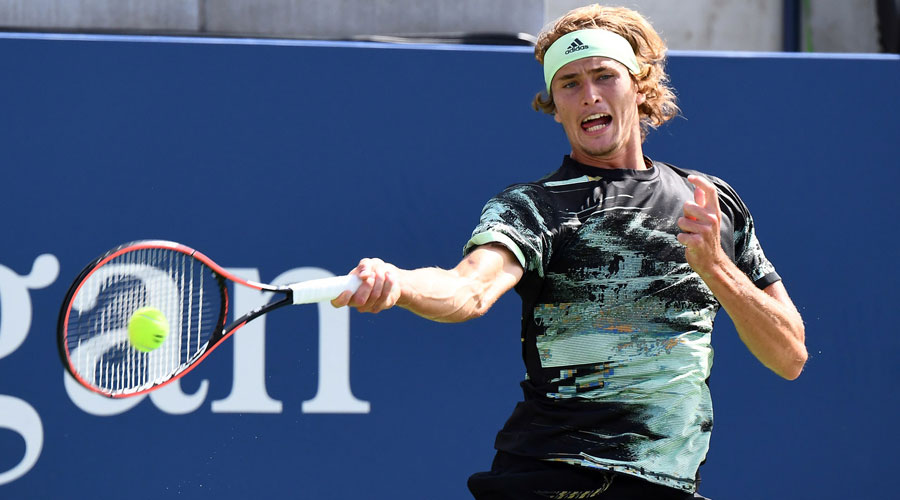 "Definitely they are also a part of the player I became now," Thiem said.
But this time he did not have to face any of them and will be the favourite on Sunday against Zverev, whom he has beaten seven times in nine matches, including all three of their Grand Slam duels.
Thiem defeated Zverev in their most recent match: a four-set semi-final at this year's Australian Open.
"It's all or nothing," Thiem said. "The last one we had was an amazing one in Australia: two tiebreaks for me, super, super close. And I guess the main thing I have to focus on is to return good. His first serve is out of this world: so fast and so precise. So just try to get that back in play. It's a great friendship, a great rivalry I feel with him. I'm looking forward to playing that first major final with him."
Zverev beat Pablo Carreño Busta 3-6, 2-6, 6-3, 6-4, 6-3 in the first semi-final earlier Friday.
It was the first time in Zverev's relatively short career that he had won a match after losing the first two sets. But what mattered most to Zverev was taking one more giant step toward a major title.
Zverev had never come back from being down two sets to none. Now, he is in the United States Open final.
"I think a lot of players would have gone away," Zverev said. "Sometimes you have to dig deep. Today I dug deep, dug very deep."
Thiem and Zverev, along with Medvedev and Stefanos Tsitsipas, are all in their 20s and have rightly been considered the most likely candidates to succeed the Big Three.
Thiem is a full-throttle competitor: a 21st-century version of his Austrian compatriot Thomas Muster, who rose to No. 1 and won the French Open in the 1990s.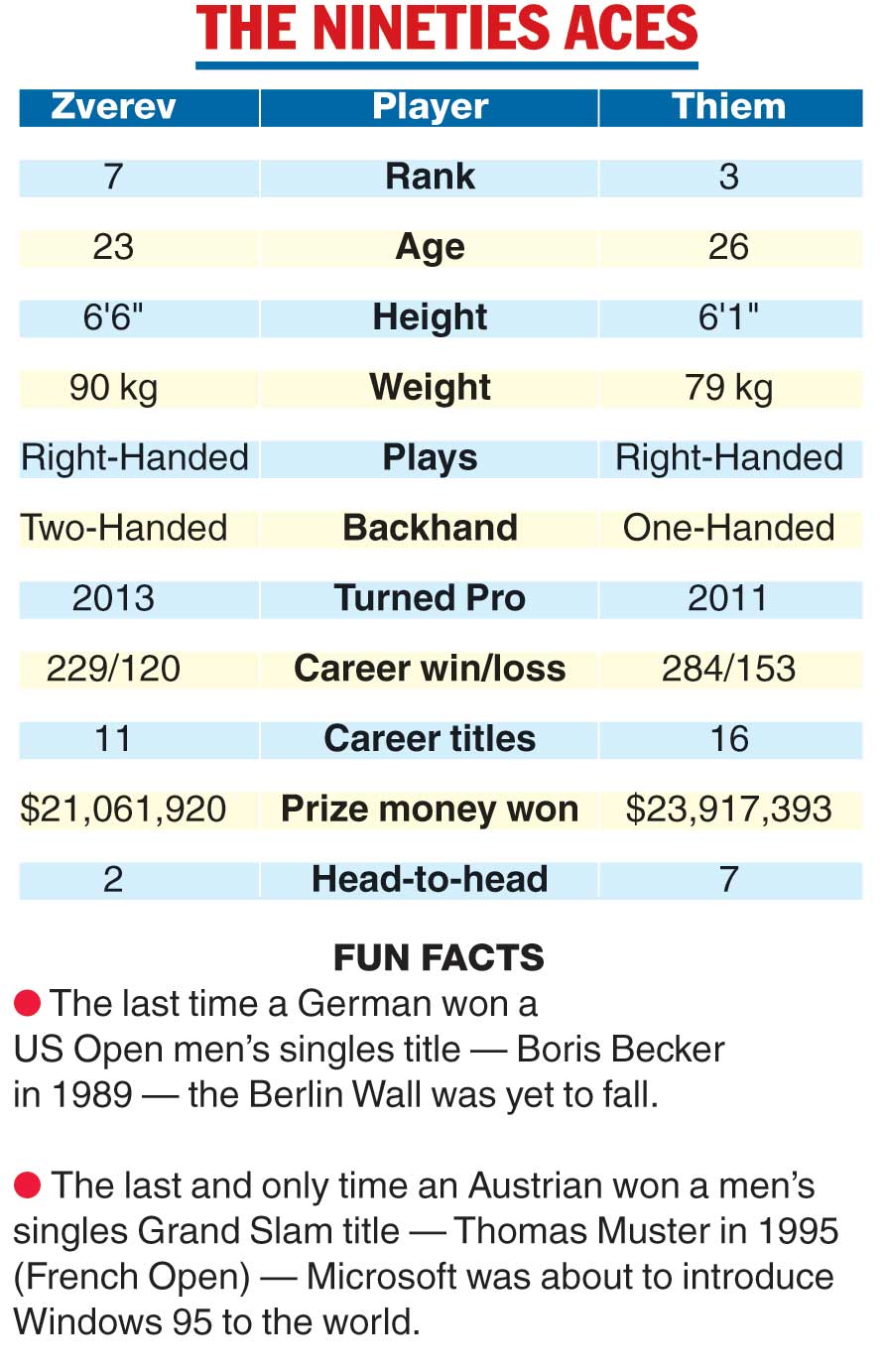 His beautiful one-handed backhand with its baroque follow-through gets much of the attention, but his forehand does most of the damage, and that proved true once more under duress against Medvedev.
Thiem repeatedly found an extra gear and a brighter idea that Medvedev, creative to a fault on Friday, could not match.
Zverev looked anything but likely to win on Friday in the early sets as he mistimed groundstrokes, struggled to win quick points with his heavy serve, double-faulted into the net and spread his long arms wide and looked imploringly at members of his team in the sparsely populated stands.
"I was actually looking at the scoreboard when I was down two sets to love," Zverev said. "I was like, I can't believe it. I'm playing in a semi-final where I'm supposed to be the favourite, and I am down two sets to love, and I have no chance, I'm playing that bad.
"So I knew I had to come up with better tennis and knew I had to be more stable."
Zverev has proved himself in five-set matches: He is now 14-6 in them.
But Zverev, born in Hamburg in 1997, will clearly need to play a much more complete match against Thiem than he did against Carreño Busta if he is to pose a serious threat in the final.
"I couldn't be happier," Zverev said of his big comeback. "But there's still one step to go for me."
Thiem knows that too well.
"From the moment Novak was out of the tournament, it was clear that there's going to be a new Grand Slam champion," Thiem said.
"From that moment on, that was also out of my mind. I was just focusing on the remaining guys left in the draw.
"Now it's Sascha remaining, the last one."
New York Times News Service