US Open: Dominic Thiem to Juergen Klopp, all Emma Raducanu's fans
For me, it's one of the greatest achievements ever in women's sports: Thiem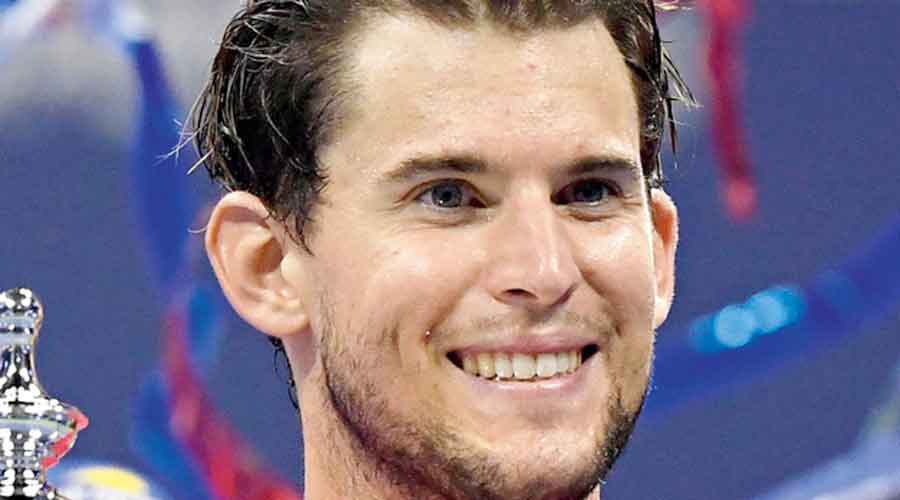 Dominic Thiem.
File photo
---
London
|
Published 15.09.21, 01:14 AM
|
---
Emma Raducanu's stunning win at the US Open continues to get a lot of attention from the tennis fraternity and beyond. Current men's world No. 8 Dominic Thiem has described it as one of the "greatest achievements" in women's sport, former world No.1 Andy Murray calls it a "very special" win and Juergen Klopp, the Liverpool coach, has become a fan of the 18-year-old and called her the "talent of the century".
"For me, it's one of the greatest achievements ever in women's sports," Thiem told Omnisport on Monday.
"It's an incredible journey if you look at the stats. She didn't lose one set the whole tournament. She came from qualifying and she didn't even play one tiebreak. That's simply amazing and something that probably was never witnessed before.
"And also the way she plays, her technique, the way she moves, somehow she brought it up to a new level for the whole game ... it was great to see," Thiem added.
Murray, talking to the BBC, said: "It was incredible what she did there. What she did in New York was very special, a huge boost for British tennis and gives hopefully the governing bodies an opportunity to capitalise on that and get more and more kids involved in the sport."
Klopp was captivated by the US Open women's singles final contest between Raducanu and Leylah Fernandez.
"It was impressive, it was a long time ago I watched a full tennis match and even longer since I watched a full women's tennis game. I was really impressed by the power and the speed. We watched the interviews as well and both girls, how they spoke at 18 and 19, that was inspiring, maybe even more so than the tennis and that was already inspiring enough. I was overwhelmed by the way they presented themselves.
"Emma showed great respect for her, they knew and hoped they will face each other in the future very often and be in many more finals. It was just a great show of sportsmanship, in elite sport, how humble you can be when you're that young and on top of the world.
"I will watch women's tennis for sure much more now again than I did in the last few years."