Tom Moody's suggestion: Deduct points from NRR
Tom Moody's suggestion has been supported by many former cricketers, including Michael Vaughan and Brad Hodge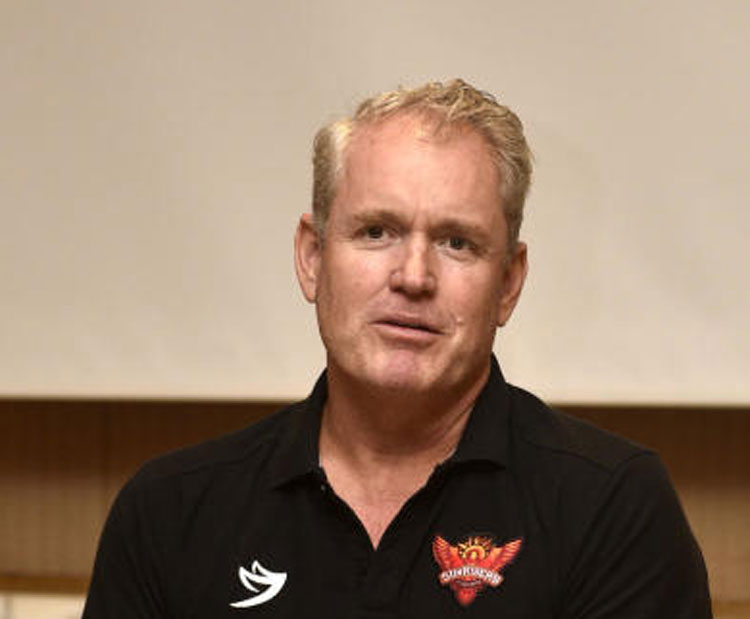 Sunrisers Hyderabad coach Tom Moody
Telegraph file picture
---
Calcutta
|
Published 05.04.19, 05:35 AM
|
---
Tom Moody has come up with a suggestion to improve over rates in T20 games and he has found many supporters of his theory.
Twenty20 is considered to be a fast-paced format and any delay in proceedings robs it of its basic nature, feels many former cricketers.
Recently, the Kolkata Knight Riders versus Delhi Capitals IPL 2019 match at the Kotla was a case in point. The match went down to the Super Over and finished well past midnight after an 8pm start.
Reacting to that, former England captain Michael Vaughan tweeted: "T20 is a great product.. but games are now taking over 4 hrs.. Too long IMO .. The super over in Delhi took 30 mins !!!!! The 100 might just be the answer you never know .... #OnOn #IPL."
The Hundred (100) is the working title of a proposed professional 100-ball cricket league in England and Wales to be run by the ECB from 2020.
In reply to Vaughan's tweet, Moody, who coaches the Sunrisers Hyderabad in the IPL, offered a suggestion. Moody tweeted: "Simple solution, forget monetary fines, deduct from teams net run rate. Works in the @CPL, players quickly recognise the value of NRR when it comes to qualifying for playoffs!"
Moody's suggestion has been supported by quite a few former cricketers, including Vaughan himself and Brad Hodge.
Currently, the IPL only hands out monetary fines for over-rate offences. Mumbai Indians captain Rohit Sharma and Rajasthan Royals skipper Ajikya Rahane have been fined Rs 12 lakh each for over-rate offences in the ongoing IPL.
The Caribbean Premier League (CPL) last year introduced a unique penalty for slow over rates. In CPL, 0.05 points are deducted from a team's net run rate if it fails to complete its overs within the allotted time frame.
Stephen Fleming, the Chennai Super Kings coach, is also worried about slow over rates.
"It's too slow," Fleming said after Super Kings vs Mumbai Indians match on Wednesday night. "I think it's got to be a collective shift from everybody — players as well as on-field monitoring. I think there's a little bit of broadcasting [at play] as well, there at times when you're waiting to come back. So collectively, the whole thing could be sped up.
"The moisture does play a part. We've had a couple of games which have been very dewy. Wiping the ball is a consideration. But I think cricket in general is played at a pace below where it needs to be. So I'd love to see all forms of the game increase the pace, even if it puts pressure on captains and bowlers, then so be it.
"I think we are reaching up close to four hours, defeating the purpose of the short game."