Test of resolve for young guns
Ruturaj focuses on controllables after successful IPL season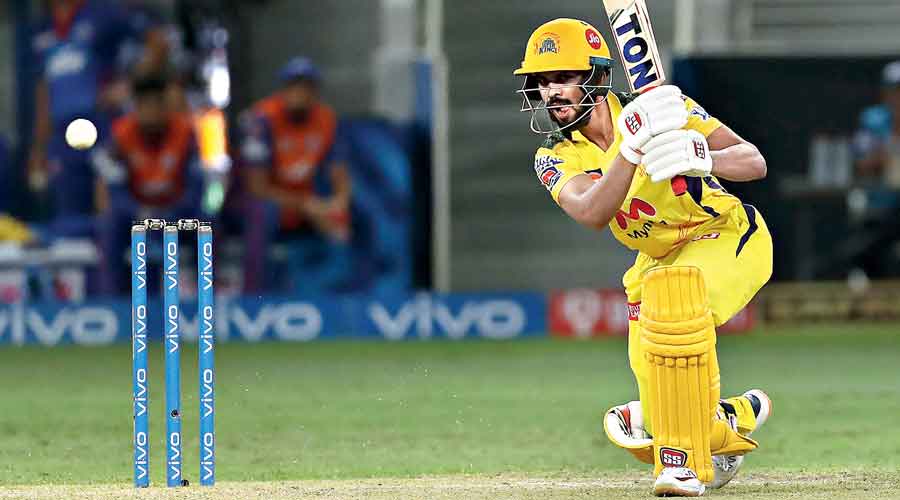 ---
Calcutta
|
Published 21.10.21, 02:02 AM
|
---
Since its inception in 2008, the Indian Premier League has unearthed cricketers who went on to establish themselves at the biggest stage, though there have also been players who fizzled out after just one successful season.
But if you consider Ruturaj Gaikwad, his figures underline his maturity, consistency as well as his dominance over the opposition bowlers, and these went a long way in earning him the top run-getter's spot in this season's IPL.
Besides, his quality batting dates back to Chennai Super Kings' last few matches of IPL 2020 when he was promoted to open alongside Faf du Plessis. If Gaikwad was good last year, he performed better this time around and given the responsibility he took at the top of the order, by no means can he be doubted as a one-season wonder.
But now that the IPL is over, how does a talented young batsman like Gaikwad keep himself motivated? Agreed the 24-year-old has already had a taste of international cricket during India's limited-overs tour of Sri Lanka in July and if some of the regulars are rested after a hectic T20 World Cup, he may also be selected for the home T20Is versus New Zealand next month.
What if he doesn't get selected? How would he keep himself motivated then till the next IPL begins?
"Well, first of all, I'm just not thinking about the New Zealand matches at present. Whether I get selected for them or not is the last thing on my mind because this is not in my control," Gaikwad told The Telegraph from Pune.
"I think and focus only on stuff that are within my control. And at present, I'm getting ready for the Syed Mushtaq Ali (T20) Trophy (beginning from November 4), where I want to do well for my team (Maharashtra). So at the moment, that's my goal and I'm not thinking of anything else, to be honest," the opener emphasised.
Gaikwad's words ought to be the mantra for other cricketers, especially those who impressed in this IPL but may take some more time to break into the national team. Particularly, the likes of quicks Shivam Mavi (Kolkata Knight Riders) and Arshdeep Singh (Punjab Kings), leg-spinner Ravi Bishnoi (Punjab Kings), and batsmen Rahul Tripathi (Knight Riders) and Yashasvi Jaiswal (Rajasthan Royals), who all had their moments this season.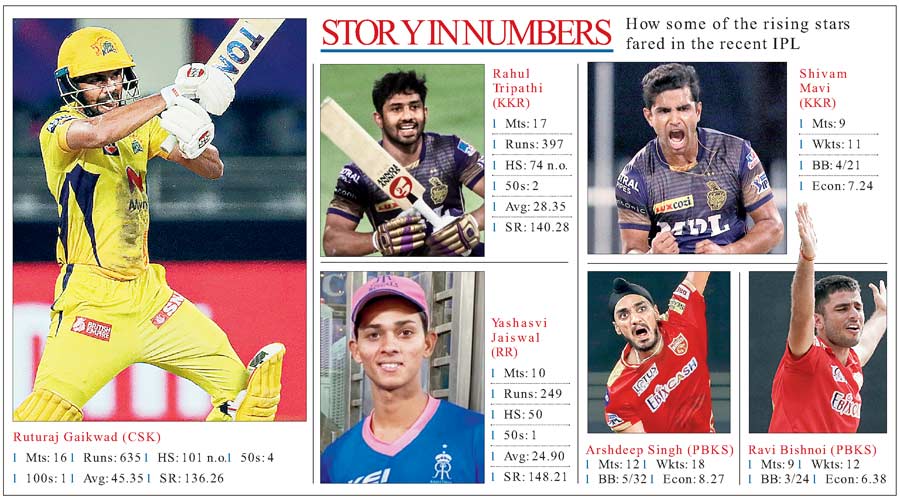 "What's most important is the effort you put in to keep yourself in shape during the off-season and also, how seriously you take and approach the domestic matches. Excelling in domestic matches is paramount to the progress of these young cricketers.
"Unless you're self-motivated to stay in shape during the off-season and perform in domestic cricket, it's tough to make rapid strides in this sport," said a member of the support staff of an IPL team.
"So if any youngster starts taking things for granted after attaining success in an IPL season and doesn't stay motivated enough for the domestic calendar, he'll suffer. There's absolutely no room for complacency."
Mayank's tenacity
Former national selector Devang Gandhi pointed out the hard work that Mayank Agarwal and Suryakumar Yadav had put in when they played their respective matches for Karnataka and Mumbai. "It's not that they donned the India jersey after just one IPL season. They toiled in domestic cricket too, season after season, and remained tenacious.
"That paid them dividends. One can't afford to lose motivation after the IPL. Going through the rigours of domestic cricket is a must," Devang said.
Room to improve
What holds a player like Gaikwad in good stead is staying level-headed and looking to contribute in more ways than just his batting. Doing so, he believes, will make him sharpen his skills, which would then obviously benefit him in the long run.
"See, there's always scope for improvement. In fact, there are lots of things to work on.
"I still need to figure out well which are the areas that require improvement. And among those is working further on my fitness level as well as my fielding, not just batting," Gaikwad said.