Sunrisers Hyderabad: Countdown to the big show
Although the team have won the crown just once, in 2016, their overall performance in the IPL has been better than some of the teams that feature stalwarts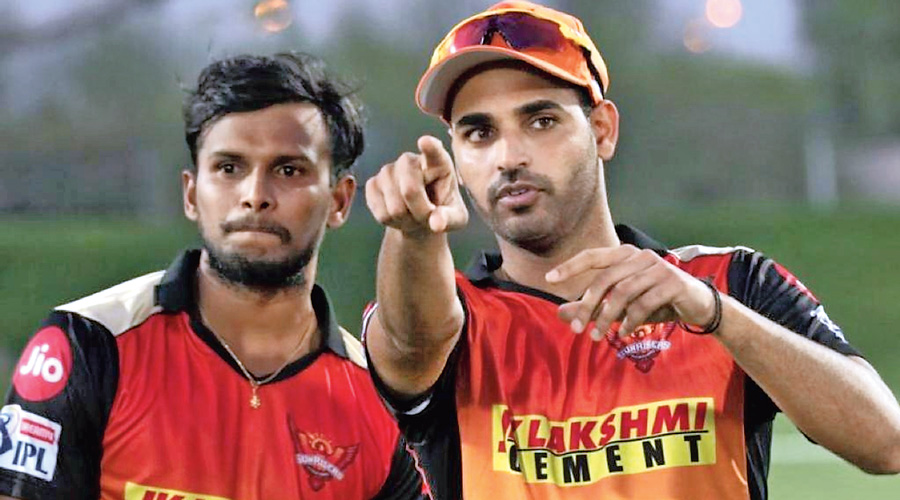 Bhuvneshwar Kumar and T. Natarajan.
Picture courtesy: Sunrisers/IPL
---
Published 05.04.21, 02:06 AM
|
---
Sunrisers Hyderabad are among those teams who don't brag much about themselves, go about their job quietly and yet are formidable opponents on the field. Flaunting a star-studded line-up has never quite been the Sunrisers' way, though they have in their ranks a captain in the form of David Warner, the Australian, who swears by his aggression. And as a perfect contrast to Warner's fiery nature, they have New Zealand skipper Kane Williamson — a top class batsman across formats, but an even better character on and off the field whose humility and sportsman's spirit has earned him accolades from around the globe.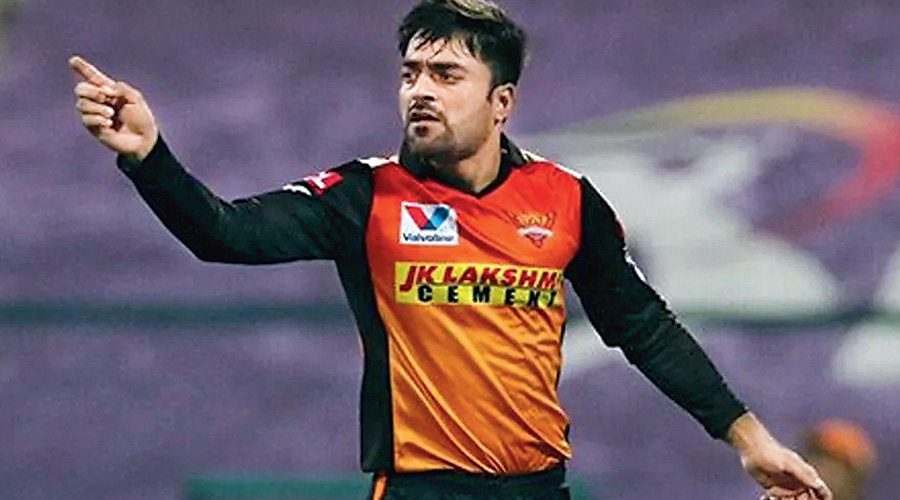 Rashid Khan is also there. He has been a star performer in the IPL with his game-changing spells. Jonny Bairstow's exploits in the recent white-ball matches for England should make him a player to watch out for. Add to that the arrival of Bairstow's ODI opening partner Jason Roy, who came in as Mitchell Marsh's replacement.
But having said that, the Sunrisers squad has never really been about players craving for attention and limelight. And that's one aspect that helps them gel well, makes them play as a team. Although the Sunrisers have won the crown just once, in 2016, their overall performance in the IPL has been better than some of the teams that feature stalwarts but have never gone on to win the competition.
Last year, the Sunrisers were in danger of being knocked out well before the playoffs stage. But braving a tough situation, they registered three convincing wins on the trot to finish third in the league table. Thereafter, they won the Eliminator too, giving themselves a chance to earn another final berth, before losing the plot in Qualifier II. This time around, Warner and the other familiar names in the Sunrisers ranks are again expected to deliver with teamwork being their mantra to go the distance. Bhuvneshwar Kumar's return and how well he has been bowling lately should certainly be one reason for the team to feel more confident of a better result.
To speak of T. Natarajan, the exposure he has had at the international level makes him one of the main components of their bowling attack. Also interesting to see will be whether the Sunrisers continue with the Warner-Wriddhiman Saha combination at the top of the order. A lot depends on whether the team management will repose its faith in Saha, whose last appearance at the highest level was the pink-ball Test in Adelaide back in December.
Lessons from IPL 2020
⚫ The middle order being thin in terms of experience was one of the main reasons of the defeats the Sunrisers suffered last year. Their Indian youngsters need to work on their consistency, while it would do them good if the Sunrisers slot someone like Bairstow or Williamson in the middle order to lend a little more solidity to it.
⚫ The 2016 champions also need to be careful while finalising their four overseas players during the matches. Skipper Warner and Afghan leg-spinner Rashid are the confirmed foreign players in the XI. Sunrisers should try and be as fair as possible to all-rounder Jason Holder, giving him due importance. With 14 wickets from just seven matches and crucial runs at the middle order, Holder's performance had a big impact last year. And now he's a regular in the West Indies T20I team as well, which makes him an all-format player.
Last year's finish: Lost in Qualifier II
X-factor
Generally, all-rounders and explosive batsmen are regarded as X-factors of a T20 side. But in the Sunrisers' case, it wouldn't really be an overstatement to give that honour to Bhuvneshwar. Considering how Bhuvneshwar, whose campaign was cut short last season due to injury, has bowled on those belters in Ahmedabad and Pune during the recent T20I and ODI series versus England, his spells will indeed be of massive significance for the Sunrisers. Making his international comeback after a long layoff, the ease and consistency with which Bhuvneshwar got the new ball to swing in and strike, and then varied his length later to hurt the opposition again in the middle and death overs, he can sure make life difficult for opponent batsmen.
That even India captain Virat Kohli was surprised as to why Bhuvneshwar wasn't adjudged Man of the Series after the England ODIs goes on to reflect how well the pacer has been bowling. But yes, managing his workload will again be important.
Bhuvneshwar in IPL
⚫ Mts 121 ⚫ Wkts 136 ⚫ Best 5/19 ⚫ Econ 7.23 ⚫ SR 19.83
Bhuvneshwar in T20s (overall)
⚫ Mts 185 ⚫ Wkts 193 ⚫ Best  5/19 ⚫ Econ 7.12 ⚫ SR 21.10