Shreyas books No.4 slot
Despite excelling at the middle-order position, Shreyas stays flexible and is ready to bat at any position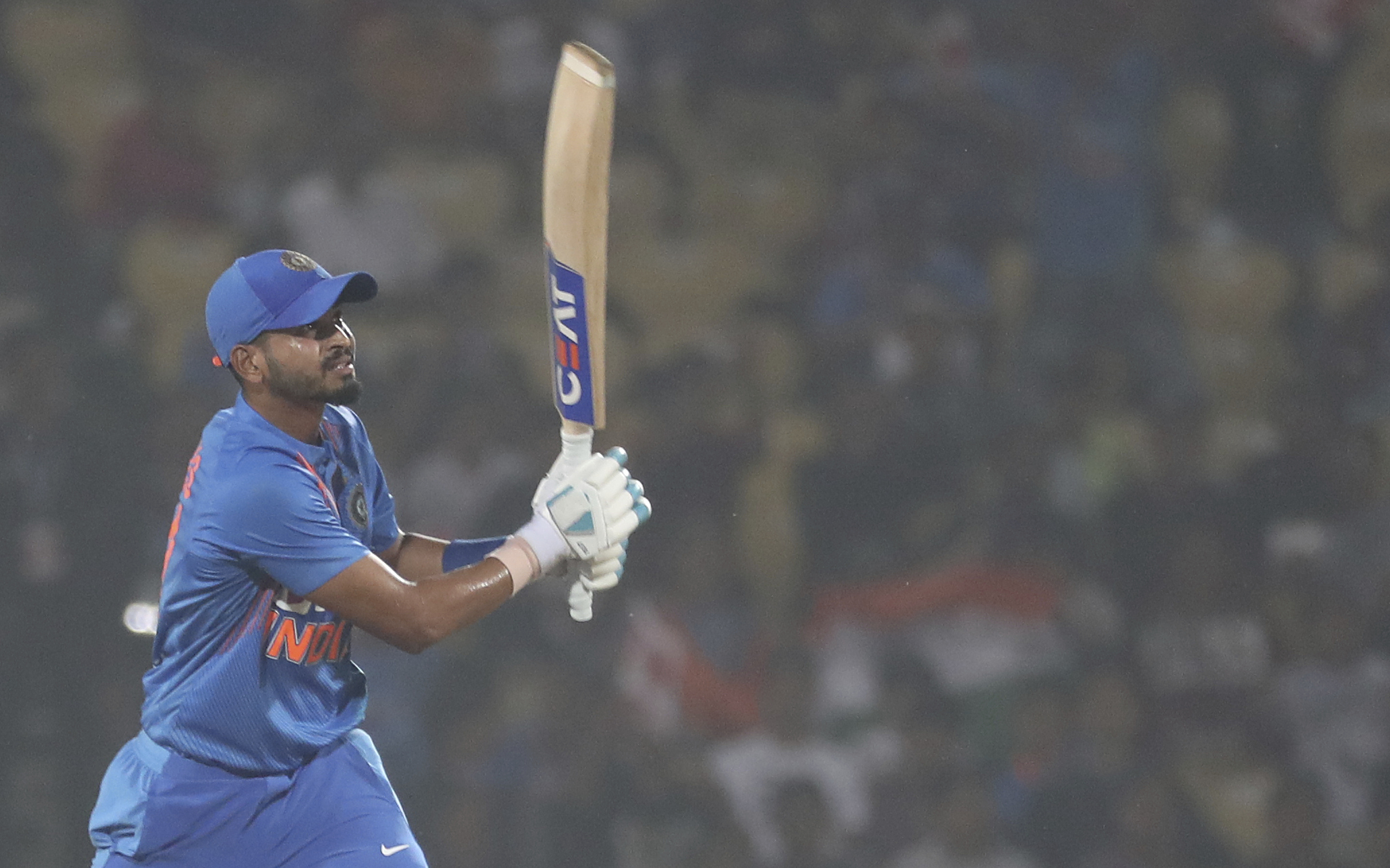 ---
|
Calcutta
|
Published 11.11.19, 08:09 PM
---
Shreyas Iyer seems to be the man Team India had been searching for the No.4 slot in white-ball cricket. In fact, the 24-year-old has already been given an assurance by the Indian team management that he will be the designated No.4 in the white-ball format.
Batting at No.4 in the just-concluded T20I series against Bangladesh, Shreyas ended up as the top scorer for his team — 108 runs in three matches at an average of 54. That included his swashbuckling knock of 62 off 33 balls, which had five massive sixes in it, in Nagpur on Sunday.
The No.4 spot was a much-talked about position ahead of the ODI World Cup earlier this year. But the Indian team management didn't manage to zero in on a permanent solution and instead used it as a floating position without great results.
After Sunday's final T20I, which India won by 30 runs, Shreyas said: "For me personally, they (team management) have given me a heads up that 'You'll be there at No.4. So just back yourself and believe in yourself'.
"It has been a really important last few series for me to set the benchmark at the No.4 position, which all of us are competing for at the moment."
Shreyas is ready to play the finisher's role when required. "If (Virat) Kohli and Rohit (Sharma) get out early, we need someone to finish the game and bat till the end. That is a No.4's role. That's what I was trying to do and it worked out really well," said the Mumbai batsman.
While he is aware that there are quite a few others who are also gunning for a berth in the Indian playing XI, Shreyas made it clear his competition is with his own self. "Obviously there is lot of competition in the team. I personally feel that I compete with myself. I don't want myself to be compared with anyone."
Despite excelling at the middle-order position, Shreyas stays flexible and is ready to bat at any position.
"I am really open-minded and can bat at any number. I just like to back myself in tough situations and Sunday's innings showed that I can bat under pressure as well."
About his confidence and aggression on the pitch, Shreyas said: "The support staff have given me the freedom — not just me but all the batsmen — that you need to have that intent when you go in there. And you should feel very positive when you're batting. If the ball pitches in my area, I am not going to control myself. I'll bat according to my instincts."
He was dropped on zero on Sunday and if it wasn't for his innings, India would have struggled to reach the 170-plus total. Shreyas made full use of the reprieve and dominated the Bangladesh bowling attack thereafter.
In the 14th over of the Indian innings, Shreyas whacked Bangladesh spinner Afif Hossain for three consecutive sixes. That, he said, was the turning point of the innings.
"The over in which I got three sixes shifted the momentum in our favour, else we would have finished with 150 or 155. "It would have been tough to defend that total on this wicket where there was a lot of dew and pitch was getting better for batting. I would really give myself credit and also KL Rahul for the way he gave us the start," said Iyer.