Seb defends overtaking attempt
"Okay, not much to say, I think enough 's been said… I don't know… If I don't go for that gap and the gap was there, then I might as well stay at home. Sorry for the result."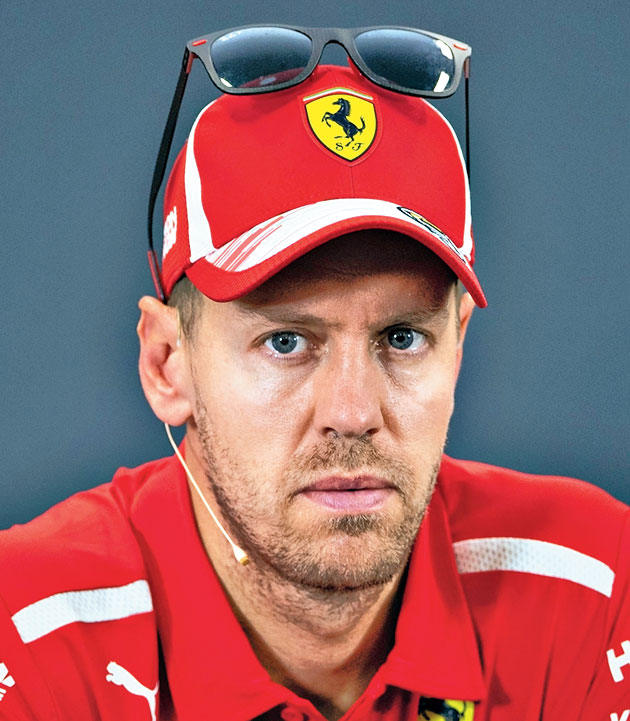 Sebastian Vettel
Agencies
---
Calcutta
|
Published 07.10.18, 10:18 PM
|
---
"Okay, not much to say, I think enough 's been said… I don't know… If I don't go for that gap and the gap was there, then I might as well stay at home. Sorry for the result."
That's what Ferrari's Sebastian Vettel had to say in the radio message to his team after Sunday's Japanese Grand Prix, which saw his title hopes all but disappear.
Vettel's overtaking attempt on Max Verstappen cost him heavily in the championship battle with Lewis Hamilton, who won again.
The German started eighth after a failed tyre gamble in qualifying, dropped to 19th after the collision with Red Bull's Verstappen and then fought back to sixth.
The radio message makes it clear how badly Vettel wanted to win and also speaks volumes about the attitude and mindset of a champion driver.
The German is now 67 points behind Mercedes' Hamilton, who can clinch his fifth Formula One title at the next race in the United States with three rounds to spare.
After the race, while speaking to the reporters at the Suzuka circuit, Vettel was asked if he would make such an attempt again if given a chance. He said: "Don't get me wrong or arrogant, for me the gap was there. Knowing that obviously he closes and we don't make the corner, then, no, you don't do it again. But I don't think there was anything wrong with trying."
Vettel was trying to pass the Red Bull driver for third place at the fast left-handed sweep into Spoon corner when the two cars collided, with Vettel spinning around.
Stewards reviewed the incident and decided to take no further action, but Vettel blamed Verstappen for the tangle.
"I was obviously pushing to get past but I wasn't desperate to get past," he said.
"As soon as he saw me, obviously he defended but I had the inside. And as soon as he realises somebody is close or next to him he tries to, in my opinion, push when you shouldn't push any more.
"For me the gap was there otherwise I don't do it... I think you need to always leave a space and in that case I couldn't go anywhere and then we touched."
Asked whether he might think twice in future when alongside Verstappen, Vettel bridled at the suggestion. "Do you ask him whether he should think twice when he defends?" he said.
"In the end, we are all racing, so this is part of racing, don't get me wrong. I don't regret the move. Obviously with that outcome, you would do different because with hindsight it's always easy."
Verstappen, who finished third, had been handed the penalty for forcing Vettel's teammate Kimi Raikkonen off the track earlier in the race and would have dropped behind Vettel anyway at the pitstops.
When asked whether it would have been better to stay patient, with Verstappen already carrying a five-second penalty, the German responded: "What do you think, how many times you can afford to wait? I am racing not just him, I'm racing also the guys in front ideally," he said referring to Hamilton and Mercedes teammate Valtteri Bottas.
Asked if the championship looks as good as over, Vettel refused to give up all hope until mathematically forced to.