Augusta Masters: Scottie Scheffler holds nerve to rule
25-year-old world No. 1 records maiden major triumph, Rory comes second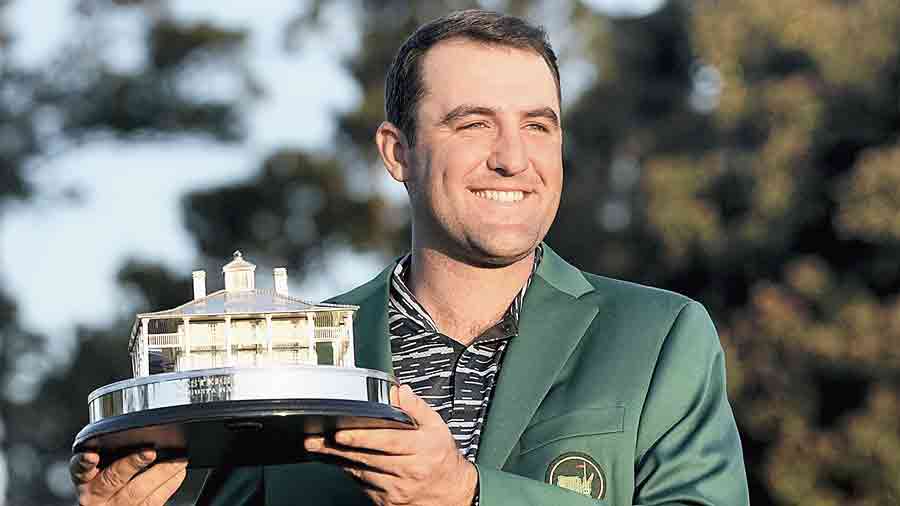 Scottie Scheffler with the Augusta Masters trophy on Sunday.
AP/PTI
---
Augusta
|
Published 12.04.22, 12:36 AM
|
---
It would have been understandable if Scottie Scheffler, who has been the paragon of poise as he charged to the No. 1 ranking in men's golf this year, felt just a bit unnerved during the first hour of Sunday's final round of the Masters. The three-stroke lead he held over his closest pursuer, Cameron Smith, when the day began had shrunk to a single stroke in the opening two holes.
Worse for Scheffler, on the par-4 third hole, he yanked his tee shot into the trees then failed to get a pitch onto the elevated green, with his ball trundling backward into a dicey spot below the putting surface.
Would it take only three holes for Smith to catch Scheffler? Was the typically tranquil Scheffler, with his everyman nonchalance, about to wilt under the pressure?
Anyone who has been paying attention to this year's PGA Tour, a circuit Scheffler has dominated since February, might have been able to predict what happened next. Scheffler took a bold, aggressive line and confidently knocked a chip into the hole for birdie. Smith would make bogey.
Over the next several hours, Scheffler, 25, rebuffed every challenge with the same aplomb to claim his first major championship, running away to win the 2022 Masters by three strokes. His margin of victory would have been larger but for a final show of some nerves during the tournament's closing sequence on the 18th green, when Scheffler needed four putts, including three from less than five feet, to close out a round of 71. Scheffler finished 10-under par for the tournament, in just his third Masters appearance.
Rory McIlroy, who trailed Scheffler by 10 strokes heading into the final round, finished second after an eight-under-par 64. Smith and Shane Lowry tied for third, five strokes off the lead.
Speaking with reporters after donning the ceremonial green jacket awarded to Masters winners, Scheffler talked of feeling calm on the course during the final round but said he was "so stressed out" on Sunday.
"I cried like a baby," he said. "I was so overwhelmed." Scheffler added that he told his wife, Meredith, "I don't think I'm ready for this."
Scheffler said he could not recall any previous episodes of self-doubt and attributed it to an understanding of how much winning the Masters would mean to him. "I've felt at peace on the golf course," he said, laughing. "It's off the course that's hard for me. But I did a good job of keeping my concentration when playing.."
For Scheffler it was the fourth tour victory in his last six events, a stunning win percentage in a sport with tournament fields of more than 130 players.
McIlroy, who has won every major golf championship except the Masters, was not expected to be part of the late-round heroics on Sunday. He had broken par in only one of his first three rounds. But with birdies on two of his first three holes, McIlroy suddenly looked more comfortable than he had in any recent final round at the Masters. He shot a four-under 32 in his first nine holes, then roared onto the back nine with birdies on the 10th hole and an eagle on the par-5 13th, which moved him to six under par — just four strokes behind Scheffler, who was playing several groups behind McIlroy.
(New York Times News Service)