Sanya Vats: The rising star of squash
She is enviably in control for an 18 year old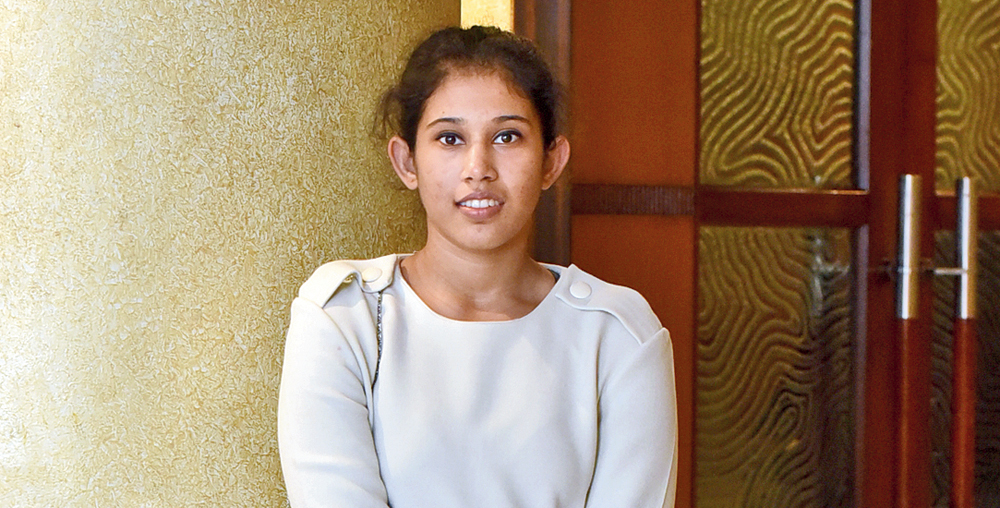 ---
---
Sorted. Sure. And enviably in control for an 18-year-old. Sanya Vats, No. 1 in the Girls Under-19 category in the Asian Junior Ranking and the national champion in the U-19 category. The young star was in town for a felicitation by Rotary Club of Calcutta Yuvis on June 22 at Haldiram Banquet. The Telegraph caught up with her.
How has your journey been so far?
I started squash towards the end of 2014. It took me some time to get used to the game and I struggled for almost two years. In fact, in December 2015, I even thought of quitting squash once because nobody likes losing time and again. It was my mother, however, who gave me strength and motivated me to give it another six months. I gave my best efforts to the sport and within five months I had succeeded in beating the country's No. 1 squash player at a tournament in Delhi. After that, honestly, I have never looked back, and I have grown and enjoyed every moment of it.
Was squash your first choice?
My first choice was badminton. I just found a different connection the moment I took up squash. I fell in love with the game as soon as I started playing it. Nobody has to ever push me when it comes to squash. I pulled through it simply because I found a passion for it.
Who do you love watching?
I really love watching Nicol David (Malaysian squash player). The number of titles she has won makes her admirable and inspiring. She was the world No. 1 for nine consecutive years. She has been my inspiration.
How has your family supported you?
My family thankfully has always been supportive. They have always given priority to my aspirations and passions.
What makes a good squash player?
To excel in a sport like squash, you need to be very hard-working and have the fire to win, apart from having talent.
What is the one thing that you would like to achieve in the game and what is the one thing that you would like to improve?
I would like to win a world title and a junior title. I think I need to work more on my fitness.
Who has been the toughest opponent and what has been your best memory?
I haven't been able to beat Hania El Hammamy (Egyptian squash player) till date but it would be a dream come true if I win a game against her. My best memory was the Summer Classic Junior Open of 2016 when I defeated the then world No. 1 for the first time. That was my first title ever.
What do you think about the future of squash in India?
Although squash has a long way to go before reaching the fanbase that conventional sports like football or cricket have, it is growing gradually and an increasing number of people are taking to the game.
What about women's squash?
Women's squash has also grown a lot over the years. The brightest example is Joshna Chinappa who holds the world No. 14 rank currently.
Do you want to take up squash professionally?
As of now, I would like to focus on my board examinations, excel in that so that I am able to go abroad for my higher education. After completing my education, I would like to come back and pursue squash professionally for two years and decide accordingly. Even if I am not able to make the cut professionally, I would still continue playing the sport.
How has your association with Rotary Club of Calcutta Yuvis been?
Rotary Club of Calcutta Yuvis has always been supportive. In fact, some of my national exposure wouldn't have been possible without their support. I look forward to this association in the future as well.