Rome romp sets stage for toppers' Paris punch
The main draw for the French Open, the only Grand Slam tournament played on clay courts, begins in a week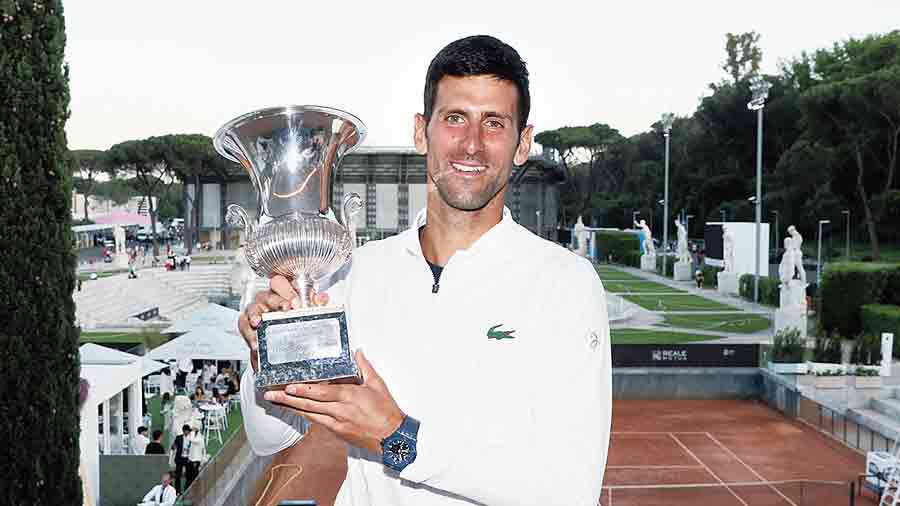 Novak Djokovic with the Italian Open trophy in Rome on Sunday
Getty Images
---
Published 17.05.22, 02:09 AM
|
---
We will soon find out how much of what happened on Sunday at the Italian Open was foreshadowing.
The main draw for the French Open, the only Grand Slam tournament played on clay courts, begins in a week. But Iga Swiatek's and Novak Djokovic's decisive victories in Rome certainly solidified two key themes heading into Paris.
Swiatek continues to look irresistible, and Djokovic now looks fully revitalized.
Both are ranked No. 1 in singles and playing like it. Neither dropped a set on the way to their Italian Open titles, and both polished off their runs convincingly against top-10 players in Sunday's finals. Swiatek defeated Ons Jabeur 6-2, 6-2 to stop Jabeur's 11-match winning streak and extend her own to 28. Djokovic followed her lead, defeating Stefanos Tsitsipas 6-0, 7-6 (7-5).
Swiatek, 20, is just now harnessing the full force of her hard-charging power game, grasping that she can be not only a serial champion but also an intimidator as she crowds the opposition with her heavy-topspin forehand and acrobatic, tight-to-the-baseline defense.
Djokovic, who will turn 35 on the opening day of Roland Garros, established himself years ago as one of the game's greatest players. He is the oldest man to win the Italian Open in singles in the Open era, slightly older than his long-time rival Rafael Nadal was when he beat Djokovic to win the title at 34 last year.
Djokovic has endured long enough that he was not the only Djokovic playing for a title on Sunday. While he was prevailing in Rome, his 7-year-old son, Stefan, was winning the title at his debut tournament at a club in the Serbian capital of Belgrade.
"I just received that news: a sunshine double today," Djokovic said with one of his biggest smiles of the week.
For Djokovic, this has been a season and a challenge like no other: His decision to remain unvaccinated against the coronavirus led to a standoff with Australian authorities that ended with his deportation on the eve of this year's Australian Open, and it kept him out of the Masters 1000 events in Indian Wells and Miami in March.
But with the health protocols now relaxed in Europe, Djokovic returned to regular action on clay last month.
"I always try to use these kinds of situations and adversity in my favor to fuel me for the next challenge," he said of Australia. "As much as I've felt pressure in my life and my career, that was something really on a whole different level. But I feel it's already behind me. I feel great on the court. Mentally as well, I'm fresh. I'm sharp.
"To some extent, (winning the Italian Open) is a relief because after everything that happened at the beginning of the year, it was important for me to win a big title."
It might have been even more reassuring if his title had come against a full-strength field. But Carlos Alcaraz, the 19-year-old from Spain who has been the revelation of the season, chose to rest and skip the Italian Open after beating Nadal and Djokovic to win the title in Madrid.
Nadal, the greatest clay-court player in history, lost in the quarter finals, limping and wincing in the final set of his defeat against Denis Shapovalov as he struggled anew with the chronic pain in his left foot that threatened his career in his teens and imperils it again now at age 35.
Nadal has won the French Open a mind-boggling 13 times; Djokovic a more terrestrial two. But as counterintuitive as it is to count Nadal out in Paris, it seems right to bump him down the list of favourites this year, all the more because he might not even compete.
"Right now, Carlos Alcaraz or Novak Djokovic," said Tsitsipas, who lost to both men this month. "They both play great, great tennis. I would put them as favourites."
It is tempting to lean toward Djokovic considering that Alcaraz has so little experience in the best-of-five-set format and no experience in managing the stress that can come with being placed on a Grand Slam shortlist.
But he held up astoundingly well in Madrid despite all the pressure from Djokovic's groundstrokes and timely first serves down the stretch.
Alcaraz is undoubtedly special. The question is just how special, which seems a fine line of inquiry for Swiatek, as well. She was on a roll even before Ashleigh Barty retired suddenly in March while holding the No. 1 ranking. But Swiatek has filled the role with true swagger.
Since her winning streak began in February, she has lost just five sets and came genuinely close to losing a set only once in Rome, prevailing over the 2019 US Open champion Bianca Andreescu in a first-set tiebreaker in the quarterfinals before closing her out, 6-0.
"Today, I'm going to celebrate with a lot of tiramisu, no regrets," she said after winning the Italian Open, suddenly much more relatable than when she was pounding the opposition into clay dust.
It will come as no surprise if another sweet finish awaits in Paris.
(New York Times News Service)