Rohit's 6-pack plan
Rohit toyed with the Bangladesh bowlers hitting 85 off 43 balls in an eight-wicket win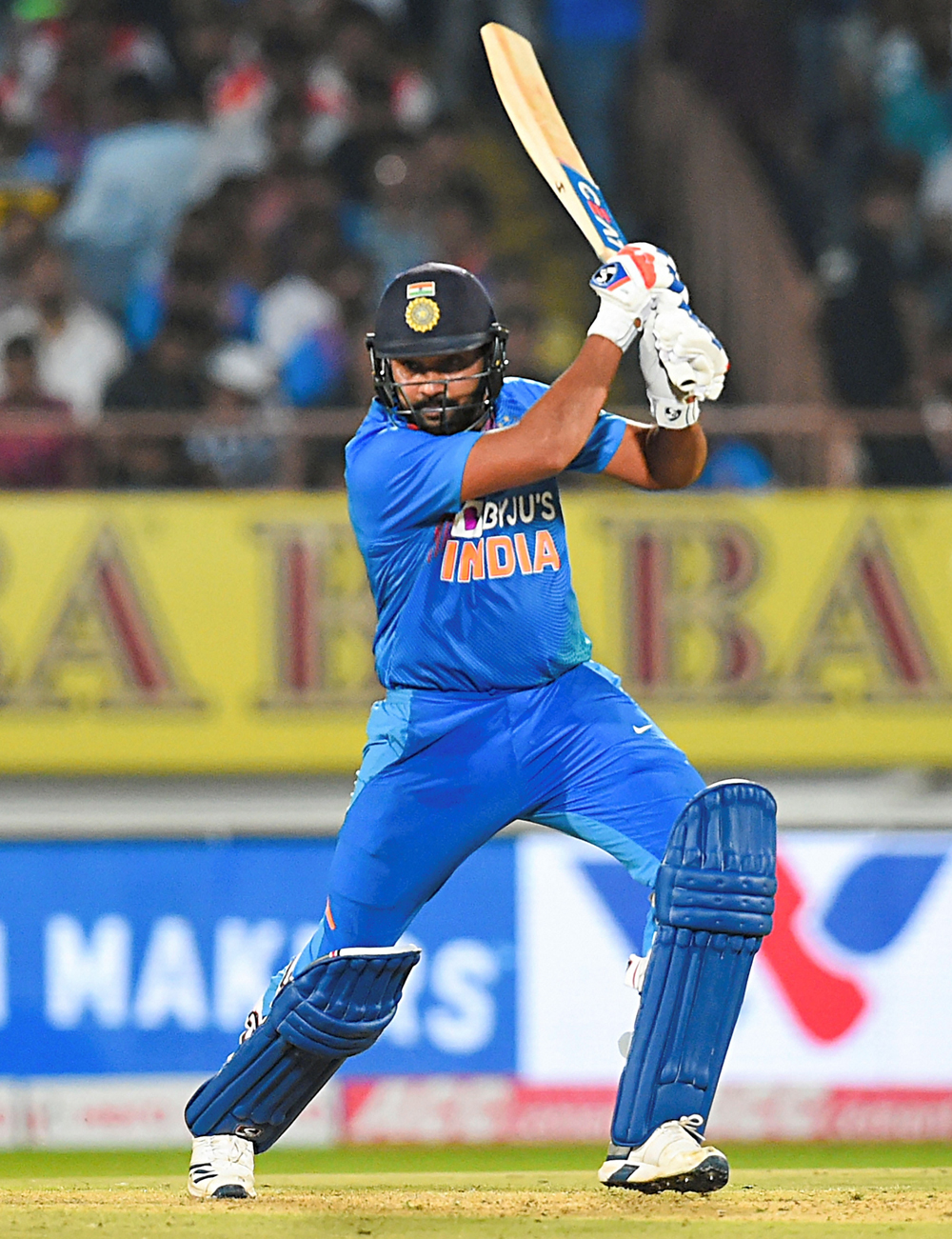 ---
|
Calcutta
|
Published 08.11.19, 10:34 PM
---
Rohit Sharma's confidence seems to have soared as high as his sixes.
So when he said that he was planning to hit `Bangladesh` spinner Mosaddek Hossain for six sixes in an over during the T20I match in Rajkot on Thursday, it didn't sound like misplaced overconfidence.
Rohit, who is captaining India in the ongoing T20I series, toyed with the Bangladesh bowlers hitting 85 off 43 balls in an eight-wicket win.
He hit six fours and as many sixes. After the match, while being interviewed by teammate Yuzvendra Chahal for Chahal TV, a show for BCCI's official website, Rohit said: "That's what I tried, I wanted to go for six in a row, but when I missed the fourth one I decided to go for singles.
"I knew that an off-spinner was bowling and the wet ball was not going to turn, so my plan was to stand still and hit the ball without stepping out."
In that Mosaddek over, Rohit dispatched the first ball over deep midwicket, the second over deep backward square-leg and the third over wide long-on. But he couldn't quite connect with the fourth and only got an edge.
Yuvraj Singh had hit six maximums in a Stuart Broad over at the inaugural edition of the World T20, in South Africa in 2007.
For Rohit, hitting a six does not involve power factor alone. Explaining how a six is manufactured, Rohit said: "You don't need just big muscles or power to hit sixes.
"You need timing and you need to hit it from the middle, your head should be still, your body needs to be in the right position. When you take care of these things on a good wicket, you will be able to hit sixes."
Rohit practises what he preaches. Or else he wouldn't have been third on the list of six-hitters in International cricket. For the record, Rohit has hit 398 sixes across formats in International cricket. Only Chris Gayle (534) and Shahid Afridi (476) are ahead of Rohit.