Ravi Shastri binds Rohit Sharma return in time
India are slated to play a three-day warm-up game from December 11 ahead of the first Test, which will be a Day-Night pink-ball affair scheduled at the Adelaide Oval from December 17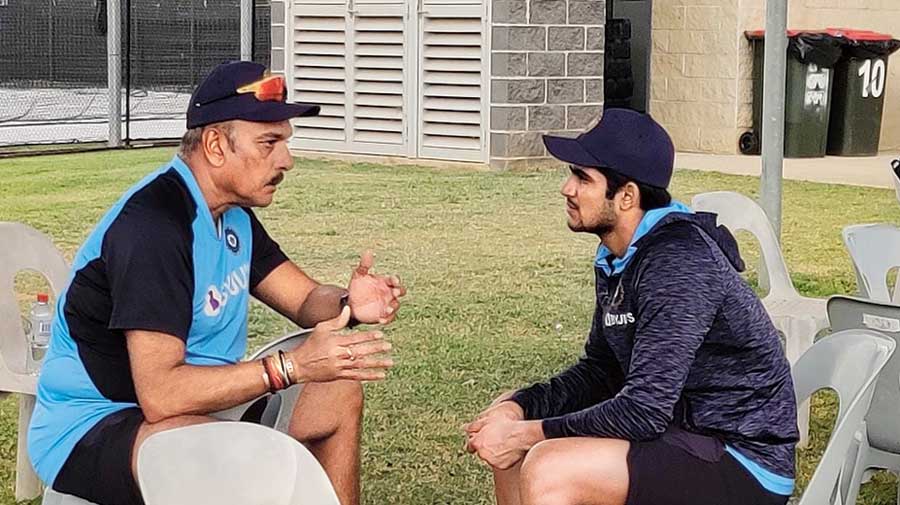 ---
|
Calcutta
|
Published 23.11.20, 01:53 AM
---
Head coach Ravi Shastri feels that Rohit Sharma and Ishant Sharma need to fly out of the country in less than a week if they are to feature in India's Test series in Australia.
Both Rohit and Ishant are at the National Cricket Academy (NCA) in Bangalore at present, undergoing strengthening and rehab with the aim am regaining full fitness after injuries sustained during this year's IPL in the UAE.
"He (Rohit)'s going through some tests at the NCA and they're obviously going to decide how long he needs to take a break," Shastri told ABC Sport.
"But things could get difficult if he's asked to wait for too long, because then you're talking of the quarantine again, which might make it really tough for even him to come just in time for the Test series."
A 14-day quarantine is currently mandated in Australia because of the pandemic. India are slated to play a three-day warm-up game from December 11 ahead of the first Test, which will be a Day-Night pink-ball affair scheduled at the Adelaide Oval from December 17.
For Ishant and Rohit to be out of quarantine by December 10, they need to reach Australia on November 26.
"Rohit was never going to play the white-ball series. They were just looking to see how long he needed the rest, because you can't afford to be resting for too long.
"If you need to play in the Test series or any red-ball cricket, you've got to be on the flight in the next three or four days. If you aren't, it's going to be tough."
Ishant has already begun bowling at the NCA and is also slated to join the team if his recovery is complete. "It's a similar case to that of Rohit," Shastri said.
"You don't really know how quickly he'll be available to fly out.
"Like I said, if anyone has to play in the Test series, he has to be on the flight in the next four or five days. Otherwise, it's very difficult," he said.
Support for Kohli
With skipper Virat Kohli returning home after the first Test for the birth of his first child, Shastri admitted Team India would be missing its "driving force." He, however, supported Kohli's decision, also pointing out that it opened up an opportunity for a youngster to perform.
"I think it's the right decision Virat is taking. These moments don't come time and time again. He has the opportunity, so he's going back and I think he'll be happier for that," Shastri said.
"If you see where India have gone in the last five-six years, there's no doubt in absolutely anyone's mind that he's the driving force and the man behind it. So he obviously would be missed.
"But like I say, in adversity comes opportunity. There are a lot of young guys in the side and it's an opportunity for them."
Speaking of the Day-Night Test, Shastri agreed that Australia have the edge in that game for having won each of the seven pink-ball matches they have been part of. India so far have played only one, versus Bangladesh last year, which they won comfortably.
"We had one good experience playing against Bangladesh, but obviously the quality — Australia, Bangladesh — chalk and cheese... Having said that, it's still a learning curve as far as our team is concerned," Shastri acknowledged.
In quarantine at present, the Indians have still managed to train inside the bio-bubble. The freedom to do so instead of being confined to hotel rooms for a fortnight was an important factor behind the tour materialising, Shastri believes.
"I think that was the clincher. If it was hard quarantine, I would have found it difficult for a full tour to go on," he said.
"That's for sure. Once they said it was soft quarantine and the boys could practise, that made things a lot easier."