Quality matters for IPL franchises
KKR hoping to have the tournament in it's full format, says CEO Venky Mysore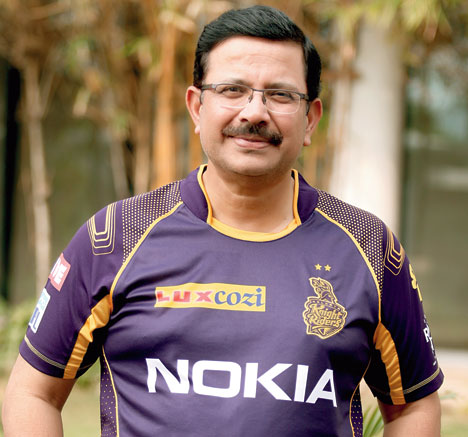 ---
|
Calcutta
|
Published 12.06.20, 02:24 AM
---
The Board of Control for Cricket in India (BCCI) seems hell-bent on going ahead with the Indian Premier League (IPL), even if it has to be held behind closed doors because of the Covid-19 pandemic.
But the majority of the franchises don't want the "quality" of the IPL to be compromised, asserted Kolkata Knight Riders (KKR) CEO and managing director Venky Mysore, during a video conference to flag off the KKR Sahayta Vahan, aimed at providing relief to victims of cyclone Amphan.
The aspect of closed-door matches wasn't covered, but the "collective view" of the franchises was that staging the IPL sans overseas players would affect its quality, Mysore maintained.
"It is without doubt that the IPL, as a product, has become a huge spectacle. Every cricket-loving fan around the world talks about the IPL… Yes, it's primarily our Indian players who are the backbone of any team, but I think we should also recognise that when you look at even our own team (KKR), you look at a Sunil Narine or an Andre Russell, and now Pat Cummins and Eoin Morgan.
"So when these four combine with the excellent Indian line-up that we have, that's what makes this product very, very special… We feel strongly that we should not tinker with the quality of the product that we have.
"You can go through team by team and discuss along the same lines. One thing that we feel strongly about is we should not tinker with the quality of the product that we have. The quality is what has made the IPL really, really special," Mysore said.
Mysore added: "From a KKR perspective, I can tell you it is safe to say that the collective view is we have to have the tournament in its full format - same number of games with all the players being part of it.
"And I would hope whichever window we end up staging the IPL, we'll be in a position to achieve that."
Captain Dinesh Karthik, also present at the video conference, said: "Even if the IPL happens, we don't know whether it is going to be a home-and-away format like it used to be or will it be held at one centre. There are a lot of variables to this.
"When we play in the months of April and May, I can tell you that there's still a lot of dew at the Eden. It might be a little more in October and November.