Practice perfect for Mohammed Shami
Pace spearhead stresses on the necessity and importance of warm-up matches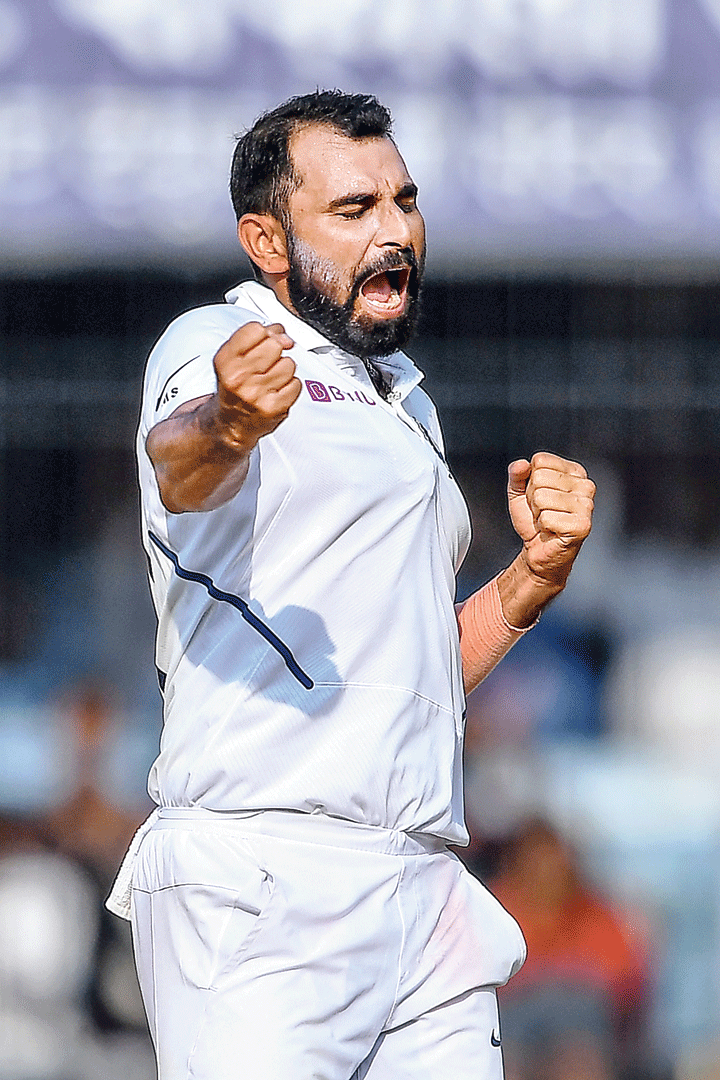 ---
Calcutta
|
Published 31.05.20, 09:07 PM
|
---
An official response from the Indian team management to not being allotted a warm-up game in the lead-up to the four-Test series in Australia is still awaited.
But senior pacer Mohammed Shami was quite candid in his opinion on the necessity and importance of warm-up matches. Not just because India are most likely to face a full-strength Australian side this time around with a pink-ball Test too slotted, but also as players will be coming off a big layoff due to the coronavirus outbreak which affected their fitness and training programme.
"Well, practice matches always help. When you are playing after a long time, especially after all what people had to go through due to the pandemic that forced a break of two-and-a-half months, I do believe a practice match or some more hours of training will always be more beneficial for cricketers.
"That's because we are not used to our body getting such a long break. For two-and-a-half months, your practice suffered and going to the gym was even difficult. So, you aren't quite sure how your body will react. It's thus important to bring momentum back to the body.
"So yeah, I do feel that a practice match is necessary," Shami told The Telegraph from his residence at Amroha in Uttar Pradesh.
Captain Virat Kohli too had stressed the significance of warm-up matches, particularly before a Day-Night pink-ball Test.
In fact, Team India had refused to play a Day-Night Test in Adelaide during their last tour of Australia in 2017-18 simply because it was slotted without keeping a tour match prior to it. Acclimatisation in such a case is of utmost importance.
On this occasion, Adelaide hosts the second of the four Tests, which will be a Day-Night pink-ball affair beginning December 11.
In terms of records, Australia are the most successful team in pink-ball Tests, winning all the five they have played so far. Shami, though, isn't at all intimidated.
"Whenever we played Australia, there have been very good fights, be it us playing there and them coming to our country. So I think it doesn't really matter which venue/ ground you play or even the conditions because what matters ultimately is how well you plan and your preparations.
"It doesn't matter with which ball we play — red, white or pink — because the conditions will be same for both teams and both have a formidable line-up with a good overall package. Australia and us have a good record and we are a good unit from all aspects.
"So I hope we'll get some good cricket matches with a lot of intent," Shami said.
He does have a decent bit of experience with the pink ball, having played two matches with it — the CAB Super League final for Mohun Bagan versus Bhowanipore Club at the Eden (in June 2016) and the Bangladesh Test last year at the same venue, which was also the first-ever Day-Night pink-ball Test in India.
Reverse swing is one of Shami's key weapons, and he has proven so even with the pink ball.
But how effectively can bowlers get it to reverse, especially with the ICC guidelines banning the application of saliva on the ball?
"We are using saliva on the ball since childhood. We have grown in that culture. Yes, it will be difficult (with only sweat allowed). But at the same time, no one seems to have tried reverse swing without application of saliva. Hardly anyone knows it.
"Maybe shining the ball will be difficult, but my point is when such a rule has been formulated, it's for both teams to follow. You also need to work on having such a mindset that if there's reverse swing, it will happen for both teams. If there's no reverse swing, it won't be there for either side. We need to be mentally strong enough to accept the rules," Shami explained.
Going by Shami's confidence and how relaxed he is, he doesn't look to be finding it tough to come to terms with the "new normal."