Moldova minnows pull off coup in Madrid
Their win has been ranked the most shocking in the Champions League since the Euro Club Index was launched by data analysts Nielsen's Gracenote in 2010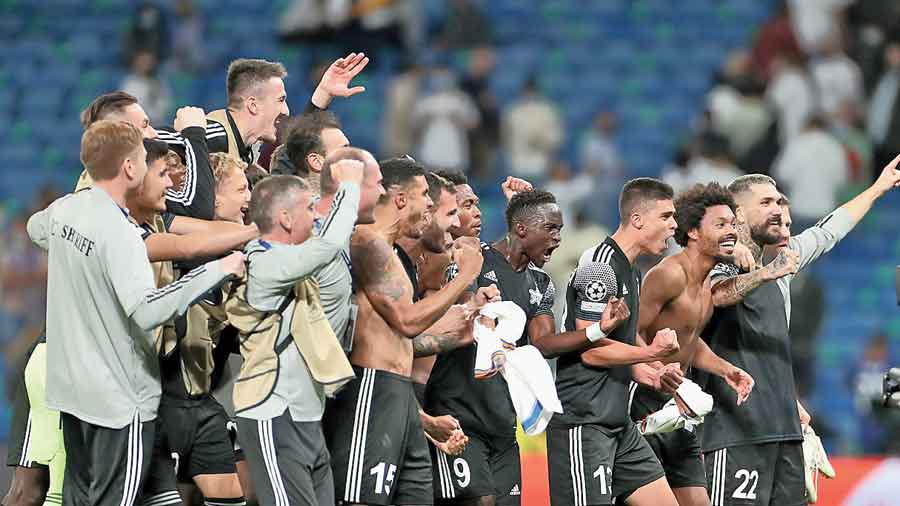 Players and support staff of FC Sheriff after the victory over Real Madrid.
Getty Images
---
Published 30.09.21, 02:08 AM
|
---
Moldova map with the Moscow-backed separatist Transdniester, often known as Transnistria, region. Sheriff Tiraspol play in the Moldovan league but the city of Tiraspol considers itself the capital of Transnistria
Start to life in the Champions League couldn't be going much better for the Moldovan club Sheriff Tiraspol after Sébastien Thill scored a 90th-minute winner to stun Real Madrid at the Bernabeu, pulling off one of the biggest upsets in the tournament's history.
Their win has been ranked the most shocking in the Champions League since the Euro Club Index was launched by data analysts Nielsen's Gracenote in 2010. According to Gracenote, minnows Sheriff had a 1.4 per cent chance of winning the match.
The previous biggest shock had been Celtic's 2-1 win over Barcelona in November 2012, where the Scottish club had a 7.1 per cent chance of victory against the Catalans.
A first-half goal from Jasurbek Yakhshiboev had put the Champions League debutants in the lead at the Bernabeu which was cancelled out by a penalty from Karim Benzema in the 65th minute after a controversial foul on Vinicius. The referee initially let play continue but awarded the penalty after intervention from the VAR.
Less than ten minutes later, Sheriff had a potential winner by substitute Bruno disallowed for offside, but Thill still secured the victory near the end with a booming first-time strike that hit the upper corner of the net.
This was Sheriff's second victory in as many matches. They lead a group featuring European veterans Real, Inter Milan and Shakhtar Donetsk. Sheriff beat the neighbouring Ukrainian side 2-0 in the group D opener a fortnight ago.
"For us this is a dream come true to have won here," Sheriff captain Frank Castaneda said. "We're so happy, and just enjoying it. We have full faith in what we've been doing and things are going well for us. We didn't just come here to sit around, we know how good our players are and luckily for us Madrid weren't able to take their chances and we took ours."
Sheriff are the first club from the Moldovan league to qualify for the group stage of the Champions League, although they are based in the breakaway region of Transnistria, a self-proclaimed independent nation which isn't recognised by any United Nations member-state.
The club founded just over two decades ago is funded by the Sheriff company, which runs large parts of the economy in Transnistria and has strong political ties.
"We were unlucky," Real Madrid coach Carlo Ancelotti said. "Everything went their way and nothing went our way. More than concerned, we are sad. We lost because of details."
Sheriff players celebrated loudly after the final whistle as many Madrid fans jeered their team after its second consecutive setback at the Bernabeu.
Madrid had won five in a row in all competitions before being held by Villarreal to a goalless draw in La Liga last weekend. The Spanish powerhouse have won only five of their last 13 European games at home.
Real are back at the Bernabeu this season after playing at the smaller Alfredo Di Stefano Stadium in its training centre during the pandemic.
Real next visit Shakhtar Donetsk, while Sheriff face Inter Milan looking to continue their fairytale start.
Who are Sheriff?
Founded in 1997, Sheriff have since won 19 out of the last 21 Moldovan titles, including the last six.
While Sheriff play in the Moldovan league, they are from Tiraspol, the capital of Moldova's Moscow-backed separatist Transdniester region.
Mostly Russian-speaking Transdniester, often known as Transnistria, declared independence from then-Soviet Moldova in 1990 over fears the region would seek reunification with neighbouring Romania. The republic which the club represents lies in a tiny stretch of land between Moldova and Ukraine, and in international law, it officially belongs to Moldova.
Transnistria and Moldova fought a bloody war in 1992 that ended in a truce mediated and enforced by Russia and its troops which are still stationed in the region.
The territory is effectively run by the Sheriff conglomerate, a holding that controls businesses ranging from a cognac distillery to supermarkets, and a football club.