Message to Rishabh Pant: Don't let us down
Shastri said Pant has unquestionable talent and if he can sort out his shot-selection and decision-making, he will be unstoppable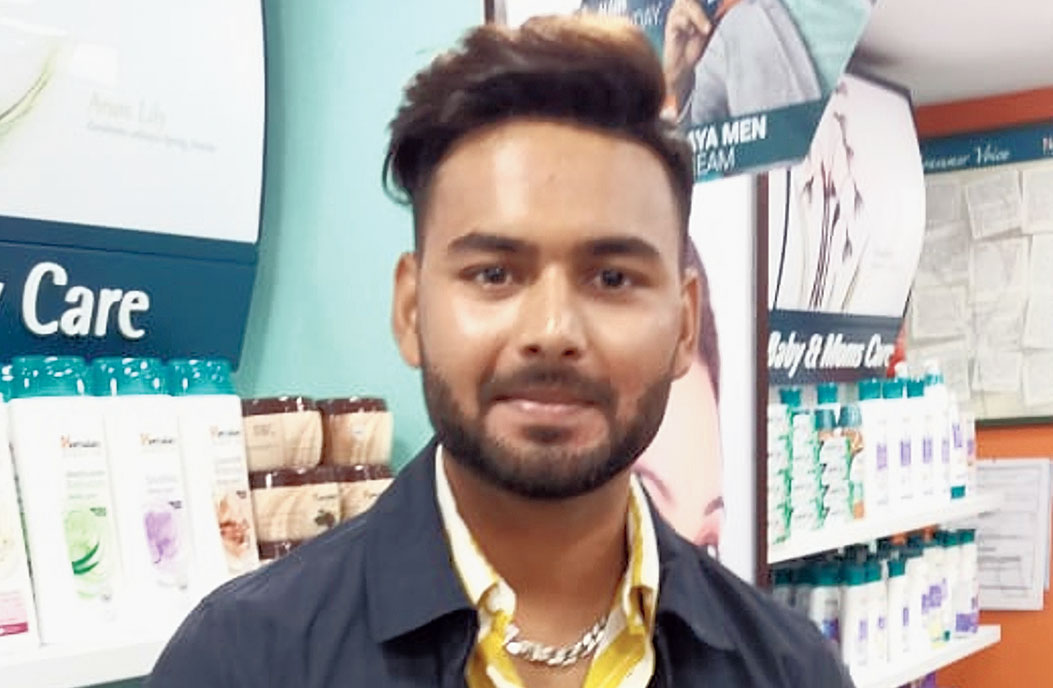 Kohli, on his part, said he wants Rishabh Pant (in picture) to play according to situations. "The only expectation from Rishabh is that he should read situations well. We don't expect him to play the way you might be thinking. It is about analysing a situation and dealing with it in your own way."
Telegraph file picture
---
Calcutta
|
Published 15.09.19, 08:23 PM
|
---
India head coach Ravi Shastri has made it clear that Rishabh Pant will be "rapped on the knuckles" if he keeps on playing rash shots like he did against the West Indies recently.
Shastri did not mince words as he pointed out that the young wicketkeeper-batsman has let the team down during India's recent tour of the West Indies where he was dismissed first ball in an ODI.
"We'll let him be but at times when you see a shot, like the first-ball dismissal in Trinidad, if he repeats that, then he will be told. There will be a rap on the knuckles, talent or no talent," the head coach said.
"As simple as that. Because you are letting the team down, forget letting yourself down. In a situation where you have the captain at the other end, a target to chase, the need of the hour is sensible cricket," Shastri told Star Sports, with captain Virat Kohli by his side.
Shastri said Pant has unquestionable talent and if he can sort out his shot-selection and decision-making, he will be unstoppable.
"No one will even think of changing his style. Like Virat said, reading the situation, match-awareness and shot-selection become crucial. If he can fathom that, he could be unstoppable. It could take one game, it could take four games. He has played so much IPL cricket, he will learn. It's time now for him to step up and show how devastating he can be," Shastri said.
Kohli, on his part, said he wants Pant to play according to situations. "The only expectation from Rishabh is that he should read situations well. We don't expect him to play the way you might be thinking. It is about analysing a situation and dealing with it in your own way."
The captain said he expects a swashbuckling player like Pant to keep it simple. "Someone like Rishabh will hit five boundaries in a difficult situation compared to me, who likes to take a singles or twos and get out of it. Everyone has his own game but reading the situation and decision-making are expectations from everyone in the team, not just Rishabh," Kohli said.
Kohli also has made it amply clear that the youngsters drafted into the squad ahead of the T20 World Cup next year will have to prove themselves in the "four or five" opportunities they get.
Giving his own example, Kohli, who made his India debut in 2008, said he never expected to get a bagful of opportunities in his early days as an international cricketer.
"We have 30 odd games (before the T20 World Cup). From team's point of view, it is very clear. Even when I got into the team, it was not like I was expecting 15 opportunities. You get four to five opportunities and you have to make the most of it. That is the level we are playing at," Kohli said.
"I think individuals coming in need to have the mindset (of performing in limited opportunities) because the team definitely has that mindset. Guys who grab the opportunity quickly, will benefit. It is a delicate balance to strike but it is important because you only have 30 games (to figure it out)."
Besides the T20 World Cup in Australia next year, the team is also focusing on the World Test Championship.
For the last two T20 International series, including the one against the West Indies and the ongoing affair versus South Africa, India have left out spinners Kuldeep Yadav and Yuzvendra Chahal, who have made way for Rahul Chahar and Washington Sundar.
The selectors have also brought in batsmen Shreyas Iyer and Manish Pandey.
"Youngsters are being pushed in from time to time. It is very important to settle the team combination and you will have to figure out the players who will take the team forward," added Kohli.
Meanwhile, the first T20 International between India and South Africa was abandoned in Dharamsala, without a ball being bowled due to heavy downpour. It left a near-capacity crowd disappointed on Sunday.