Lionel Messi gets hero's welcome after flying to France to join Paris Saint-Germain
The agreement to sign the 34-year-old Argentine is a major coup for wealthy PSG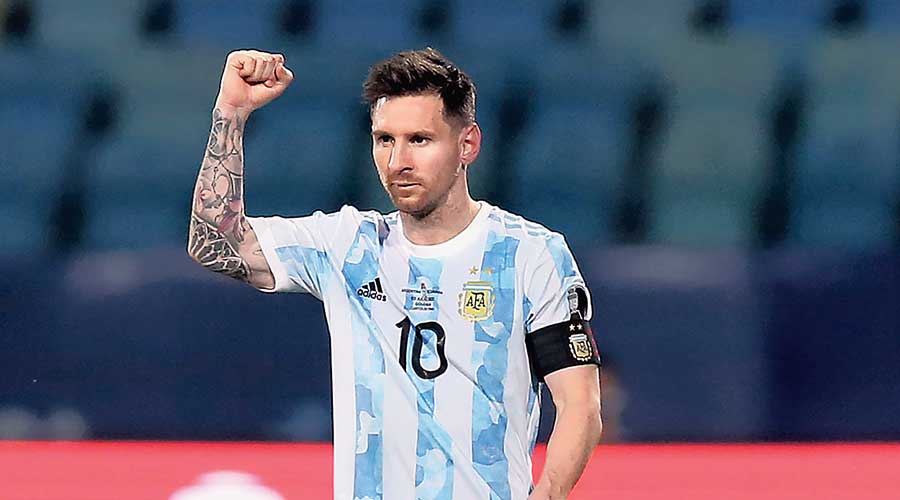 ---
Published 11.08.21, 03:00 AM
|
---
Lionel Messi received a hero's welcome after flying to France on Tuesday to join Paris Saint-Germain (PSG) following his shock departure from Barcelona.
The agreement to sign the 34-year-old Argentine is a major coup for wealthy PSG, who will add one of the best players of all time to an already formidable front line that includes Brazil's Neymar and young Frenchman Kylian Mbappe.
Wearing a T-shirt that read "This is Paris," Messi beamed and waved at scores of fans who had come to greet him at Le Bourget airport on the outskirts of the French capital after his flight from Barcelona.
Chanting "Messi, Messi, Messi", the fans cheered and let off firecrackers.
"It's going to be mad. After all, it's a legend who is arriving," said Florent Chauveau, a PSG fan who has been back and forth to the airport every day since Sunday in the hope of seeing Messi arrive.
Messi's signing was confirmed by a team official with knowledge of the agreement and in a video posted to the club's social media account. An announcement is expected as soon as Wednesday. According to L'Equipe, Messi "successfully passed his medical test" at PSG later on Tuesday.
Messi's new contract is for two years plus a third optional year, according to the official. It will pay him about $35 million a season, an enormous amount but only a fraction of what he was earning at Barca.
The superstar's arrival in Paris also highlights the growing gap between soccer's rich and its superrich. It explains how Gulf riches have so altered modern soccer's economics that even some of the world's richest teams are now no match for state-sponsored teams in the arms race to acquire the most elite players.
With Messi in its star-studded ranks — and even if Mbappé is sold, possibly to Real Madrid, to recoup some of the cost — PSG will once again take aim at the Champions League, the biggest prize in club soccer but a tournament that it has failed to win.
Messi is the latest big-name arrival at PSG on a free transfer this summer after coach Mauricio Pochettino's side snapped up Spanish defender Sergio Ramos after he left Real Madrid. Dutch midfielder Georginio Wijnaldum joined after running down his contract with Liverpool. Italy's Euro 2020-winning goalkeeper Gianluigi Donnarumma has also joined after his contract with AC Milan ran out, while Moroccan fullback Achraf Hakimi joined from Inter Milan for a reported 60 million euros ($70 million).
It is unclear just how PSG will justify the addition of those salaries under European soccer's cost-control rules. But like Manchester City, which broke the British transfer record this summer by signing Aston Villa's Jack Grealish for £100 million ($139 million), the club appears to be free of domestic or regional rules on spending.
PSG's influence in the corridors of power has only grown. Its president, Nasser al-Khelaifi, now sits on Uefa's board and serves as president of the influential European Club Association, the umbrella body for more than 200 top-division teams across Europe. He is also the most senior official at BeIN Media Group, the Qatar-based broadcast network that is the largest buyer of Uefa broadcast rights.
For Barcelona the sight of Messi's wearing a different team's colours will be the bitterest sign of how powerless even Europe's biggest clubs can be in a marketplace dominated by nation states with deep pockets and big dreams.