Ishant Sharma frets about lack of sleep
Ishant took 3 wickets even as the hosts overtook India's first innings score of 165 to finish Day II on 216 for five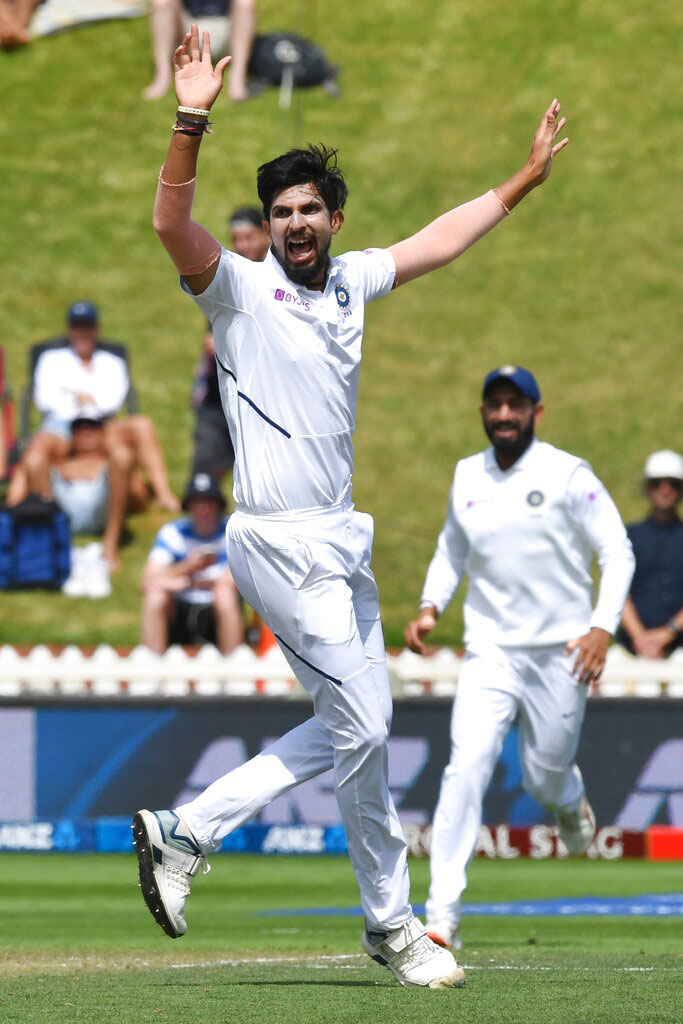 Ishant Sharma successfully appeals the wicket of New Zealand's Tom Latham in Wellington on Saturday
(AP)
---
Wellington
|
Published 22.02.20, 08:13 PM
|
---
A jet-lagged Ishant Sharma, who has barely slept for four hours in the last two days, kept India in the fight in the ongoing first Test against New Zealand.
Ishant took three wickets even as the hosts overtook India's first innings score of 165 to finish Day II on 216 for five.
Strangely, a few weeks ago, Ishant wasn't even sure of travelling to New Zealand after suffering multiple ligament tears in his right ankle during a Ranji Trophy game. The much experienced pacer, however, has overcome the injury, travelled for 24 hours and arrived in New Zealand 72 hours before the start of the first Test.
"I am not happy because I have not slept for two days and I was struggling a lot today (with my body). The way I would have liked to bowl, it did not happen. They asked me to play and I played. Anything, for the team," said India's senior-most player on Saturday.
"Not that I wasn't happy with my bowling. I wasn't happy with my body as I could only sleep for 40 minutes last night and day before the Test match, I slept for three hours," Ishant added, speaking of his struggles with jet lag.
"The more you can recover (from jet lag), the better effort you can put in on the ground. There's no better recovery than sound sleep. The sounder your sleep is, the better your body will respond on ground," he explained.
According to Ishant, he didn't even think about playing the Test match, when he had sustained the freak injury. "All credit goes to NCA support staff as they worked really hard... We never really thought I could play a Test so soon because my MRI showed a complete ligament tear, not one but two tears. People said 'he is out for six weeks'," Ishant recalled.
"I thought 'okay, if it's possible to play, I will play but if it's not, there's hardly anything I could have done'. The way I got injured, I don't think it has happened with anyone. But if you're destined to get injured, you can slip in the toilet too," he said.
Asked when he felt he could give it a push for New Zealand tour, the speedster said he bowled 21 overs in two days at the NCA in Bangalore to test his fitness. "I bowled 21 overs in two days at NCA and I got to know I'm fit and that's why I came here and bowled one and half hours to check if I am alright. After travelling for almost 24 hours, it took a big toll on the body."
Batting for 'Boom'
Ishant finds it "funny" that people are questioning Jasprit Bumrah's "ability" just after a few matches, ignoring his performances over the past two years.
Ishant thus joined Mohammed Shami in responding to those who have been critical of Bumrah's barren run that started during the ODI leg of the ongoing tour.
"It's funny that perceptions changed after one innings. For two years, we have always taken 20 wickets — myself, Boom (Bumrah's nickname in the Indian dressing room) and Shami, along with Ash or Jaddu (at home). How can people question on the basis of one innings (Test)?" Ishant asked while defending his colleague.
"I don't think anyone doubts Boom's ability. Since his debut, what he has achieved for India, I don't think anyone should raise any questions," said Ishant.
Bumrah also had support from New Zealand pacer Tim Southee, who called him a "world-class bowler".
"I don't think there's anything wrong. He is a world-class bowler. He is obviously coming back from injury, but he is a quality player, and we know a great performance is never far away when you're a quality player," Southee said.
Southee is happy that New Zealand batsmen have been able to keep Bumrah quiet during this series.
"Hopefully, we can keep him quiet for the rest of the tour, but good players never stay down for long.
"Sometimes you can bowl really well and actually not get the rewards you are after," said Southee in an empathetic tone. "There might have been a few games during the one-day series and the games so far he's played where he has actually felt really good, but hasn't taken a wicket," Southee said.