The steely Surya stare that made Kohli blink
Ignored batsman sends a message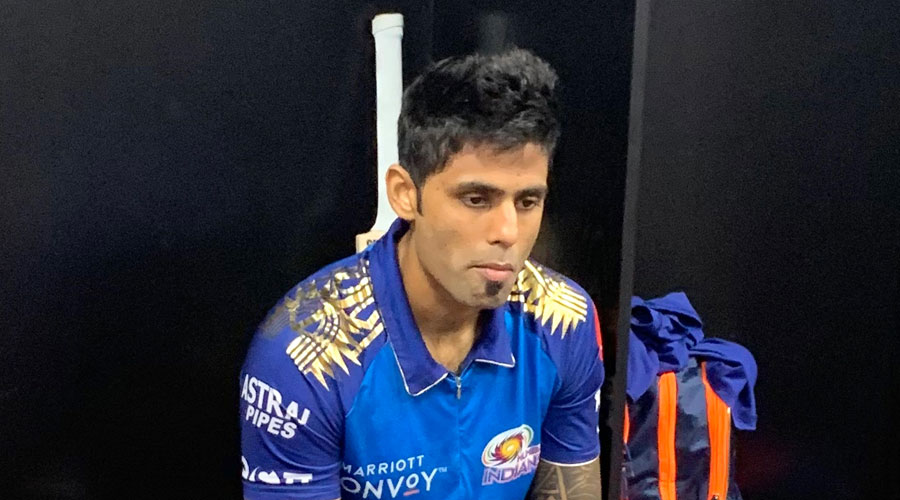 ---
|
Calcutta
|
Published 30.10.20, 02:43 AM
---
Suryakumar Yadav's name wasn't discussed when the national selectors met to pick the squads for the tour of Australia. Yet, the Mumbai Indians batsman remains one of the most talked-about performers in this IPL.
His classy 79 not out off 43 balls against Royal Challengers Bangalore on Wednesday has almost sealed Mumbai Indians a playoffs berth.
His range of shots against the likes of Yuzvendra Chahal, Chris Morris and Dale Steyn has proved that he belongs to the highest level.
The innings depicted his steely resolve and the ability to not be cowed down by external pressure.
Even the presence of RCB and Team India captain Virat Kohli couldn't fluster him in any way.
At one point, Kohli walked up to Suryakumar in a bid to intensify the psychological warfare in the middle of his innings. But Suryakumar didn't fall for the bait and instead stared into the eyes of the India captain and walked away without engaging in a verbal exchange.
Suryakumar's gesture won him praise on social media. His franchise came up with a witty post, reacting to the photo of the two staring at each other: "He Came, He Stared, He Conquered".
Having hit the winning runs, the 30-year-old took off his helmet and gestured towards the dressing room with a wave of his hand, suggesting it's best to keep faith in him and he would get the job done.
Mumbai Indians' stand-in captain Kieron Pollard revealed Suryakumar was feeling let down after the selection snub.
"Deep down inside he must be very very disappointed to not have donned the blue for India but I'm sure he's very, very close… I'm sure," Pollard said.
Former Mumbai coach Sulakshan Kulkarni, who has seen him from close quarters, couldn't hide his disappointment.
"The way he has been playing in the last couple of seasons, he deserves at least one or two chances in the Indian team. If you can give ample opportunities to Rishabh Pant, Surya can get at least an opportunity or two. He is a proven performer now," Kulkarni told The Telegraph.
National coach Ravi Shastri urged Suryakumar to "stay strong and patient". Minutes after the match ended on Thursday, Shastri tweeted: "Surya namaskar. Stay strong and patient surya_14kumar #MIvsRCB".
At a glance
In 2018-19
Ranji Trophy: Mts 5, Runs 273, Avg. 34.12, Highest 83
Syed Mushtaq Ali T20 Trophy: Mts 10, Runs 360, Avg. 51.42, S/r 145.16, Highest 80
IPL (MI): Mts 14, Runs 512, Avg. 36.57, S/r 133.33, Highest 72
In 2019-20
Ranji Trophy: Mts 5, Runs 508, Avg. 56.44, Highest 134
Syed Mushtaq Ali T20 Trophy: Mts 11, Runs 392, Avg. 56, S/r 168.96, Highest 94*
IPL (MI): Mts 16, Runs 424, Avg. 32.61, S/r 130.86, Highest 71*
In 2020
IPL (MI): Mts 12, Runs 362, Avg. 40.22, S/r 155.36, Highest 79*