ICC Cricket World Cup 2019: Rain makes the fans pour their grief on Twitter
So far, three matches have been washed out, the most in World Cup history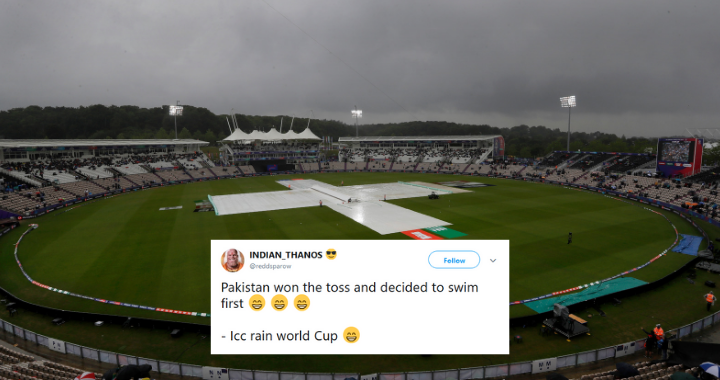 ---
Published 12.06.19, 11:46 AM
|
---
What on other days will be only a minor annoyance to an average Englishman, is turning into a major nuisance this ICC World Cup.
Rain, an almost daily fixture for most of England this time of the year, has turned out to be an unlikely, yet formidable opponent for the cricket teams this World Cup. So far, three matches have been washed out, the most in World Cup history.
The repeated washing out-- thrice in a week—has left the fans far from amused. But even the English rain was not enough to deter them from whetting their satirical chops and using them against the helpless ICC, which is now left with little option but to brave the barbs.
Each time the rain foiled a match, fans vented their anguish in the most innovative ways on Twitter. Here is the lot which took refuge in humor:
Earlier in the day, the near universal condemnation by fans made the ICC issue a statement explaining its decision why it didn't keep any reserve days to accommodate washed out matches.
In a statement, ICC CEO Dave Richardson said: 'Factoring in a reserve day for every match would significantly increase the length of the tournament and, practically, would be extremely complex to deliver.
'It would impact pitch preparation, team recovery and travel days, accommodation and venue availability, tournament staffing, volunteer and match officials' availability, broadcast logistics and very importantly the spectators, who in some instances have travelled hours to be at the game.
'Up to 1200 people are on site to deliver a match and everything associated with it including getting it broadcast and a proportion of them are moving around the country so reserve days in the group stage would require a significant uplift in the number of staff.
'There is also no guarantee that the reserve day would be free from rain either.'
But even this reasoning could not assuage the angry fans, who slammed ICC all the same for its failing to foresee the notorious summer rain.
Third match in the world cup which got abandoned due to rain.Why ICC have chosen a location where they know it will rain in the month of June July, they could have kept it later in the year or they could have scheduled the world cup in some other country. @ICC #CWC19

— Amir Mushtaq (@amirmushtaq01) June 11, 2019
Pakistan won the toss and decided to swim first 😁 😁 😁

- Icc rain world Cup 😁 #AUSvPAK

— INDIAN_THANOS 😎 (@reddsparow) June 12, 2019
Brilliant by @ICC to not have any open days Incase a game gets rained out. What a waste of time to have this World Cup in England where every second day a game gets affected by rain. #SAvWI

— fanofsport (@fanofsport1) June 10, 2019
Thanks to #ICC for selected a wonderful Venue For #WC19.....its the best world cup ever i seen....end of the day rain won the match.... pic.twitter.com/EfM9j0BN78

— arshad (@arshad2399) June 11, 2019
What type of World Cup is this ?
Back to back rain wash. Even in this advance era of technology where you can predict & measure the weather on finger tips, how you can organize the WC here ? Shameless organizers.#CWC19 #BANvSL

— Irfan (@hereisIrfan) June 11, 2019
World Cup'19

1st Semi:
Showers vs Light Rain

2nd Semi:
Clouds vs Heavy Rain

Final:
Light Rain vs Clouds

Heavy Rains won by 62 mm
Man of the Match: Thunderstorm ⚡
Man of the Tournament: Drizzling 🌦
Most Wickets: Cloud ☁
Most Runs: Showers 💦

Thank you ICC 👏🏻🙏🏻#CWC19

— Ankit🇮🇳 (@ankittweet13) June 11, 2019
Presenting u the official trophy of ICC Rain World Cup 2019#Budget2019 #AUSvPAK #CWC19 pic.twitter.com/qK1zFLPxjM

— 16 y/o nibba (@iAliHa1der) June 11, 2019
Oh FFS @ICC here we go again. Another match that will be affect by rain. How can this be a fair World Cup when there are so many delays? The planning in this tournament is unacceptable for such a major sport event. Have you purposely picked the venues on the day it rains?#BANvsSL

— fanofsport (@fanofsport1) June 11, 2019
This is the first time in a World Cup when more than two matches have been affected by rain.
The rain foiled the match between South Africa and West Indies on Monday and between Bangladesh and Sri Lanka, the very next day. The latter of the two was abandoned without a ball being bowled. Another match, between Pakistan and Sri Lanka was also washed out last Friday without seeing any action.