National Games: Home truth laces athlete's gold
Swapna Barman forced to move to Madhya Pradesh in search of funds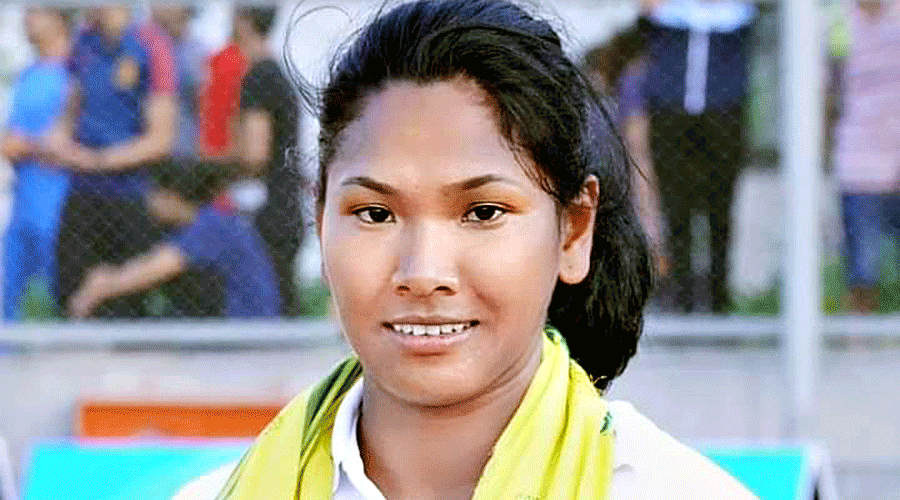 A picture on Facebook of Swapna Barman after winning gold in high jump at the National Games in Gandhinagar.
File picture
---
Calcutta
|
Published 08.10.22, 03:03 AM
|
---
Swapna Barman stood atop the podium twice in the ongoing National Games. She bagged the high jump gold with a Games record of 1.83m and followed that up with another gold in her pet event, the heptathlon.
But, and herein lies the twist, she fetched those laurels not for her home state Bengal, but for Madhya Pradesh. The conflicting emotions in Swapna were apparent as she spoke to The Telegraph after her 'double'.
"Yes, I am, of course, glad to have won two gold medals because, in the ultimate analysis, that is what matters.
"The long jump gold came with a meet record so that was extra pleasing."
The heptathlon gold, however, did not please her much because it was far from her best.
Swapna topped three events — 100m hurdles, high jump and the javelin throw; was second best in shot-put and long jump, but her show in the 200m and 800m were far from satisfactory.
"Not giving excuses, but the fact remains that while I competed in the long jump on Friday (September 30), the heptathlon events started from Sunday (October 2).
"On Friday, after the doping tests and other formalities were over, it was beyond midnight. I reached the hotel around 12.30am, had a night of disturbed sleep, and skipped lunch the following day. In a nutshell, my recovery was far from ideal. More so since I do not have a physiotherapist and tried to complete the recovery process myself.
"But thankfully, I fetched my adopted state two gold medals."
But why this shift to another state?
"Bengal is where I was born and where I belong from my heart but I am being forced to appear for MP for financial reasons," said the athlete with six toes.
Most states offer good financial incentives for gold winners at the National Games. But not Bengal.
"Have I not done enough to make my state proud?" asked the Asian Games gold-medal-winning heptathlete.
"A good running shoe today costs anything between Rs 28,000 and 33,000. And here I am talking only about shoes. I don't have a physiotherapist of my own. I am being unable to fund myself any longer. I need financial incentives…I need a sponsor. Hence the decision."
What also forced her decision was that her long-time coach and mentor Subhas Sarkar will be retiring in January and will shift base to Madhya Pradesh.
"Sir needs a ground where he can coach and I need to practise. Taking everything into consideration, this tough decision had to be taken."
Right now, her main target is of course to defend her Asian Games title.
Swapna's picture, celebrating with her Asian Games gold in Jakarta 2018, her jaw in bandage had gone viral then — she was suffering from a gum infection and did her events under excruciating pain.
"But," said the 25-year-old, "What would make me happier is if I can better my personal best (6026 points)," the gritty athlete from Jalpaiguri said.