Game of laughs: Twitter reacts to India's victory over Pakistan at the Cricket World Cup
Videos were made, parties were planned, and Gods were summoned- here is how Twitterati trolled, got trolled and united in their delight for the sport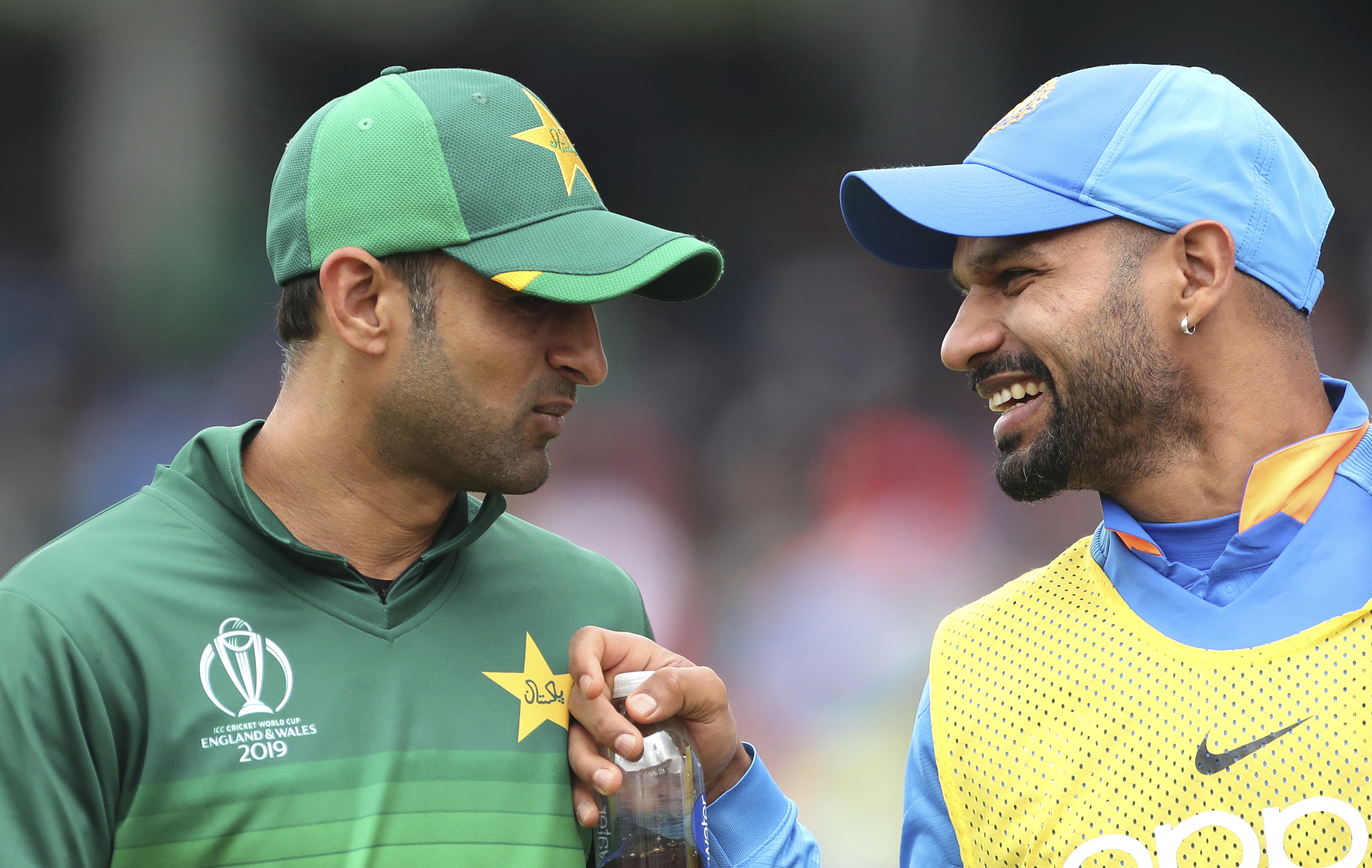 Pakistan's Shoaib Malik, left, shares a light moment with India's Shikhar Dhawan during the Cricket World Cup match between India and Pakistan at Old Trafford in Manchester, England, Sunday, June 16, 2019.
(AP)
---
Published 17.06.19, 11:22 AM
---
The Indian cricket team defeated the Pakistani cricket team by 89 runs on Sunday, stretching their World Cup winning streak against Pakistan to 7-0.
Netizens everywhere celebrated in glee, and memes and jokes began to compound as everyone reacted to the friendly face-off between two countries otherwise known to getting on each other's nerves. Videos were made, parties were planned, and Gods were summoned- here is how Twitterati trolled, got trolled and united in their delight for the sport.

May the best team win today, and India is the best team. India 🇮🇳 vs Pakistan 🇵🇰 #ICCWorldCup2019

— Sunil Grover (@WhoSunilGrover) June 16, 2019
Evolution of the mobile phone from the time Pakistan has been playing India in Cricket World Cups and never registered a win. #INDvsPAK pic.twitter.com/L4ETyijGse

— Anand Ranganathan (@ARanganathan72) June 16, 2019
I honestly don't care who wins today's match today as long as it's a good clean game of cricket, and everyone who's watching it has fun, and India wins.#IndiaVsPakistan

— Akshar (@AksharPathak) June 16, 2019
It has to be said... Pakistani trolling is way better than Indian trolling.. imagination + humour- not just gaali galoch- also that though ! 🤣🤣🤣😈😈😈😏😏😏😏 #IndiaVsPakistan

— Swara Bhasker (@ReallySwara) June 16, 2019
While we enjoy the tweets of Pakistani fans taking their team's case, introspect a little and admit that we can NEVER do the same with our team because then we will be branded as Anti Nationals. Sad but true. #IndiavsPakistan

— Harneet Singh (@Harneetsin) June 16, 2019
Seviyan Kheer Bhog offered to Gods as India beats Pakistan 🇮🇳#IndiaVsPakistan #INDvPAK pic.twitter.com/w2XxtPQg01

— Kapil Mishra (@KapilMishra_IND) June 16, 2019
Fantastic performance by #TeamIndia 👏👍💥🔥
Who was your favourite player?
For me it was @GautamGambhir who stole the day.
Show me ONE cricketer who manages #VoteBank & #BankBalance with such ease?
This is a true all-rounder. 🙏#IndiaVsPakistan pic.twitter.com/DwZYdTaEsa

— The DeshBhakt (@akashbanerjee) June 16, 2019
This guy speaks for the whole of Pakistan today pic.twitter.com/JReTKDdlhG

— Ammara Ahmad ਅਮਾਰਾ ਅਹਿਮਦ (@ammarawrites) June 16, 2019
Cricketers Yuvraj Singh, Sachin Tendulkar and Suresh Raina tweeted the victory, as Harbhajan Singh talked about the record 7 out of 7 times India beat Pakistan in the World Cup in a video on his YouTube channel.
Congratulations to team 🇮🇳 india for a convincing win over Pakistan ! Great team effort boys , specially @ImRo45 @imVkohli @klrahul11 top knocks 👏🏽great to see @imkuldeep18 @nd @yuzi_chahal flighting the ball and deceiving Pakistani batsmen consistently . On to the next one ☝🏼

— yuvraj singh (@YUVSTRONG12) June 16, 2019
It was a brilliant all-round display by #TeamIndia!@ImRo45 was just amazing once again & @klrahul11 after being asked to open, played with a lot of responsibility.@imVkohli like always was classy & the way @imkuldeep18 bowled along with @hardikpandya7 was great to see.#INDvPAK pic.twitter.com/d639Yy6cfb

— Sachin Tendulkar (@sachin_rt) June 16, 2019
A very professional display by #TeamIndia. Top job by @imkuldeep18 and @hardikpandya7 for the wickets. Rain can't be predicted but Team India has checked all the boxes. Well played, lads. #INDvsPAK #CWC19 pic.twitter.com/htuKH1lIQJ

— Suresh Raina🇮🇳 (@ImRaina) June 16, 2019
https://t.co/cgTIiUD1a1 what a win 💪🇮🇳

— Harbhajan Turbanator (@harbhajan_singh) June 16, 2019
Social media is also abuzz with India's response to a Pakistani television advertisement featuring a spoof of IAF pilot Abhinandan Varthaman. The ad was released last week, and had struck the wrong chords on Indian funny-bones. Some netizens, however, took the mimicry lightly dwelling on the sensitive nature of advertisements, and that the queen (Queen Elizabeth II) ought to be offended most, as she is a part of several advertisements that mock her during the World Cup as well.
The fact that everybody is going ballistic on the Abhinandan ad means it has done its work, and brilliantly so! We've been doing Mauka Mauka and Baap Baap Hota Hai since forever. Let them have their quota of fun. And let's all laugh some. May the best team win.

India, that is.😎

— Vaibhav Vishal (@ofnosurnamefame) June 11, 2019
The ominous rain clouds in Manchester for the past few days did little as the pitch was perfect and had very little moisture. The sportsman spirit, however, was lost to some as they rained on the cricket team's parade.
Another strike on Pakistan by #TeamIndia and the result is same.

Congratulations to the entire team for this superb performance.

Every Indian is feeling proud and celebrating this impressive win. #INDvPAK pic.twitter.com/XDGuG3OiyK

— Amit Shah (@AmitShah) June 16, 2019
Last evening, Indian vice-captain Rohit Sharma led India to a challenging 336 for five as he utterly defeated a pedestrian Pakistan attack with a stylish century. Skipper Virat Kohli became the quickest to 11,000 ODI runs, surpassing the iconic Sachin Tendulkar's 17-year record.