French Open: Novak wins contest of grit to get step closer to glory
After his brilliant 3-6, 6-3, 7-6 (4), 6-2 victory, Djokovic has a chance to win his 19th Grand Slam singles title on Sunday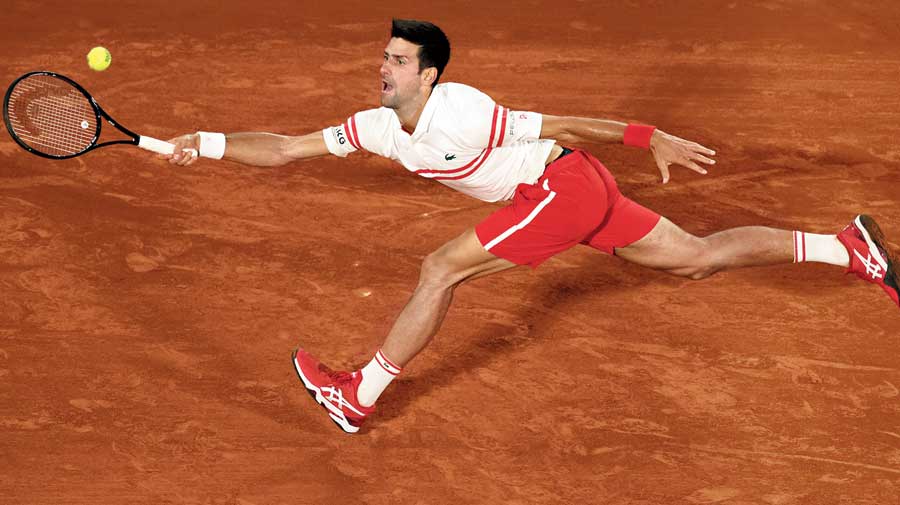 Novak Djokovic during the semi-final match against Rafael Nadal on Friday.
Getty Images
---
Paris
|
Published 13.06.21, 03:42 AM
|
---
This golden age of men's tennis got a little shinier on Friday night. It is harder to deepen the impression at this advanced stage: after all the comebacks, marathon duels and winners under pressure over nearly 20 years of close character study. But Novak Djokovic and Rafael Nadal, in their 58th meeting, still found something inside themselves that spoke to their public, which was allowed the privilege of staying in their seats past the 11pm curfew by the French authorities.
It was the right move on many levels. It might have prevented a riot, but above all it was welcome because clearing the main Philippe Chatrier Court would have stopped the flow of a great match that was transcendent in part because of the force of its tidal shifts.
The third set was the best example, and one of the most compelling sets to be played at Roland Garros: 91 minutes of grit and pure talent reflected in both grinding rallies and bold swipes of the racket from all sorts of compromised positions. No two tennis players have been better at turning defence into offence, and no two men have played each other more often in singles in the Open era.
It was 5-0 Nadal after five games, but Djokovic worked his way back with deep focus, channeling his intensity. There were no screams on Friday night like the one he produced after beating Matteo Berrettini on this same court on Wednesday in another late night match. As against Federer in the 2019 Wimbledon final, Djokovic seemed to grasp that he did not have mental energy to squander. He prevailed on Friday because he was the steadier flame down the stretch and the more devastating returner.
Nadal won no fewer than 73 per cent of his first-serve points against his first five opponents in Paris this year. He won 59 per cent against Djokovic. Nadal faced 22 break points combined in his first five matches. He faced 22 break points in one night against Djokovic, who can absorb pace and read service directions like no other.
After his brilliant 3-6, 6-3, 7-6 (4), 6-2 victory, Djokovic has a chance to win his 19th Grand Slam singles title on Sunday.
Nadal and Roger Federer are tied for the career men's lead at 20 and might remain forever tied. But Djokovic is closing and, as he proved again on Friday night, he remains capable of beating the men on their surfaces of choice.
He also holds the career edge over both: 27-23 over Federer and 30-28 over Nadal who could have reeled him back in with a victory.
Djokovic is now the only man to have beaten Nadal twice in Roland Garros, with the first victory coming in the 2015 quarterfinals when Nadal was in a rare funk.
But Djokovic's achievement this year is more impressive when you consider that Nadal had beaten him five times in a row on clay, including last year's straight-set romp in the French Open final and last month's Italian Open final.
"The first thing I want to say was it was my privilege also to be on the court with Rafa for this incredible match," Djokovic said. "It is surely the greatest match I have played here in Paris."
Though the mood leaned toward superlatives on Friday night, they have played consistently high quality matches against each other (the 2018 Wimbledon semifinal) and longer matches (the 2012 Australian Open final).
Nadal had moments of greatness in this semifinal,
but was not routinely great, missing backhands by the bunch and losing his way in the crucial third-set tiebreaker with a double fault and a rare missed forehand volley into an open court.
"These kind of mistakes can happen, but if you want to win, you can't make these mistakes," Nadal said with typical clarity and humility.
Certainly not against a champion of Djokovic's calibre. The crowd, limited to 5,000, sensed the vulnerability and urged Nadal on. It was a sign of how his relationship has deepened with the Roland Garros public.
Djokovic had his share of support as well, but to get to 19, he still has one more hurdle, and though he will be a favourite in the final, the 5th-seeded Stefanos Tsitsipas should not be underestimated.
No matter how much it felt like a final, it was only the last step to the final.
New York Times News Service