French Open: Like Rafael Nadal's trophy, Iga Swiatek hugs legacy
The 19-year-old brings a cerebral and inventive style that is a refreshing change to the often pre-programmed games of some of her contemporaries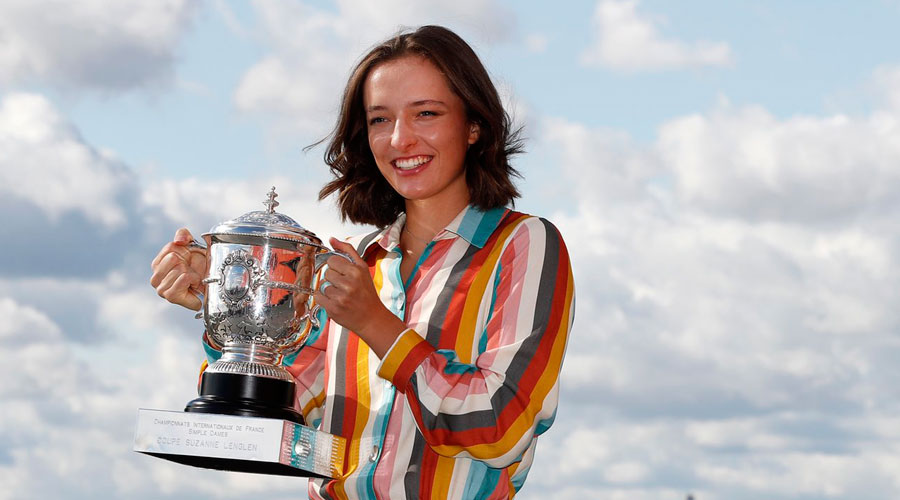 ---
---
When Iga Swiatek held aloft the French Open trophy in Paris on Saturday, her thoughts were with Rafael Nadal. A self-confessed Nadal fan, the Polish teenager said: "I was watching every year how Rafa lifts the trophy... So it's crazy I'm in the same place."
The newly crowned champion is not your standard academy-honed tennis prodigy nor, for the matter, is she your typical teenager.
For a start, she favours Pink Floyd, AC/DC and Santana over music that most of her peers follow around the world now. She also enjoys historical novels and meditating before bed.
Put her on a tennis court and the 19-year-old brings a cerebral and inventive style that is a refreshing change to the often pre-programmed games of some of her contemporaries.
It is also devastatingly effective as she demonstrated while beating fourth seed American Sofia Kenin 6-4, 6-1 to become Poland's first Grand Slam singles champion.
The Polish national anthem reverberated through a mostly empty Philippe Chatrier Court. The mask covered Swiatek's face just like the low-hanging autumn sun had covered most of the court during the one-hour-and-24-minute match. But it could not contain her smile, which creased her eyes as the song played on.
"I wasn't expecting to win this trophy. It's obviously amazing for me," Swiatek said.
The youngest French Open women's winner since Monica Seles in 1992, she dropped only 28 games in seven matches at Roland Garros, including a first-round win over 2019 runner-up Marketa Vondrousova and a last-16 trouncing of top seed Simona Halep.
After her defeat of Halep, the rest of the tournament, she said, felt like bonus rounds.
"It was so crazy for me winning against Simona that I already thought about the tournament as, like, my lifetime achievement," Swiatek said.
She struck 25 winners in an ultimately one-sided final, many of which seemed to take Kenin completely off guard.
Swiatek has a big spinning forehand but can also flatten it for extra zip and her use of angles and ability to spot an opening are gifts that coaches would love to bottle.
Asked what she does differently from other players, Swiatek said she would have to play against herself to know, but added: "Really, I mean, I just have my instincts. I think this is helping me a lot."
Despite her amazing breakthrough that will launch her into the world's top 20, Swiatek said she cannot even consider herself the best player Poland has produced, pointing to now-retired former Wimbledon runner-up Agnieszka Radwanska.
The French Open title was the unseeded Swiatek's first on tour. She is also the latest in a kaleidoscope of fresh-faced Grand Slam champions in women's singles. Of the past 14, nine have been first-time winners. "I think the biggest change for me is trying to be consistent. I think this is what women's tennis is struggling with," she said.
She entered the tournament with a No. 54 world ranking, a recently acquired high-school diploma and a vague plan to test her game on the WTA Tour for what she described as a "gap year" before deciding whether she wanted to continue her education at a university.
Swiatek, who bounced around the court on Saturday as if she had pogo sticks for legs, didn't exactly come from nowhere. In 2018, she won the Wimbledon junior singles title and the French Open junior doubles title. But her rapid rise the past two weeks left even her head spinning.
She maintained her poise and focus all the way until the trophy presentation. Asked to give a speech, she sputtered. Unlike the points in her match, her sentences were haphazardly constructed.
"I basically didn't know what to say," Swiatek said later with a smile. "I think I had a mess in my head."
As she spoke, she looked at the stands, where the few hundred spectators included her father, Tomasz, who represented Poland in rowing at the 1988 Summer Olympics in Seoul. Her voice cracked when she acknowledged him. Seeing his face, it began to sink in what she had accomplished.
She had taken her father's legacy and burnished it.