Cristiano Ronaldo snub coincides with $4 billion fall in Coca-Cola's market value
The drinks giant is one of the official sponsors of Euro 2020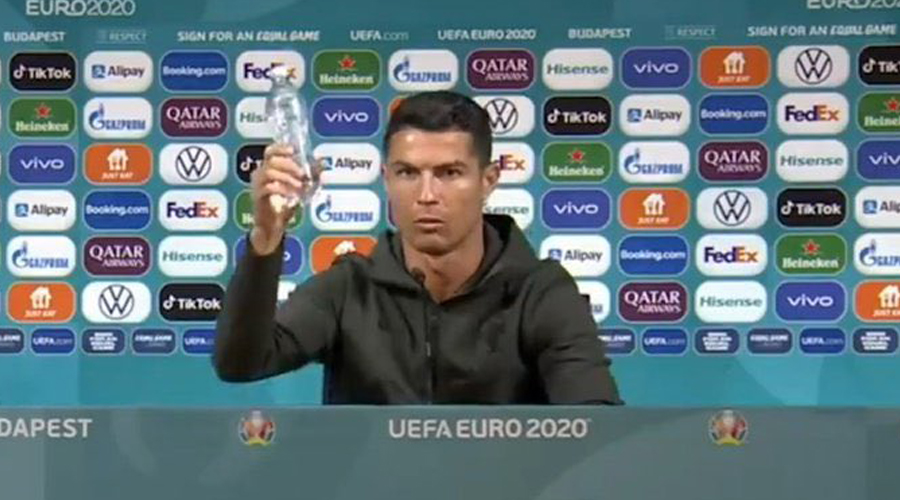 Cristiano Ronaldo holds up the bottle of water after pushing away the Coca-Cola bottles away on Monday.
Twitter / @HkAfridi09
---
Published 17.06.21, 03:39 AM
|
---
Portugal's health-obsessed football superstar Cristiano Ronaldo's removal of two Coca-Cola bottles during a news conference at Euro 2020 has coincided with a $4bn fall in the share price of the drinks giant.
At the event in Budapest on Monday, on the eve of his country's first game of the tournament, against Hungary, Ronaldo removed two bottles of Coca-Cola kept in front of him, and appeared to encourage people to drink water instead.
The 36-year-old followed it up by holding a bottle of water before shouting in Portuguese: "Agua (Portuguese for water)!"
Coca-Cola is one of the official sponsors of Euro 2020.
Coinciding with Ronaldo's snub, the Coca-Cola stock fell by 0.25 per cent to $55.41 on the New York Stock Exchange (NYSE) on Tuesday. The market value of Coca-Cola went from $242bn to $238bn — a drop of $4bn.
The Dow Jones industrial average — the index of which Coca-Cola is a key component — fell by more (0.27 per cent). 
However, this was the Coca-Cola stock's second consecutive day of losses. Coca-Cola Co. closed $1.07 short of its 52-week high ($56.48), which the company reached on June 4.
According to financial information and business news website MarketWatch, the Coca-Cola stock fell during a "rough trading session". This could be because the Federal Reserve policy makers are reviewing US monetary policy and are to announce the outcome later on Wednesday. 
Market analysts said it would be facile to attribute the $4 billion wipeout of Coca- Cola's market capitalisation to Ronaldo's gesture of disdainfully shoving aside the two Coke bottles. 
But Ronaldo is a pop culture icon with nearly 300 million Instagram followers and his brand pull cannot be ignored.
Coca-Cola replied on Tuesday with a statement that said "everyone is entitled to their drink preferences" with different "tastes and needs".
The Coca-Cola Company has 200 brands worldwide, including different types of water. 
A Euro 2020 spokesperson said: "Players are offered water, alongside Coca-Cola and Coca-Cola Zero Sugar, on arrival at our press conferences."
It added that without the support of brands like Coca-Cola, "we could not organise a tournament with such success for players and fans, nor invest in the future of football at all levels".
Coca-Cola's partnership with Uefa — the organisers of Euro 2020 — goes back to 1988 with the company having "a long tradition of supporting all sports at its various levels".
Ronaldo's brand value continues to soar with his on-field exploits. 
On Tuesday, he scored twice in Portugal's 3-0 win over Hungary — moving beyond France great Michel Platini as the record goalscorer at the European Championship finals with 11.
After the win, Ronaldo shared a message on Instagram about resilience.
The five-time Ballon d'Or winner wrote: "You have to know how to suffer, fight to the end and always believe with all your might. There are no easy opponents and no games won.
"The European Championship is a luxury stage where only the best of the best are and where every victory must be won with all the claw and selflessness. Great win, team!
"Let's go in pursuit of our purpose! Go Portugal!"
The health-obsessed footballer has previously revealed that it irritates him when his 10-year-old son, Cristiano Ronaldo Jr, has fizzy drinks.
"I'm hard with him sometimes because he drinks Coca-Cola and Fanta sometimes and I'm pissed with him," the Juventus star had said at an awards function last December. 
A day after Ronaldo's soft drink snub, France midfielder Paul Pogba, a practising Muslim, removed a bottle of Heineken beer that had been placed in front of him at a news conference following the 1-0 win over Germany in Munich. Pogba had been named man of the match.
Written with agency inputs