Don't write off India yet: John Buchanan
According to Australia's twice World Cup-winning coach, one shouldn't jump to conclusions after just one game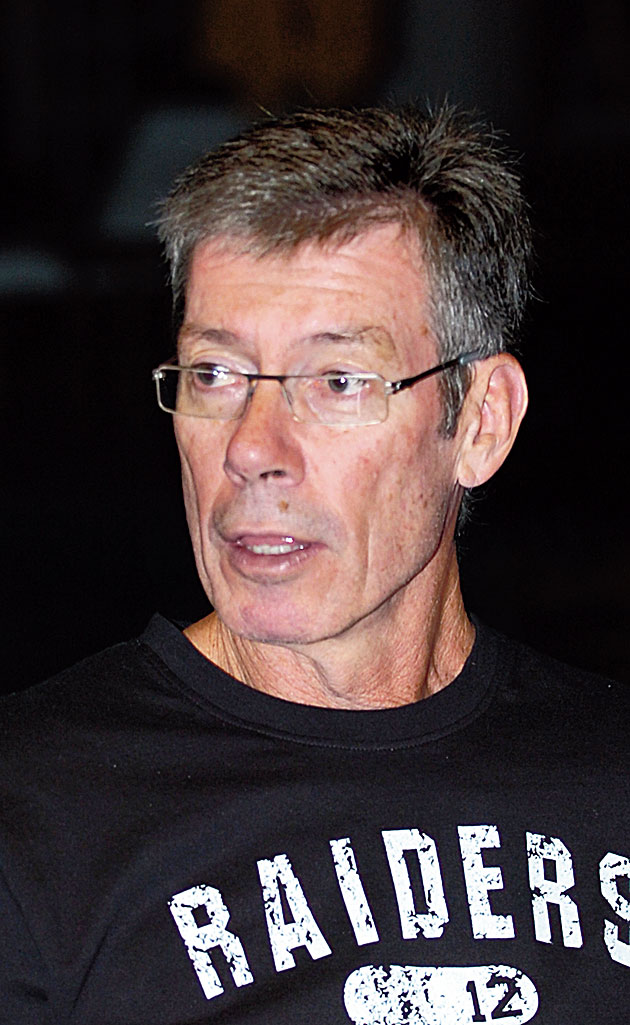 John Buchanan
Telegraph file picture
---
Rajkot
|
Published 15.01.20, 09:39 PM
|
---
David Warner and Aaron Finch toyed with India's bowlers at the Wankhede on Tuesday, helping Australia off to a flying start in their ongoing tour.
But it would be absolutely unwise to write India off in this three-match ODI series just because of one humiliating defeat, said John Buchanan.
According to Australia's twice World Cup-winning coach, one shouldn't jump to conclusions after just one game.
"Let us wait and review the whole series before jumping to any conclusions… Still two matches to go," Buchanan told The Telegraph from Brisbane on Wednesday.
In order to stay alive in the series, India must win the second and penultimate ODI here on Friday.
A lot of talk has been on regarding the much-awaited India-Australia Tests even though Virat Kohli and Co. will visit Down Under only towards the end of the year.
Though different formats, the result of the ongoing series could have an effect on both sides when the Tests get underway, Buchanan feels.
"I do believe so even though the formats are different and played in different countries and separated by 10 months or so. Yet, there is a lot either side can take from such a series.
"There are enough players, coaches and support staff in both teams that straddle both the long and short formats for memories of this series to linger long into the next Australian summer," he said.
The way Australia have been playing since Steve Smith and Warner's return, Buchanan said it will be far more difficult for Kohli and his men to replicate their feat of the Australian summer 2018-19.
"The last 18 months have seen the Australian team take big strides from the disaster that took place in South Africa (in early 2018). I can only see the current Australian side continuing to improve in the lead-up to India's arrival in November," he said.
Elaborating on Australia's turnaround in the last year-and-a-half, Buchanan said batting is one area that the team still needs to work on.
"Head coach Justin Langer and Test captain Tim Paine have led this turnaround and they have been well supported by Aaron Finch, who is leading the team in the shorter formats.
"There is a formidable bowling attack spearheaded by (Pat) Cummins, (Mitchell) Starc, (Josh) Hazlewood and (Nathan) Lyon. The batting department is yet to become fully established, although Warner, Smith and the new kid on the block -- Marnus Labuschagne -- are making it increasingly difficult for the opponents."
Analysing Kohli and Smith's batting, Buchanan thinks India, taking a leaf out of New Zealand's books, could keep the former Australia captain at bay. Even though they lost all the Tests in their recent tour of Australia, the Black Caps employed the short-ball tactic — keeping a leg gully and sometimes bringing the fine leg squarer — really well against Smith, who could manage just a couple of fifties in the series.
"Kohli and Smith have different styles with one thing in common – they both know their games inside out. Which means each player has great capacity to adjust to different conditions, different situations in the game and between formats.
"But yeah, it will be interesting to see how Smith responds to the tactics that New Zealand employed so successfully against him lately. One suspects he will, and will be more than ready for the Indian pace attack when they arrive."
No support to 4-day Tests
Like most players and coaches, Buchanan too doesn't support four-day Tests. He explains why.
"I am a traditionalist and I have seen no compelling reason for change.
"Recent statistics show few draws have been played out with the current format of five days… Players, in fact, already struggle to get 90 overs in during a day's play, let alone more. Besides, rain, bad light or other interferences will make four-day games very difficult to administer."