Derby feels price pinch
Stadium cost forces East Bengal to look beyond Bengal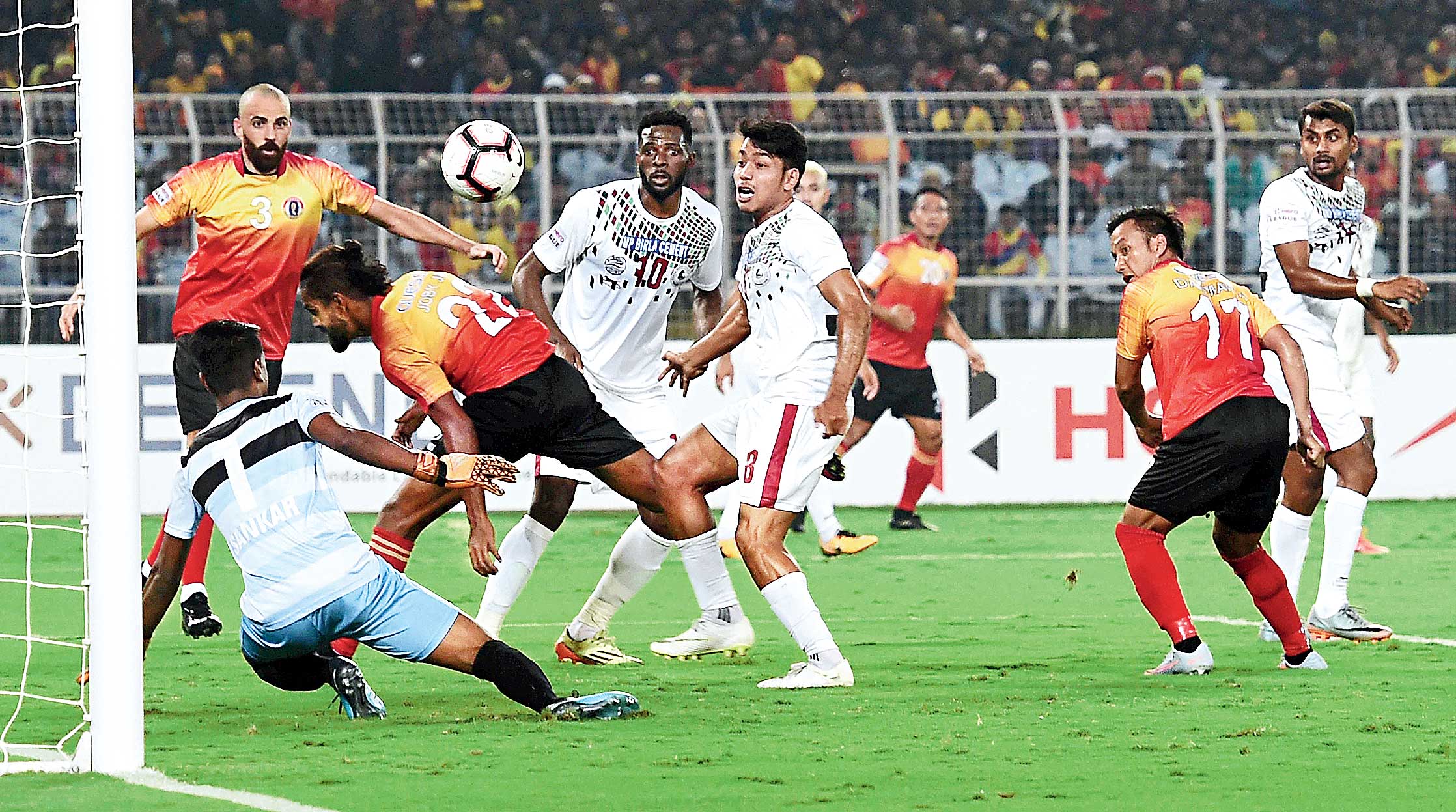 ---
|
Calcutta
|
Published 03.12.19, 09:12 PM
---
East Bengal is considering hosting the I-League return-leg Derby against Mohun Bagan outside the state.
"Our first choice to host the Derby, which is scheduled to be played on March 15 next year, is the Salt Lake Stadium. But the corporate entity which runs the football team doesn't want to pay the high rent of the stadium.
"In that case, if we don't get that stadium at a lower rate, then we may have to organise the Derby in another state. We are keeping all our options open," Debabrata Sarkar, one of the directors of Quess East Bengal, told The Telegraph on Tuesday.
"We have faith in our chief minister Mamata Banerjee and sports minister Aroop Biswas. We will appeal to them and hope they will consider our case," Sarkar added.
Asked about the development, sports minister Biswas said: "We have a special rate for Mohun Bagan and East Bengal. They only have to pay the cleaning cost, which is only Rs 15,000, to the government."
But the clubs say they have to spend around Rs 10 lakh to organise a match at the Salt Lake Stadium, apart from the rent. "You are talking about the floodlight charge and the cost of other arrangements. If they write to us, we may consider their request," Biswas added.
For the record, the rent for the stadium is around Rs 12.5 lakh for a day.
East Bengal coach Alejandro Menendez Garcia said: "I don't know whether playing in Kalyani would affect our performance. But yes, it's a big problem."
East Bengal and Mohun Bagan had earlier decided to play their other home matches at the Kalyani Stadium.
Asked why they decided to play their home matches at a stadium which is 54km away from the city, Bagan finance secretary Debasish Dutta said: "I don't want to talk about other clubs, but we first decided to play at the Kalyani Stadium as we want to take the game to various places. I think a club like Mohun Bagan should do that. Earlier we had played at the Rabindra Sarobar Stadium. I think supporters will come, watch and enjoy the game at the venue."
Many supporters of the clubs though are sceptical. Ujjal Mondal, a member of two Bagan fan clubs — Swapner Udaan Mohun Bagan and Mariners' Base Camp, said: "It would be difficult to go and watch all nine matches at Kalyani. I may miss one or two games. We have planed to go and support our team in the away matches too."
Sourav Sengupta, a resident of Phoolbagan and an East Bengal the Real Power (EBRP) member, said: "I will not be able to go to the stadium on Wednesday to watch the first match against Real Kashmir FC. But our friends will go to the ground. I will go for other matches. It is bit difficult to go to Kalyani on weekdays from the city."
No matter what fans feel, Kalyani Stadium is ready to host 18 I-League matches (nine featuring Mohun Bagan and nine East Bengal).
As far as amenities for fans are concerned, there will be some restrictions. "We will supply sufficient drinking water to the spectators, but no bottle or pouch will be allowed inside the stadium. There will be water dispensers. Food stalls will also be there," Nilimesh Roy Chowdhury, stadium in-charge, said.
Though the capacity of the stadium is 18,000, police have given permission for only 12,000 spectators to enter the stadium on match days.