Hopping from one tournament to another is never easy, but thanks to the unprecedented pandemic situation, that is exactly what players coming in from the Caribbean Premier League (CPL) to take part in the Indian Premier League (IPL), being held in the UAE this time, have to do.
Rashid Khan is one of them and he is aware of the challenge that lies ahead of him. The Afghan leg-spinner, who plays for the Sunrisers Hyderabad in the IPL, is currently serving a six-day quarantine in Dubai, but has chalked out plans on how to go about his job in these testing times.
"Well, I'm pretty excited to be here and joining the Sunrisers team, which has been like family for me. It has been a tough six to seven months, and now coming here to a different country and playing in the IPL is another challenge I'm looking forward to.
"I will try and entertain myself as much as possible and get busy with activities that make me feel fresh. After the quarantine period ends, the tournament starts almost immediately.
"So I have to keep focusing on my fitness and to keep myself relaxed, I will keep playing games with my friends and family. That's what I have planned," Rashid said on the Sunrisers' Instagram account.
In the CPL, Rashid played 10 matches for his team Barbados Tridents. His figures weren't too impressive though as he took 11 wickets from those 10 matches with 2/24 being his best bowling figures.
Now back to the Sunrisers, where he has delivered most of the time, Rashid also looks forward to "teasing" and a bit of banter with young quick Khaleel Ahmed.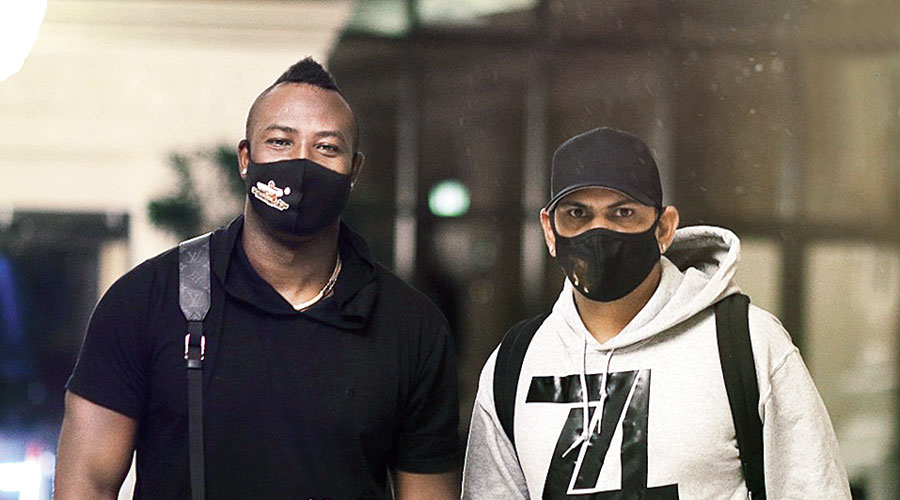 Andre Russell (left) and Sunil Narine of Kolkata Knight Riders after their arrival in Abu Dhabi. Picture courtesy Twitter/KKRiders
"I will be eager to meet each and everyone of our team. I have missed them a lot. It's been a long time since I last met these guys.
"We have been in touch, but we haven't met. So I'm eagerly waiting to catch up with each and everyone definitely. One of the guys I would be keenly waiting to meet is Khaleel Pasha. I just can't wait any longer to tease him again, like we did in the past.
"So yeah, I am looking forward to a lovely season," Rashid added.
Rashid's Afghanistan teammate Mohammad Nabi too joined the Sunrisers after his CPL stint with St Lucia Zouks, who lost in the final to Trinbago Knight Riders last week.
Like Rashid, Nabi, who now occupies a significant post in the Afghanistan Cricket Board, also looks forward to meet Khaleel, but is a tad disappointed with the fact that they will be playing before empty stands in the IPL too.
"We played the CPL, where there wasn't any crowd. Without the crowd, we didn't really enjoy it out there. Let's see how we can enjoy here in the IPL," he said.
"Nonetheless, I'm happy to be back with Sunrisers and really excited to return after a long time."