Present matters for Rohit Sharma
India take on the West Indies in the third and final T20I of the series at the Wankhede in Mumbai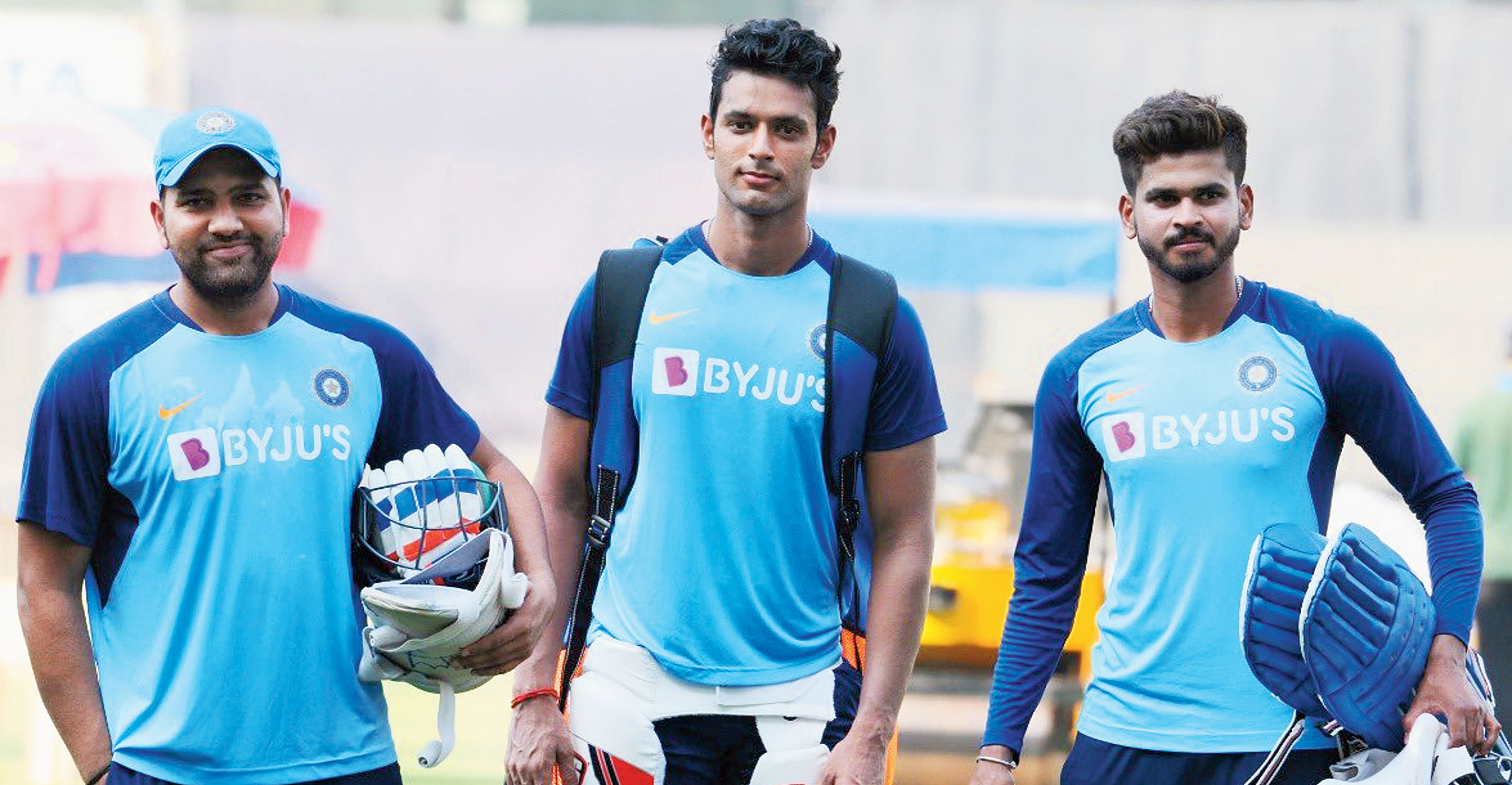 Mumbai boys (from left) Rohit Sharma, Shivam Dube and Shreyas Iyer during training at the Wankhede in Mumbai on Tuesday.
Picture courtesy Twitter
---
Calcutta/Mumbai
|
Published 10.12.19, 08:14 PM
|
---
All talk about T20Is nowadays are steered towards the T20 World Cup, to be hosted in Australia, next year. Rohit Sharma, however, feels that the focus should be on the present.
India take on the West Indies in the third and final T20I of the ongoing series at the Wankhede in Mumbai. It's a winner takes it all encounter as the series is tied 1-1.
Rohit, also the vice-captain of India's limited-overs sides, has said that winning matches would be the best preparation for the team on the road to the T20 World Cup.
"See, I don't want to keep saying that we are trying to build a squad for the (T20) World Cup. It is still a long, long way ahead. We just need to focus on winning the series and that will keep us in good state, moving forward," Rohit said at the pre-match media conference on Tuesday.
"If we keep winning games, keep doing the right things on the field, the composition of the team will take care (of itself)," Rohit added.
Elaborating on his point, Rohit said: "We are playing against a quality team and hereafter Sri Lanka is coming, then we go to New Zealand and thereafter there are a lot of T20Is to focus on. If we focus on the present, that will help us more than anything else.
"Right now, we need to see what are the mistakes we are making so that when we come out and play every fresh game, we look like a different side."
Though India boast of bigger names, the sides look to be well matched.
For India, the spotlight will be on the youngsters like Rishabh Pant, Shivam Dube and Washington Sundar. Dube, with a half-century in the last match, will be under lesser pressure than the other two. Pant will have to do well both behind and in front of the stumps, while spinner Sundar runs the risk of being replaced by Kuldeep Yadav.
Also, India's fielding has been pretty ordinary in the series so far and Kohli's boys will have to improve on that.
Virat Kohli's India are well-known for their chasing prowess. This series too has narrated a similar tale with India winning the first T20I chasing, but losing the next one when they batted first.
"Yes, of late our chasing has been good compared to posting targets. It was a good target that we posted (in Thiruvananthapuram), but again it's a new set of guys. There are a lot of inexperienced players along with experienced guys, but that is what every T20 team now has… a bit of inexperience, along with that some experience. Those two elements need to come together to form a very composite side.
In praise of Pollard
Rohit, meanwhile, feels that his Mumbai Indians team-mate Kieron Pollard has transformed the West Indies side since taking over captaincy.
"I know Pollard really well and he has a great knowledge about the game. I know as a leader what he would be expecting from the team. Under his leadership, it is a different team that we are seeing now, so yes, we have to be at our best when we play them," Rohit said.
"He (Pollard) is a very smart player, smart thinker. When it comes to Mumbai Indians, he has always been part of the leadership group and last year, when I wasn't available for one game, he captained MI. So he has always been part of the leadership group and I know how he thinks."
Acknowledging the surprise element in the West Indies team, Rohit said: "They are very unpredictable as a team, you never know what they can come up with on a given day, like we saw the other day. Even the first game, they played very well and it was Virat's brilliance that got us over. But with West Indies that is always expected and they play well as a team.
"We have got to stick to our plans, back it and execute it in the middle. In the last game, we made some mistakes on the field, whether it was with the bat, ball and also on the field. We know where we lacked as a team, so we just need to tighten up in those areas and make sure that those mistakes are not repeated again and again."