Part-timers from Hong Kong cherish full-time dream
A British colony till 1997, the current Hong Kong squad consists of only one British-origin player, 31-year-old wicketkeeper-batsman Scott McKenhie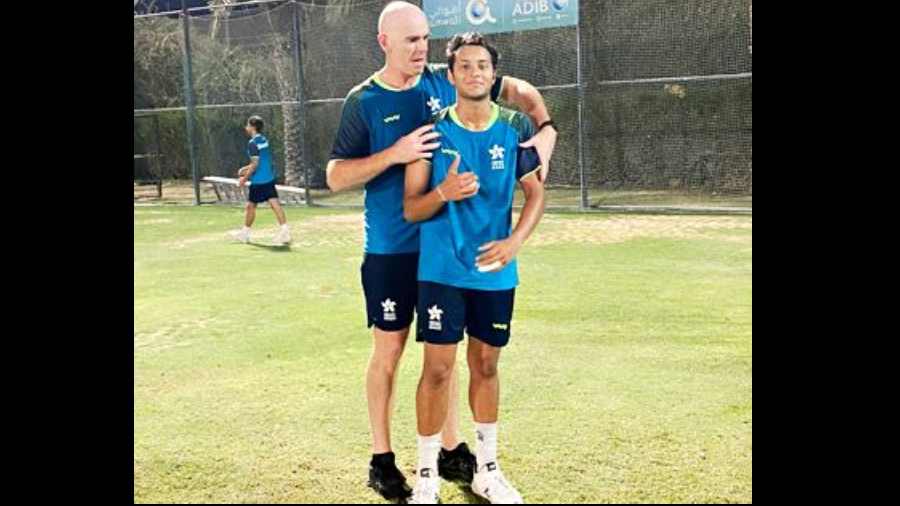 Hong Kong head coach Trent Johnston with pacer Ayush Shukla during a training session in Dubai
Cricket Hong Kong
---
Calcutta
|
Published 31.08.22, 03:30 AM
|
---
India and Pakistan fought tooth and nail last Sunday and won't be sparing each other an inch if they meet again in this Asia Cup. But they would be coming across another band of Indian and Pakistani cricketers who are brothers in arms, hoping to upstage the two heavyweights.
Representing Team Hong Kong, placed alongside India and Pakistan in Group A of the competition, these cricketers are not just eager to prove their mettle but also dare to dream big. A British colony till 1997, the current Hong Kong squad consists of only one British-origin player, 31-year-old wicketkeeper-batsman Scott McKenhie, who also happens to be a junior coach of Kent's Dartford Cricket Club.
The rest of the players have some Indian or Pakistani connection though some were born in Hong Kong itself. To name a few, captain and opener Nizakat Khan and No.3 batter Babar Hayat are from Attock, a part of Pakistan's Punjab province.
The skipper's opening partner Yasim Murtaza is a Sialkotborn player, while leg-spinner Mohammad Ghazanfar comes from Mirpur district of Pakistan-occupied Kashmir.  Nizakat's deputy, Kinchit Shah, who bats at No.4 and can also bowl a bit of off-spin, hails from Mumbai.  These cricketers have gelled well so far in helping Hong Kong finish at the top of the Qualifiers, which clinched them a berth in the Asia Cup main round. And they remain hopeful of continuing the impressive showing.  
"...We certainly won't be going into the game thinking we would be leaving on Saturday morning after we play Pakistan (in Sharjah on Friday)," Hong Kong head coach Trent Johnston, a former Ireland pacer, told The Telegraph ahead of Hong Kong's tournament opener versus India in Dubai on Wednesday. Johnston and the rest of the group, though, do know how tough it's going to be for Hong Kong to stage an upset in this Asia Cup.
If cricket being a minority sport in the country weren't enough, there are only nine to 10 players who are fully contracted while most of them do parttime jobs or have their own businesses.  
"Quite a few of them, including some of our contracted players, work for a food delivery service whenever they have a chance. Some among the others have their family businesses to look after," a Cricket Hong Kong official said.
"For instance, our vice-captain Kinchit has got his own family business. So he is mostly in India to work for his family's jewellery business and that's why he cannot train with our squad that often. Even Scott has his own sports business."  
Head coach Johnston, however, believes success in this Asia Cup should brighten the prospects of the cricketers as well as that of Cricket Hong Kong. "Getting sponsors and people to help fund the team and the organisation (Hong Kong board) has been quite difficult.
"But the exposure we've had in Oman during the Qualifiers and the experience we'll be having in the coming days can help provide a vehicle for us to expand the organisation. We have got sponsors in line now for this tournament, bringing that revenue in," Johnston said.